Surefire Brawl at Junior Middle Awaits when Angulo Faces Julio

Tomasz Adamek and Chris Arreola aren't the only fighters heating up the Citizen's Business Bank Arena on April 24. The undercard features an exciting Junior Middleweight battle in which Alfredo Angulo and Joel Julio will square off in what promises to be an action packed slugfest.
Alfredo "El Perro" Angulo

17-0 (14 KO's)

Mexicali, Mexico

Height: 5'10"

Reach: 69"

Last 5 Fights: Angulo's most recent fights have been decisive knockout victories, minus his only loss, which came at the hands of the always-tough Kermit Cintron: a fight where Angulo was not at his best. After losing to Cintron in the WBC Title Eliminator Bout, Angulo has been back on a tear albeit against limited opposition winning in decisive fashion, taking out Gabriel Rosado in the 2nd round and overwhelming the previously undefeated Harry Joe Yorgey, knocking him out cold in the third round.

Joel Julio

35-3 (31 KO's)

Monteria, Colombia

Height: 5'10"

Reach: 72"

Last 5 Fights: In 2008 after a victory over Contender alum Ishe Smith, Julio defeated Jose Varela for the vacant WBO Latino Light Middleweight title. However, he lost in decisive fashion to the undefeated Sergiy Dzinziruk and then was unable to rebound against the very talented James Kirkland after the fight was stopped in the 6th round. His most recent fight was a decision victory over the severely overmatched Clarence Taylor. The former hot prospect now finds himself as the opponent against the division's best.
Angulo vs. Julio Preview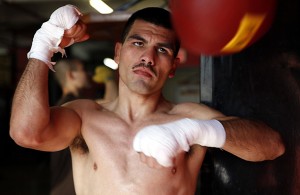 Styles: These two fighters are both very aggressive power punchers who are not afraid to exchange, which will make this a very entertaining fight. There are slight differences in their style and the main question is how Angulo's precision and power will match up against Julio's experience and propensity to exchange. They are both the same height, yet Julio has the reach advantage by a full three inches giving him the ability to control the outside of the ring.
Will the Reach Advantage be a Factor for Julio? The reach may only prove to be a slight factor, because although Julio's reach would allow him to control the outside of the ring, Angulo is smart, accurate and aggressive and this fight will be more of a matter of who will be the smarter fighter in exchanges. Angulo is far too accurate and will press the action and work the ring too much to be at the mercy of Julio's longer reach. This will be a war, not a tactical chess match. Furthermore, Julio himself is more prone towards toe-to-toe exchanges than boxing.
Angulo's Momentum vs. Julio's Need to Prove Himself: Another question that needs to be answered is the following: What will be a more significant factor, the recent momentum of Angulo, or the fact that the younger Julio has a lot to prove?  Julio's last three fights included 2 losses and a victory over a fighter who is nowhere near his caliber. He knows that if he wants to establish himself as a premier contender, he will need to fight a smart fight, stay aggressive and take out Angulo. It was once Julio who was the hot junior middleweight prospect, and guys like James Kirkland and Alfredo Angulo have usurped his spot.
After Angulo was defeated by Cintron he has been defeating his opponents in dominating fashion and looks to continue this seek and destroy mission against a powerful and talented Joel Julio. Angulo is establishing himself as a very powerful fighter and look for him to continue this aggressive momentum that he's created with his recent knockouts.
Angulo vs. Julio Prediction
Unfortunately for Julio, Angulo has a style that may cause him as many problems as James Kirkland's style caused him. The first 6 rounds will be highly entertaining and Julio will prove himself to be Angulo's toughest opponent since Kermit Cintron. However, Angulo will hunt Julio down, and after several rounds and several exciting exchanges, Angulo will win this fight by 7th round TKO: Angulo by 7th Round TKO
Comments
comments