Ortiz Looks to Rise and Campbell Looks to Revive in intriguing junior welterweight bout
On the undercard of the Amir Khan vs. Paulie Malignaggi fight is a showdown which may very well determine who is next on the dance card for the Main Event winner: Victor Ortiz vs. Nate Campbell. This is also a cross-roads fight for both men. Ortiz is young, but a loss to Campbell will surely send him out to the wilderness for a while. Cambell, on the other hand, is 38 and is facing what will probably be his last chance at a big fight and a world title.

Victor Ortiz (26-2-1 with 21 KOs)
5'9″ with 70″ reach, 23 years old, southpaw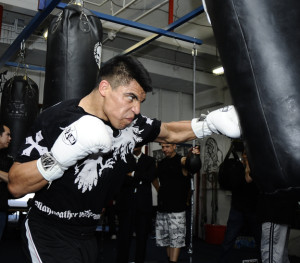 Victor Ortiz solidified his place as a boxer on the rise when he became ESPN's Prospect of the Year for 2008, and then stumbled when he fought knockout artist Marco Maidana a year ago. Ortiz fought a knockdown-laden war with the Argentine, only to falter and be stopped in the 6th. Some observers thought Ortiz really quit rather than continue to absorb a beating, and he certainly did not help his case by whining to Max Kellerman "I don't deserve this".
He has since rebounded by stopping the respectable Antonio Diaz on cuts and knocking out an over-matched journeyman. Ortiz is technically sound, and interestingly is a natural right-hander who fights as a southpaw. The result is a vicious right jab used to produce hard, accurate shots.

Nate Campbell (33-5-1 with 25 KOs)
5'7″ with 72″ reach, 38 years old
Former WBA-IBF-WBO Lightweight Champion
"The Galaxy Warrior" is one of those guys who had a highly inconsistent career. When he has it together, Campbell produces a brilliant performance. When he doesn't, he is strictly gatekeeper material. Respectable losses to the likes of Joel Casamayor sit side-by-side with disgraces like getting knocked out by Robbie Peden.
Many thought he had changed after his upset of Juan Diaz, but in truth his career immediately stalled and he was soon back to his old, inconsistent ways. He barely beat Ali Funeka after failing to make weight. Badly cut against Timothy Bradley, Campbell is lucky that the CASC reviewed the tape and ruled that his cut was the result of a headbutt rather than a punch, changing his stoppage loss to a No Contest.
Ortiz vs.  Campbell Preview & Fight Analysis
Size won't be an issue for this fight, but power might. Campbell has two extra inches in reach and Ortiz has two extra inches in height, but Ortiz has spent his whole career at 140 lbs. Campbell has come up from super featherweight and lightweight. Ortiz might not be "bigger," but he is certainly stronger. Ortiz is also much younger, and while it is the widespread belief in boxing these days that "age is just a number," don't believe the hype. The lower the weight class, the more age matters. At 38, Campbell is no spring chicken and his inconsistent performances must now be compounded by the ravages of father time.
Ortiz vs. Campbell Prediction
At the end of the day, Campbell could show up unfocused or demoralized and blow the fight, as he has in the past. He could also show up ready to rumble, but his body fails him and he can't perform. If either of those things happen, he has a younger, stronger guy with a blistering right jab on the other side of the ring, ready to pounce at the slightest sign of weakness. I don't like those odds.
Prediction: Ortiz TKO9.
Comments
comments