Super Six Stage 3 – Green vs. Johnson

After Mikkel Kessler was forced to drop out of the Super Six Tournament due to injury, an unlikely challenger has been summoned to step up and enter the tournament: 41 year old Glen Johnson.  Johnson will debut in the tournament when he faces off against Allan Green on November 6 at the MGM Grand Garden and will air on Showtime Championship Boxing.
This fight will be a stage three bout for the Super Six, which will determine the four fighters who will advance to the semifinals (which is single elimination). Both men will go into this fight having 0 points so far in the tournament, but will have the chance to qualify for the semis, despite Green's lackluster points and the fact that the veteran Johnson just entered the tournament.
Allan "Ghost Dog" Green
29-2 (20 KO's)
Height: 6'2"
Reach: 73"
Last 5 Fights: Before running into WBA super middleweight champion Andre Ward, Green was on a hot streak. In October of 2009, he defeated Tarvis Sims, earning the vacant NABO Super Middleweight title, and before that was able to earn wins over fighters such as the veteran Carl Daniels. However, he was dominated in his recent Super Six stage 2 fight against Ward and needs to redeem himself in this fight against Johnson.
Glen "Road Warrior" Johnson
50-14-2 (34 KO's)
Height: 5'11"
Reach: 75"
Last 5 Fights: Glen Johnson's most recent fights have proven to fight fans that he is nearing the end of his illustrious career. He has gotten a few wins over opponents such as Yusaf Mack and Daniel Judah, but he was thoroughly out-boxed by Chad Johnson in the second showing and was a bit overwhelmed against the youth and power of Tavoris Cloud.
Green vs. Johnson Preview: Tale of the Tape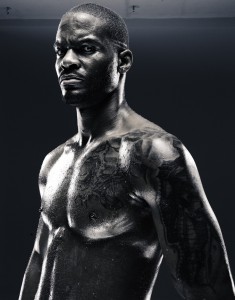 Not only is Green a full 10 years younger than Johnson. He is also more naturally a super middleweight, while Johnson is more of a light heavyweight and will struggle to be effective at this lighter weight. Although Johnson is the shorter fighter, he also has a longer reach by 2 inches. At this stage in Johnson's career, he will have to use this reach to his advantage to try to make quick work of Green, because the longer the fight goes, the more of an advantage the younger, fresher Green has.
How will Johnson's age factor in?
Some may argue that Johnson's impressive resume and experiences will serve him well against the less experienced Green. Johnson has wins over fighters such as Roy Jones Jr. and Antonio Tarver and has seen many various styles in the ring. In his recent fights when he has gone up against quality fighters such as Chad Dawson, it is clear that he still has enough skill to hang around the division, but not enough speed and anticipation to fare well against the cream of the light heavyweight or super middleweight crop.
What's in store for the winner?
Even though Johnson just entered the Super Six as a replacement for the injured Kessler, he has a chance of advancing to the semi's with a win in this fight since he is fighting against Green, the last place fighter in the division, they both have zero points. Basically, one of these fighters devoid of points will advance to the semi's to face a very tough task.
Green vs. Johnson Prediction
Everything seems to be stacking up in Green's favor for this fight. His age, the fact that he knows he needs to avenge his loss to Ward and perhaps most significantly for this fight, the fact that he is more comfortable fighting at super middleweight than Johnson. Johnson will not only enter this fight much older, but also much more drained, less powerful and less effective than Green. Expect Green to wear Johnson down and win by a late round stoppage.
Final Call: Green by 9th round TKO