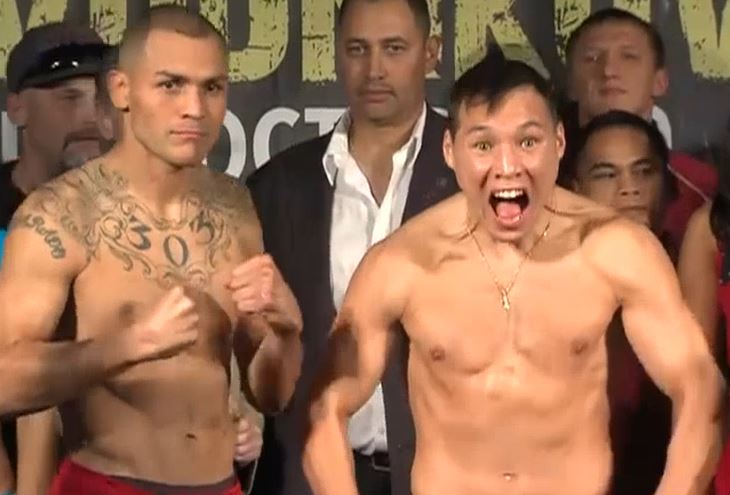 The Mike Alvarado vs. Ruslan Provodnikov weigh-ins were held this afternoon in Denver, Colorado, in advance of their HBO-televised title clash on Saturday night. Right here, you can find the Alvarado vs. Provodnikov weigh-in results and photos.
Alvarado vs. Provodnikov Weights
Mike Alvarado: 141 lbs*
Ruslan Provodnikov: 139.8 lbs
*Alvarado weighed in at one pound over the Junior Welterweight limit on his first attempt. He'll have to try to shed that final pound in the next hour or two if he wants to retain his title and have a chance to fight for it. Otherwise, it will only be open to Provodnikov should he win the fight.
Update: Alvarado made weight, and dropped the extra 1 pound within the allotted time frame.
Alvarado had a ton of hometown fans out in support of him during the weigh-ins. Provodnikov, as you can see from the photos, was quite amped up and ready to go.
Former lightweight champ Juan Diaz continues his comeback on the card, and weighed in at 135.5 lbs. He was never the most physically imposing of fighters and that certainly continues to be the case.
Top Rank's Crystina Poncher hosted the weigh-in activities, with the Top Rank Knockout ring card girls and Tecate girls in attendance as usual as well. Michael Buffer also introduced the main event fighters on their way to the scales.
Thanks for checking out our coverage of the weigh-ins, and be sure to come back with us later in the weekend for our post-fight coverage and aftermath of the Alvarado vs. Provodnikov results!