Will Canelo shine against battle tested vet Kermit Cintron?
On November 26, 2011 in Mexico City, a potentially great fight will take place as the 21-year-old Canelo Alvarez, at the front door of superstardom, will get his first big test at junior middleweight when he faces off against the ever so unpredictable veteran Kermit Cintron. Canelo's WBC junior middleweight title and superstardom are both at stake.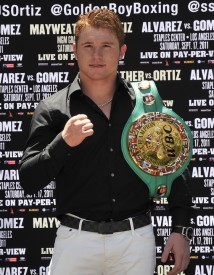 While some boxing fans feel that Alvarez should win easy, you never know which Kermit Cintron is going to show up for fight night. It could be the shell-of-himself fighter who sometimes looks like he doesn't want to be there, or it could be the sharp hard-punching knockout artist who could certainly stunt the growth of an up and coming kid like Alvarez.
In this fight, one fighter has youth and size on his side, while the other fighter is a veteran with experience and decent boxing skills, so which one of these fighters will have the advantage, and how do the individual attributes break down?
Boxing Skills
Saul Alvarez has decent boxing skills, but he has not been tested by a solid junior middleweight yet, and I feel that Kermit Cintron will give us the measuring stick on just how well Alvarez can box and defend.  Kermit Cintron is a great power-puncher who can surprise Alvarez if he catches him flush in this fight.  Cintron has all the boxing tools to take the young Alvarez to school if he decides that he wants to fight on November 26.  Advantage Cintron
Power
Saul Alvarez has good power, stopping most of his opponents during his young professional boxing career, while Cintron showcased superior punching-power in his younger boxing days and we are not sure where his power meter reads these days.  Cintron knocks fighters out cold with his power and he relies on it to win each and every one of his fights.  Based on Cintron's boxing resume, I will give the edge to him.  Advantage Cintron
Speed
Cintron has always displayed decent speed, although he was never super flashy or quick, while Alvarez also has good but not dazzling hand speed. Canelo uses his pressure fighting as a form of speed in hopes of breaking down his opponents, and slowing them down as a result. One example was his last fight against fellow Mexican Alfonso Gomez, who clearly out boxed him at the get-go. However, Alvarez stood in there and got the stoppage win. Neither guy is blazing, but Canelo can fire his shots more rapidly and fluidly. Advantage Alvarez
Size
Alvarez will definitely be the bigger guy in this fight as he has a massive frame for a 154 pound fighter.  Cintron will need to box and try not to mix it up much with this big strong young guy who can possibly stop Cintron if he decides to engage too much with the young buck. Given these two fighters' boxing styles, fireworks can happen in this fight because I feel neither fighter will give ground, until perhaps Cintron is forced to. Advantage Alvarez
Height
Cintron will have the height advantage in this fight as he stands at 5 feet 11 inches tall, while Alvarez stands at 5 feet 9 inches tall.  Cintron is not great at using his height to his advantage as he usually bends down to land punches on his opponents, which will give Alvarez chances to land huge power-punches in this fight.  The question is whether or not Alvarez is skilled enough to take advantage of Cintron's openings or will he allow the elusive Cintron to get inside and put some hurt on him.  Advantage Cintron
Reach
Cintron will enjoy a nice 3 inch reach advantage over the up and coming Alvarez, so if he decides to keep his distance and use his jab against Alvarez, he might turn some heads. I feel this game plan for Cintron can prove to be very effective en route to resurrecting his career and upsetting the undefeated Canelo.  Advantage Cintron
Age
In this new age of boxing, we have seen that age has become pretty much obsolete in some cases, as the likes of Bernard Hopkins, Antonio Tarver, and Glen Johnson are proving fight after fight to still be at or near the top of their games. As a younger fighter, you will still have to bring your "A" game and compete against these older, skilled fighters because anyone can be beaten.  With all of that said, we all know that the 21 year old Saul Alvarez has the age advantage over the 32 year old Cintron. Cintron looks worn for his age, and never had the skills or tenacity of the fighters mentioned above.  Advantage Alvarez
Conclusion
This is going to be a very entertaining fight if Cintron decides to bring his ring experience and some hunger to the party.  With an impressive win, Saul Alvarez can possibly land a big payday fight against his undefeated Mexican rival in the making, Julio Cesar Chavez Jr.  If Cintron wins, however, he resurrects his quickly fading career and will be able to go out with a few nice paydays.
I don't know how Alvarez will react to the veteran Cintron, because he has not been truly tested by a top caliber guy. If he can beat a very good fighter in Cintron, this may be enough for boxing fans and boxing experts to consider Alvarez to be the real deal.
Alvarez should win this fight, but if the Cintron that fought Alfredo Angulo shows up, then a serious upset could be brewing.
Comments
comments