Alvarez vs. Hatton Results:
ProBoxing-Fans.com was live ringside for the Saul Alvarez vs. Matthew Hatton bout. "Canelo", the uber-prospect, dominated the affair, winning a lopsided 12-round unanimous decision over Hatton. Check out the full round by round results for Alvarez vs. Hatton. Also take a peek at all of the coverage for the undercard, including Adrien Broner vs. Daniel Ponce De Leon, and the return of James Kirkland and Danny Jacobs.
—–> View our Alvarez vs. Hatton photos page, with dozens of photos from the fights and post-fight presser!!
Alvarez vs. Hatton Round by Round Scorecard
| | | | | | | | | | | | | | |
| --- | --- | --- | --- | --- | --- | --- | --- | --- | --- | --- | --- | --- | --- |
| Round | 1 | 2 | 3 | 4 | 5 | 6 | 7 | 8 | 9 | 10 | 11 | 12 | Total |
| Saul Alvarez | 10 | 10 | 10 | 10 | 9 | 10 | 9 | 10 | 10 | 10 | 9 | 10 | 117 |
| Matthew Hatton | 9 | 9 | 9 | 9 | 10 | 9 | 9 | 9 | 9 | 9 | 10 | 9 | 110 |
Alvarez vs. Hatton Results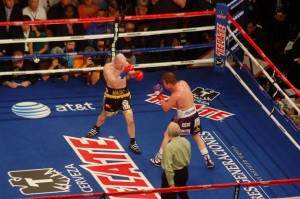 In the main event, Saul "Canelo" Alvarez battled Matthew Hatton of Manchester. Alvarez, 20, is riding a 36-fight unbeaten streak and quickly becoming a star, while Hatton is looking to step outside his brother's shadow and notch his first win over a world-class opponent. Though his last 3 victims had a combined record of 98-3-3, this can be considered a hefty jump in class. Alvarez, 20, was greeted warmly by the predominantly Mexican crowd, to whom Canelo is rapidly becoming a star.
Alvarez, visibly bigger than Hatton, opened the fight well, knocking Hatton off-balance with a left hook. He ripped Hatton with a few good hooks to the body and some one-twos. Hatton tried to respond, gamely launching punches where he could. Hatton opened the 2nd launching quick combos at Alvarez and moving somewhat slickly. Canelo dug to the body with a few telling hooks, his power considerably superior to Hatton's particularly on the inside. In the last minute of the round, some Alvarez hooks to the body and head tipped the round in his favor, with Hatton continuing to do his best by firing speedy combinations.
Hatton continues to act in the unlikely role of the moving speedster. He does marginally well, until Alvarez opens up. When he does, he always seems on the precipice of overpowering the game Hatton. Still, Hatton is doing surprisingly well in this new role, flashing surprisingly smooth ring movement and hand speed.
Alvarez opened the 4th with some hooks to the body and straight right hands. Hatton is still holding up reasonably well. At the mid-point of the round, however, Alvarez began digging in with gusto. As a result, Hatton started to look a bit less chipper. Good round for Alvarez.
Having put some good bodywork in the bank, Alvarez opened the 5th by stalking Hatton. The Manchester mauler held his own for most of the round, until Alvarez again digged in with a few good body shots. Hatton came to life at the end of the round with a few quick salvos to potentially take the round. He continued to move, with Canelo in hot pursuit. Alvarez, showing patience, took the 6th round with his trademark body shots and a few good hooks to the head.
With the fight now in its second half, Alvarez let his hands go a bit to open the first half of the 7th round. A punch on the break gave Hatton some reprieve, as time was called to allow him to regroup and a point was taken. Alvarez went back to work, pasting Hatton with his best shots of the night. Hatton, valiant as ever, tried to fire back in the face of fistic onslaught, but was almost overwhelmed by a rampaging Alvarez. The 8th opened slowly, but soon, Alvarez was working over Hatton in exchanges. Hooks to the body and big rights to the head had Hatton in deep water, but like always, he keeps coming back–throwing quick combinations and trying his damnedest to not get blown out of the fight.
Boy, you gotta give credit to Hatton. Definitely shortchanged in the talent department, he continues trying to pepper Alvarez with shots. One gets the impression watching him that he is really trying his hardest. But as is always the case, it's just a matter of when Alvarez decides to open off offensively. When he does, he always has the edge. An Alvarez right hurt Hatton near the end of the round. Alvarez then opened up with more offense to take the round. In the 10th, Hatton continued to try and buy time by holding and retreating, beginning to look increasingly ragged in his approach. The quick combinations are now down to a minimum, as Alvarez stalks him around the ring. Another punch on the break dropped Hatton, but ref Lou Moret wasnt buying it. When the action resumed, Alvarez laid into Hatton, who commendably returned fire as the bell sounded.
Both men opened the 11th slowly, perhaps a bit winded. Alvarez landed some good bodyshots, but was mostly lethargic during the round. Hatton scored with enough quick combos to maybe edge the round. After a round off, Alvarez got back to business in the 12th, pelting Hatton with more body shots. Hatton looked to hold and move, while landing a handful of quick shots. At the end of the fight, Alvarez opened up, but Hatton continued to show resolve and grit, as he made it to the final bell.
The verdict was unanimous, with the cards reading 119-108 three times for the still undefeated Canelo, who goes to 36-0-1. Hatton falls to 41-5-2
All in all, not a bad performance for Alvarez. He stoically kept it coming against a plucky Hatton, who was probably a bit tougher than some predicted. He certainly didn't threaten Alvarez, but he came into his opponent's stomping grounds and never seemed to be on the verge of being a stoppage loser. For Alvarez, this was merely another step on his way toward bigger things. Look for 2011 to be a critical year for Alvarez, as he makes a serious push toward full-fledged superstardom.
The attendance, over 11.000, was the 2nd largest audience to ever witness a boxing event in this building, trailing only a Marco Antonio Barrera bout from the mid-nineties. This underlines Canelo's popularity. Though he is from Mexico, he gets a ton of support from Southern Californian fight fans. Canelo says he's willing to fight anybody, while Hatton indicated that Alvarez was too big and he will move down to welterweight.
Broner Decisions DeLeon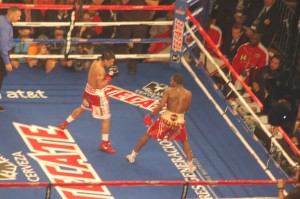 In the main undercard bout, Daniel Ponce DeLeon is pitted against unbeaten Adrien Broner in a junior lightweight 10-rounder. DeLeon, a former titleholder at 122 pounds, is at his career-heaviest weight at 128.4 pounds. Broner, conversely, is at his career-lowest weight at 129.8. In his last 5 fights, DeLeon has weighed between 125-127, while Broner has weighed 130-138. We'll see if Broner's size advantage will bridge the gap in experience. At the weigh-in, Broner appeared 2 weight classes bigger than DeLeon.
DeLeon, 30, is looking to get back into some big fights since winning 7 straight after losing by first-round knockout to featherweight superstar Juan Manuel Lopez. The southpaw banger is 41-2 (34 KOs), while the 21-year old Broner is 19-0 (16 KOs). Broner's record is sterling, but he hasn't faced anyone close to being on the level of DeLeon.
The first round saw little action, with both men rather tense. DeLeon is trying to get in close to do damage, with Broner looking to capitalize from long range. Despite that, a large portion of time is spent with Broner pursuing a backing-up DeLeon. In the last minute of round 2, DeLeon got inside and landed a few shots to likely take the round.
DeLeon opened the 3rd with more aggression. Broner, retreating more, seems a bit leery and is not very active with his hands. De Leon mixed it up to the body and head well in this round, with Broner largely unable to time him with his menacing-looking swings. In the 4th, Broner was in full-retreat mode, no longer advancing on DeLeon, who was now in pursuit–looking to engage. DeLeon forged in and managed to land the only few meaningful shots of the round. Action picked up at the end of the round, with both men finding success.
In the fifth, action was minimal until Broner strafed DeLeon with a nice one-two at the midway point. Timing DeLeon's advances better, he cracked him with a nice right at the one-minute mark. It was Broner's first clear round. De Leon opened the 6th more aggressively and landed some good shots to Broner's body during the round, particularly with the straight left. A disappointing round for Broner, considering the fine round he had in the 5th.
A straight left in the 7th connected on Broner, who then caught a decelerating DeLeon at the end of a few of his shots. DeLeon closed the round strongly, with a big left at the bell. More of the same in the 8th. DeLeon is not lighting the world on fire, but Broner is hardly inspiring with his performance. He could use a little mojo from fellow Cincinnati native and entourage member Aaron Pryor.
DeLeon dominated the 9th after a rough start, especially at the end, as Broner is looking increasingly not-ready-for-prime-time. In the final round, DeLeon continued what he'd been doing the entire fight, getting inside and working to the body and head, while producing a workrate Broner could not duplicate with his inconsistent sharpshooting from the outside. Broner landed a few good blows toward the end of the round. Still, the crowd lustily booed when Broner jumped on a turnbuckle after the bout to signal that he thought he'd won.
Well not so fast. By scores of 96-94, 96-94, and an unfathomable 99-91, Broner was declared the winner! The crowd is booing the decision with gusto. I realize some rounds were close, with Broner's long-range sharpshooting perhaps getting him the edge in a few rounds. Nevertheless, from this writer's vantage point, the decision was iffy at best. DeLeon was not compelling. Perhaps I overrated some of his work, but he sure seemed to be more effective during the majority of the bout. Strange, indeed.
DeLeon said afterwards that he felt he won the fight, but would fight at featherweight in the future. Promoter Oscar De La Hoya was openly very critical of the scorecards, especially the 99-91 quote.
Undercard Results
Kirkland Destroys Gibbs in Comeback!!!
Two days short of two years ago, junior middleweight sensation James Kirkland fought his last bout before being jailed for a gun offense. Tonight begins his revival, appearing in an 8-round bout on the Alvarez-Hatton undercard.
Weighing in at 162.4, Kirkland is pitted against NYC's Ashandi Gibbs, 10-2 (4 KOs). Gibbs had won his first ten before falling to quality journeyman Marcus Upshaw and then, a year ago, to the very marginal Ibrahiem King, who would go on to drop his next 5 fights. That last result makes one wonder how much resistance Kirkland will encounter in his comeback fight tonight
The southpaw Kirkland is looking to make up for lost time. If he drops down to 154, which he indicated he will do at the post-fight press conference, he could inject some life into the division. It might take a few or several fights for Kirkland to regain the momentum he had before he got locked up–when he was coming off two one-sided stoppages of Brian Vera and Joel Julio. He still has time on his side. With a pro career dating back nearly a decade, he is only 26.
Gibbs opened the fight with some mean-mugging that was soon turned into despair, as Kirkland zeroed in with punches, including some hurtful-looking hooks that deposited Gibbs on the canvas. Referee Wayne Hedgepeth tolled the ten-count at a mere 34 seconds of the first round. Not much can be told from fights like these, but Kirkland looked pretty good and there's no reason to think he shouldn't at least recapture his former status.
Jacobs Knocks Out Kliewer
In the second bout of the evening, Daniel "The Golden Child" Jacobs continued to be eased back into action following the Pirog disaster in July of last year. His opponent tonight, Robert Kliewer, is only 11-12-2 (5 KOs), showing 8 losses in his past ten fights. He is a small step up, however, from Jacobs' last opponent, with a victory over nosediving former Contender cast member Anthony Bonsante in his last fight.
Brooklyn's Jacobs, 168, came out throwing leather and catching Kliewer, 164.2, with a few straight rights. The cautious Kliewer, 23, tried to counter, before a right put him down at the midway point of the round. Kliewer rose, only to be deposited emphatically by another right moments later. He fell head-first to the canvas, causing referee Ray Corona to call a halt without issuing a count. Jacobs' straight right looked great tonight. Time was 1:44.
Ishe Decisions Montgomery
The third fight of the evening saw Hayward middleweight Jason Montgomery taking on 1-0 Cleven Ishe of Long Beach. Montgomery, with more of an amateur background, tried to keep the pressing Ishe from advancing, landing a few counters. Ishe landed a few shots to the body in an uneventful first round. The pattern continued in the second. Ishe tried to turn on the heat, but the more classical boxing of Montgomery held the action mostly even. The loudest crowd reaction during the entire bout thus far was when Montgomery clipped the ref, Pat Russell, with a shot to end the second round. The lack of action in the second and third brought boos from the filling Honda Center. Ishe's dogged and his raw effort might have edged him the 3rd session.
A fight broke out in the 4th, with Ishe dumping Montgomery with a big cross. Montgomery rose and tried to kill time, which he did. By the end of the round, the crowd again was booing, with both men appearing winded. All 3 judges saw it 39-37 for Cleven Ishe, who now goes to a reported 2-0.
Mitchell Dumps Davis
In a featured heavyweight bout, prospect Seth Mitchell met up with 19-21-3 (4) journeyman Charles Davis. The southpaw Davis is on a skid of 2-13-2 in his last 17, but coming off a draw with Monte Barrett in his last fight. Davis, who turned pro in 1996 at 168 has lost to the likes of Julio Gonzalez, Kevin "Kingpin" Johnson (twice), and Dominick Guinn, among others. But he has shown himself to be a dangerous journeyman with wins over Arthur Williams, 18-1-1 Javier Mora, 17-1 prospect Bermane Stiverne, and 30-6-2 Eliecer Castillo. He should be in tough, with Mitchell one of the more celebrated prospects in the division.
Mitchell, 243, is a 28-year old who played at Michigan State. Some of the ointment of the southpaw Davis threw Mitchell off-stride for a moment, before a few well-placed shots to the head and body turned the round in his favor. A hook dropped Davis for a count at the end of the round to give Mitchell a 10-8 round. A right dropped Davis again at the beginning of the second. Mitchell picked his spots before sending Davis down again. A left hook soon dumped Davis for a 3rd time, with Wayne Hedgepeth calling a halt at 1:02 of the 2nd round.
The crowd booed Davis' uninspiring performance. Credit should go to Mitchell, though. Davis had fought a lot of contenders and was never stopped inside of 4 rounds in 43 fights until tonight. Mitchell goes to 21-0-1 (15 KOs).
Blanco Rolls Ruiz
Decorated Venezuelan amateur Alfonso Blanco, 2-0 (1 KO), and now fighting out of Oxnard, took on 20-year old Puerto Rican Pablo Ruiz in a 4-round middleweight bout. This appeared to be a build-up win for Blanco. Ruiz has fought twice as a professional, losing by knockout in one and two rounds. Blanco, 25,  has beaten guys like highly-touted British prospect James DeGale–whom he defeated en route to a Silver Medal in the 2007 World Amateur Championships.
Seems pretty easy, doesn't it? And it was. Blanco found his range with some feeler jabs, while avoiding the crude haymaker swings of Ruiz. Wisely, Blanco started digging to the body, which resulted in 3 knockdowns, causing Pat Russell to call a halt at the 2:55 of the very first round.