Canelo Alvarez and Daniel "Miracle Man" Jacobs will highlight the Cinco de Mayo main card at the T-Mobile Arena in Las Vegas this Friday, May 4th. Alvarez (51-1-2, 35Kos) will defend his WBA and WBC middleweight belts and attempt to capture the IBF strap from Jacobs (35-2, 29KOs).
Tale of the Tape
This is the first time that Jacobs has been an underdog since his bout with Gennady Golovkin in 2017. Miracle Man became the first opponent to go the full 12 rounds with GGG, ending his streak of 23 knockouts though he ultimately lost via unanimous decision.
In contrast, Canelo is quite accustomed to being the favorite, coming in as an underdog only twice in his career against GGG and against Floyd Mayweather Jr. Alvarez performed better against GGG than Jacobs, securing a controversial draw in the first outing before earning a majority decision win in the second.
Alvarez has won nine of his last ten fights with his lone 2013 defeat coming at the hands of the aforementioned Mayweather. In that fight, the then brash 23-year old was schooled by the undefeated champion but made it competitive for the full 12-rounds before losing a unanimous decision. The loss helped spur the Mexican's meteoric rise in the sport.
Reflecting on that lesson, Alvarez had this to say to the Times:
"I always wanted to face the best fighters … to cement my path and be able to place myself in the history of boxing," Alvarez said in a statement to The Times on Monday. "… The reason I fought against the kind of style that Mayweather [has] is because I was already used to [other] kinds of fighters. "I also knew that fighting against the best would prepare [me] for challenges like the one I have against Daniel Jacobs."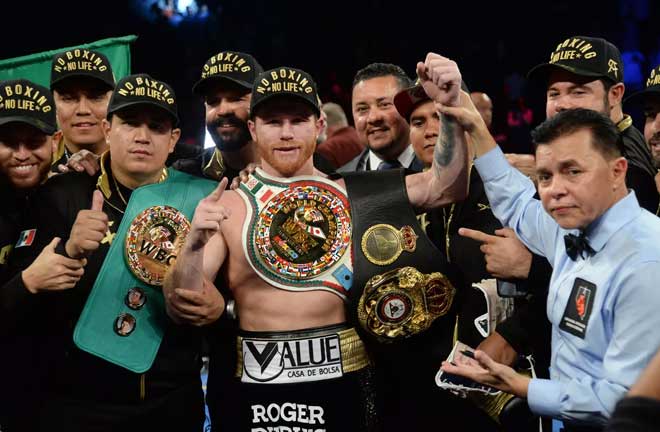 Ironically, it was Jacobs who was once dubbed boxing's Golden Boy. An exciting prospect and somewhat over hyped KO artist in his early days, he was derailed by another great fighter in Dmitry Pirog. Pirog knocked Jacobs flat on his back in the fifth round to win by knockout back in 2010. However, that was nearly 9 years ago and Jacobs has clearly evolved into a great fighter in his own right. He would later acquire cancer and beat it adding yet another dimension to an otherwise atypical career.
In his biggest fight to date, the Brooklyn native gave GGG hell in their 2017 bout. Unfortunately, Jacobs' last three wins have failed to impress and you get the sense that he is in a holding pattern. At the end of the day, you still have a hard-hitting fighter and a big middleweight at 6-feet possessing both speed and a good ring IQ.
Canelo has really developed into a complete fighter. His defense and overall form are tight. He protects his chin well and keeps his hands high. You don't see Canelo making a lot of mistakes either or having defensive lapses. More importantly, he can take a good punch and has never been down throughout his impressive career.
Keys to Victory
Homefield Advantage – Jacobs will either need to dominate Canelo to get a win on the cards or earn a stoppage. Only problem is that Canelo has never been stopped – not by Golovkin, Cotto or Mayweather so Jacobs' only realistic path to victory is to outbox him on Cinco de Mayo. The judging clearly doesn't favor Jacobs in this regard as judges tend to side with Canelo particularly in close fights. Even against Mayweather, one judge managed to score it even when everyone else thought Mayweather won easily. Alvarez will certainly enjoy home field advantage in this one.
Shoot and Run – Jacobs is both longer and taller than Canelo and can use those intangibles to his advantage. Erislandy Lara, Austin Trout and Mayweather all made Canelo look bad in the ring proving that the Mexican does not do well against slick boxers who jab and move. Jacobs is even taller than those fighters and has the power to potentially stop Canelo if he does not stand on the inside and attempt to trade with his robust opponent.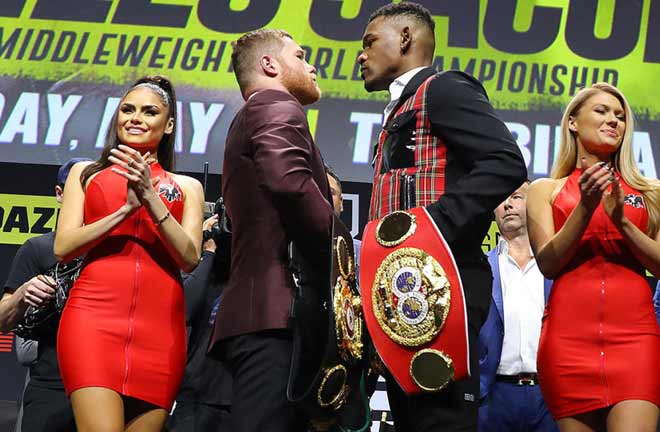 Body Attack – Canelo must be consistent in attacking Jacobs' body, especially his mid-section to help expose the chin as a secondary target. Jacobs does not have the sturdiest whiskers having been dropped by GGG, Mora and Pirog. His defense is also a bit porous with his tendency to throw wide shots giving Canelo an opportunity to work his way on the inside and get under Jacobs' jab. Remaining on the outside would be a mistake since Jacobs has the longer reach and can break him down with the jab.
Prediction
This will not be an easy fight for either man. Jacobs holds a nearly 4-inch height as well as 3-inch reach advantage over Canelo. He's the bigger man in every regard and a natural middleweight. If Jacobs can work behind his long jab and control distance, it will create problems for Canelo who might find himself unable to land clean shots. Jacobs is also durable and has not been stopped since 2010 while Canelo has never been knocked down or badly wobbled so this fight will almost certainly go the distance. Alvarez has the better ring experience as well as three prior major fights in Las Vegas that went to the cards and were plenty debatable. Scoring the bout that night, will be the same three judges that scored Canelo-Golovkin II last September. In sum, the Mexican superstar is a healthy but not overwhelming favourite.
It's hard to see Alvarez losing on Cinco de Mayo. He wins this one by a razor-thin split decision to unify the WBA, WBC and IBF middleweight belts.