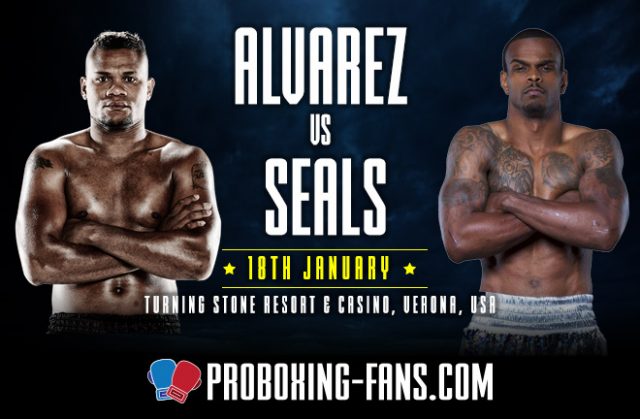 This Saturday's ESPN main event sees the return of former titleholder Eleider Alvarez squaring off against Michael Seals at the Turning Stone Casino in Verona, New York. 
Alvarez will look to bounce back after nearly a year out of the ring following his first pro defeat, in a rematch with Sergey Kovalev.
Standing in his way will be the little-known Alabama-born Seals in what could be a potential fire fight with the vacant WBC Continental Americas title on the line.
Tale of the Tape
35-year-old Alvarez (24-1, 12 KOs) is the clear A-side in this matchup with the resume to support that claim. A perennial contender for many years, "Storm" finally broke through in 2018, upsetting Sergey Kovalev to win the WBO light heavyweight belt in Atlantic City in an HBO main event. 
It was a fight that the Colombian was not supposed to win and indeed Kovalev was in full control of the fight through six rounds and leading on all the judges' scorecards. But everything changed in the seventh round, when Alvarez badly hurt and dropped the champion with a clean right hand to the head. 
The Russian got up quickly but would hit the deck again moments later to signal the beginning of the end as Alvarez would continue to unload until the referee waved off the contest. 
Their 2019 rematch during Super Bowl weekend was meant to see if Alvarez could repeat and whether Kovalev was washed up. Instead, long-standing light heavyweight kingpin hired a new trainer and routed Alvarez for a full twelve rounds to reclaim the belt. 
It was a disappointing outcome to say the least for Alvarez, who finds himself a few years older, perhaps a bit rusty and back at square one vying for another title opportunity that may never come. 
Seals (24-2, 18 KOs) enters this fight as the slightly older man at 37 with a pair of loses on his record. He has no notable wins either so it's a fair assessment to consider him quite unremarkable. 
You'd have to go back to 2015 to discover his three-round, all-action slugfest against Edwin Rodriguez on a PBC card in Biloxi, which I suspect many haven't heard about. It was a losing effort as Rodriguez got the nod, but Seals gave as well as he took that night as both guys threw caution to the wind to land their bombs.
There was his second-round decapitation of Christopher Brooker that was a 2019 KO of the Year Nominee. A year earlier, he took another loss, this time by disqualification for hitting journeyman Michael Gbenga while he was down in the second round. 
Perhaps what is most impressive about Seals is the fact that he is a big light heavyweight at 6'3" with a long 80-inch wingspan. That could spell trouble even for a highly skilled boxer like Alvarez. 
Seals also has the look of a ferocious fighter [and fights that way too] often appearing with arched eyebrows and a scowl across his face. With a secondary title on the line and a chance to challenge for a world title in the year, expect Seals to come out guns blazing. 
Prediction
Seals is as rugged as they come with nothing to lose and has never had the high-profile fights like his opponent. They are both probably just beyond their respective primes but neither has taken significant punishment during their careers. Alvarez can be a special fighter at times, especially when properly motivated and fighting aggressively as he she showed against Kovalev. But often, he fights passively and makes fights harder than they need to be, notably in labored decision wins over Isaac Chilemba and Jean Pascal back in 2015 and 2017. I think Seals will force Alvarez to step on the gas and that should make for an exciting and competitive bout. 
Verdict: Seals will likely bait Alvarez into a phone booth war and take advantage given his sheer physicality. However, the superior pedigree of the former titlist will be the difference maker and he'll get the UD victory after shaking off the ring rust.
Comments
comments