Two of the top three welterweights in the world are in action this weekend. Amir Khan (#1 contender) squares off against Chris Algieri, and Kell Brook (#2 contender) meets domestic foe Frankie Gavin. Here's a fight preview for both matches, and a look ahead to a potential match with the favored winners, Khan and Brook.
Khan vs Algieri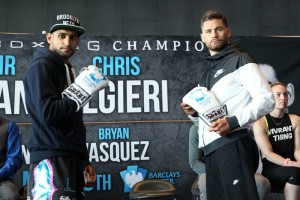 Chris Algieri experienced a rapid rise in prominence. Previously relatively unheard of, his surprise points win over Ruslan Provodnikov ushered him to the front of the queue to fight Manny Pacquiao late last year.
Out of his depth against Pacquiao, Algieri nonetheless showed guts, getting up from the canvas on six separate occasions to go the distance. He will need every ounce of that same heart to compete with Amir Khan this Friday night.
While not as sturdy as Pacquiao, Khan's speed is unparalleled in the welterweight division. In addition to that, his combination punching, ring intelligence and defense have improved under Virgil Hunter's tutelage. He is now a more complete fighter and a strong favorite to dispatch Algieri.
Algieri's physical advantages in height and reach didn't particularly do him any favors against Pacquiao and it is likely the same will be the case in his fight with Khan, who will likely pick him off over the course of the contest. As a result, Algieri may have to rise from the canvas once again, though he should have enough to last the distance.
Brook vs Gavin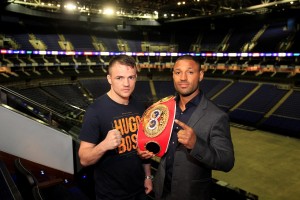 Not long after the win of his career – a unanimous decision over Shawn Porter last year – Kell Brook was stabbed while on holiday in Tenerife. For a few months boxing took a backseat as the 29-year-old focused on recovering from his injuries.
After time in hospital, Brook returned to the ring with a four round stoppage of Jo Jo Dan earlier this year. It was an impressive display that suggested nothing had been lost due to the knife attack.
This weekend Brook's recovery continues against fellow Englishman Frankie Gavin. Gavin, like the aforementioned Dan, is a southpaw. He was also a high-caliber amateur boxer whose only pro defeat came at the hands of durable Italian Leonard Bundu.
Gavin does have a tendency to mark up during fights, and he also lacks the power that Brook possesses. While he may pose a few questions, ultimately it is hard to envisage him seriously threatening Brook's undefeated record. Gavin may make life difficult in the early going only to fade down the stretch, with Brook potentially going for the finish in the late rounds.
The possibility of Khan vs Brook
As ever, Khan's eyes are set on a fight with Floyd Mayweather. Every contest the Bolton pugilist now wages is done with the overarching need to advertise his skill-set to the masses so that he may further legitimize his status as a potential Mayweather foe.
He has been let down in the quest to face-off with Mayweather – and reap the financial rewards – before. Some of these near misses were his own fault, dropping fights to Danny Garcia and Lamont Peterson, while Mayweather would go onto ignore the results of a can contest by choosing to fight Marcos Maidana instead of him in 2014, but he still seems intent on a fight with 'Money'.
That's the dream, though should it not be realized Khan has a domestic superfight with Kell Brook lying in wait. The pair are natural rivals; both men are from the north of England, both are in their late 20s and both are desperate for a big fight.
The potential for Khan and Brook meeting has been discussed before, with the duo even appearing on Sky boxing show Ringside together, but as yet there has been plenty of bluster without action.
Were they to share a ring it would be a fight not just of domestic rivals, but of international quality fighters. It's a fight UK boxing needs, though it would also be appreciated globally. Assuming all goes to plan this weekend, it's a fight that should happen.