Live Khan vs. Garcia Round by Round Results
Two of the best junior welterweights in the world met on Saturday night in Las Vegas, when Amir Khan squared off against the undefeated Danny Garcia live on HBO. "Swift" Garcia was being outclassed by "King" Khan… until he turned things around with one monster punch and then continued forcing the action until he got the stoppage win. Read on for the full recap of how Garcia earned his stunning 4th round TKO win against Khan.
Khan vs. Garcia Round by Round Scores
| | | | | | | | | | | | | | |
| --- | --- | --- | --- | --- | --- | --- | --- | --- | --- | --- | --- | --- | --- |
| Round | 1 | 2 | 3 | 4 | 5 | 6 | 7 | 8 | 9 | 10 | 11 | 12 | Total |
| Amir Khan | 10 | 10 | 10 | – | – | – | – | – | – | – | – | – | – |
| Danny Garcia | 9 | 9 | 8 | – | – | – | – | – | – | – | – | – | – |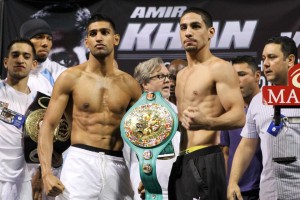 11:20 pm – Fighter introductions, and we're set to get going in just a minute!
11:08 pm – They are doing some pre-fight video features right now, including plenty of coverage on Angel Garcia, Danny's father and trainer, and his controversial pre-fight comments.
Khan vs. Garcia Round by Round Results
Rd 1: Both men come out strong, Khan looks particularly on his game. Khan is already landing big right hands. Noticeably quicker, and his punches are carrying more pop. Crowd is loving Khan's work. Garcia lands an overhand right. He goes low, Khan gets right back into it. Khan's round for landing those rights and dictating the action.
Rd 2: Khan looks like he's in a completely different level than Garcia right now. Sticking his very sharp jab in there. Working with his right and his left hook. Garcia looking for a way in. He lands an overhand right. Garcia is cut over his right eye, maybe from a left hook that Khan landed. Khan is throwing bombs in there, looking to land some crushing blows. Garcia is bloodied but battling, Khan's round.
Rd 3: Garcia looking a lit bit lost in there. He's throwing and working, but doesn't know what to do effectively. Khan seems to be always throwing big combinations. Sticks Garcia with a crisp jab, throws a 4-punch combination. Garcia goes to the body. Khan doing good work. Suddenly Garcia BLASTS KHAN! He gets floored! A big left hook hits him on the ear and he didn't see it! Khan is badly hurt! He struggles to his feet and wobbles through the 8-count! Less than 10 seconds left in the round, and Garcia unloads but not enough time to get Khan out of there.
Rd 4: Khan isn't right yet and Garcia starts unloading on him. A knee touches the canvas, and a knockdown is called. Khan still hurt when he gets up, Garcia is tagging him with monster blows. Khan is back-peddling and getting tagged. Garcia swinging for the fences. All action here in this round, Khan is just throwing bombs to try to defend himself. He lands a monster uppercut of his own. Garcia counters with two big shots. Khan just standing there and fighting. Garcia looks to be tiring out, Khan coming forward and winging shots. Garcia then tags him with another hook on the chin, and Khan crumples to the canvas. He gets up but looks wobbly, and the referee STOPS THE FIGHT! Khan protests but Garcia wins!
Danny Garcia TKO4 Amir Khan!
What a sensational performance for Danny Garcia. And for Khan, another crushing loss and setback, for a fighter who seems forever looking ahead instead of focusing on the task in front of him. For Garcia, the world is his oyster now, and he'll have loads of big fights awaiting him.
—
That does it for our live Khan vs. Garcia results and round by round coverage. Check back with us over the next few days for more post-fight analysis and updates. We'll be updating our rankings, and providing a rundown of what comes next for both men.
Comments
comments