Amir Khan will take on Julio Diaz on April 27, from a site to be determined in England. Khan's bout will be shown live in the afternoon on Showtime, but will also be shown later in the evening, as a part of the Danny Garcia vs. Zab Judah Junior Welterweight title fight broadcast, originating from Brooklyn.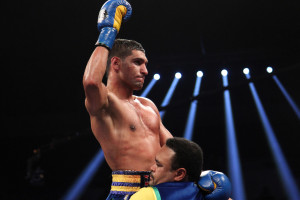 While Khan vs. Diaz is not exactly a high-profile match, it's one that makes sense right now for all parties. Khan gets a veteran, but one whom he should be able to thrive against. He'll find Diaz easy to hit, and should be able to look impressive and tally a stoppage. He's bigger, stronger, quicker and more skilled, so this really amounts to a confidence booster.
But by opting for April 27 and getting on the Showtime telecast for Garcia vs. Judah, this is an ideal way for Khan to place himself in position for a bigger fight this summer, and for Showtime to build up a potential rematch with either man as well.
Khan, of course, was knocked out by Danny Garcia last year, and previously had dominated and stopped Judah in their encounter. So depending on how that fight shakes out, Khan would be in position to face either man next.
For those who are getting antsy at Khan's choice of opponents, his situation certainly warrants a fight or two on this level. Coming off back-to-back losses, including the second knockout loss of his career, he needs to rebuild, hone his new form under trainer Virgil Hunter, and get his confidence and mojo back a bit.
This is a step in the right direction to accomplish those goals, and as mentioned, by getting on the Garcia vs. Judah telecast, he's clearly looking ahead to bigger fights next.