Khan vs. Maidana Junior Welterweight Showdown
On December 11, the deep junior welterweight class heats up, as division stalwarts Amir Khan and Marcos Maidana collide in a high-stakes matchup. The idea here is to crown a preeminent champion at 140 pounds. The 4 best fighters in the division are getting it on, with Tim Bradley and Devon Alexander tangling earlier next year, with the winner of both fights squaring off to crown a real champ. The winner of this mini-tournament will add a few great names to his resume, while being crowned the top dog in a division crackling with talent.
Saturday, December 11, 2010
Mandalay Bay Resort and Casino
WBA Light Welterweight Title: 12 Rounds
Amir Khan, 23-1 (17 KOs), Bolton, Lancashire, United Kingdom
Vs.
Marcos Maidana, 29-1 (27 KOs), Buenos Aires, Argentina
Khan vs. Maidana Preview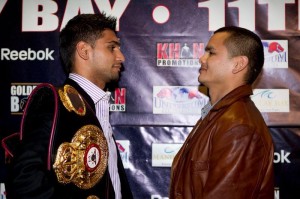 Khan, 23, is favored and rightly so, with credentials that have a bit more depth. A 2004 Olympic silver medallist at 17, the British-born and raised Khan has been sizzling in the pro ranks, defeating Marco Antonio Barrera, Andriy Kotelnik, Dmitriy Salita, and Paul Malignaggi. He had one major hiccup in a 1st-round knockout loss to Breidis Prescott. It will probably take some more big wins to put that defeat in the rear reaches of everyone's memory banks.
Maidana, 27, has won 29 out of 30 fights since turning pro in 2004. 27 of his 29 wins are by KO—underscoring his powerpunching potential. Maidana's opposition was modest until he met Kotelnik in a title shot in 2009, dropping a split decision. The Argentine was considered a stern test, but mostly an afterthought when he met touted Victor Ortiz in June of '09. His performance was one of the most heartfelt and gritty triumphs in recent years, as he soldiered through major punishment and 3 knockdowns to stop Ortiz in the 6th round.
Khan is the more skilled boxer—graceful and athletic, while blessed with great speed and punching power. Maidana is more of a steady force, a more proletariat performer. Both fighters have weaknesses that the other man could possibly exploit. Maidana is dogged and tough as they come, as evidenced in his win over Ortiz. The loss to Kotelnik, however showed that he isn't quite the terror when facing a skilled and more calculating opponent. Ortiz fought a pedal-to-the-floor style against Maidana and was outlasted. Khan will not be fighting in this fashion, but more like Kotelnik—just with a lot more on the ball.
Any notion of Maidana being more vulnerable to fighters capable of high levels of slickness has only been illustrated over one fight. Couldn't it just as easily be said that Khan is vulnerable facing a man capable of flattening his opponent with a punch or two? Khan reminds me a little of Terry Norris. When he's cooking on offense, he looks unbeatable. Yet, the threat of immediate disaster constantly looms. Against a bomber like Maidana, that danger threat rises to Defcon-5. Khan and his team fancy matchups against other boxer-types. Guys who can turn your lights out figure to be Khan's most dangerous fights in the future. Maidana just might represent the most difficult stylistic problem for Khan of any other fighter at 140 pounds.
Physically, they match up well. Both are tall for the weight, with Khan an inch taller at 5'10." Maidana wants to push Khan and make life uncomfortable for him by getting in his face. Khan will need to use his legs and countering to dissuade the irrepressible Maidana. One major addition for Khan that will help in this fight and his entire career is the addition of Freddie Roach as his trainer. Roach knows how to bring out the best in his fighters while allowing them to camouflage their weaknesses. Cognizant of Khan's deficit in the chin department, Roach has helped Khan add some wrinkles that render that deficiency less of a liability. He is less reckless, doesn't charge in with his head perched high, and no longer backs straight out of exchanges.
Questions for Khan vs. Maidana:
Was Khan's collapse against Prescott truly an indication that his chin is glassy or was he caught cold? Will his chin hold up if Maidana starts landing shots?
Did Maidana's scintillating win over Victor Ortiz over-inflate his reputation? Does beating a brawler who fought thoughtlessly and quit show he can beat a prideful and skilled technician like Khan?
Has Maidana slipped a bit since his career-making win over Ortiz? He had a more difficult time than expected in an August tune-up fight, as faded 13-loss DeMarcus Corley reached him throughout their scrappy 12 rounder. Has he lost a little bit of his mojo?
The Khan team appeared to eschew a Maidana fight earlier this year in favor of a bout with light-hitting slickster Paulie Malignaggi. Were those trepidations well founded? Do they indicate a reluctance or even an insight on the part of Khan's backers that Maidana is a bad matchup for their man?
Has Freddie Roach really brought out the best in Khan or is it more a case of happenstance that no one has recently managed to detonate a bomb on Khan's suspect chin? Is his recent success genuine, a product of matching him against feather-fisted technicians, or a little bit of both?
Will Maidana be too hittable? Will it be almost alarming once the fight starts how easy it is for Khan to connect on the ever-available face of the Argentine scrapper?
Khan vs. Maidana Prediction:
Maidana can potentially create major problems for Khan. He is capable of quick-burst attacks that could surprise the British standout. In addition, there are not many fighters who respond to getting hit or hurt like Maidana. Anyone who saw him dump Victor Ortiz mere seconds after getting dropped himself knows how well Maidana responds to adversity. Khan will have to fight the most mentally-alert fight of his career.
Maidana will keep the early-going interesting by firing a hard jab and retreating behind an effective high guard when Khan attacks. After 3-4 rounds, Khan's advantages in speed, mobility, and overall boxing skill will begin to tell. There will be anxious moments, as Khan fans are given a few scares. I see Khan as the more complete study in pugilism. He has the Achilles heel that could make it all irrelevant, but I see him enduring a crisis or two, while he consistently beats Maidana to the punch.
Look for Khan to open some eyes with this performance. Maidana will do well to get to the final bell in what will become a bit of a lopsided fight in the last 3-4 rounds. I like Khan by wide unanimous decision.
Prediction: Amir Khan by unanimous decision.