Abraham has a Chance to Make Amends Following his DQ Loss Against Dirrell
Dear "King" Arthur,
I want to call to your attention that the actions of those who speak on your behalf follow the same, sad pattern of denial so common in boxing, indeed in professional sports as a whole. Your promoter, Wilfried Sauerland, is boasting that you would have knocked out Andre Dirrell in the 12th Round and has already filed a protest against your disqualification. German boxing sources and even some Americans are spreading rumors that Andre Dirrell was "faking" because he did not instantly fall over when you flagrantly and illegally struck him while he was on one knee. These tactics outside the ring are even dirtier than the blow you landed inside the ring, and they do you no credit. Roy Jones did the same thing after he fouled Montel Griffin in the same manner, and no one bought his story or forgot about that incident either. Need I point out that at the time he clocked Griffin, Jones was winning the fight. You were losing.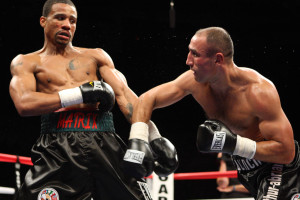 Instead, I call upon you to take the high road. Show us the same man who gutted out a 12-Round fight against Edison Miranda with a broken jaw. You could have quit and who would blame you? You must have known the IBF would have ordered an immediate rematch for a title fight that ended under such circumstances, so that would have been the easy way out. Instead, you showed the kind of courage that boxing fans everywhere love. Pull out that courage now and do the right thing.
First, withdraw Sauerland's protest. What you did is on film and there is no arguing with it. Your actions earned you your first loss, so be a man and accept it. Second, make a public statement that you don't think Dirrell was faking. This is a foul and ridiculous slander against a man you wronged. Do right by him and shut up the charlatans who are criticizing him. Third and finally, extend Dirrell a "rematch anytime, anywhere" card. Make him an offer that after the Super Six tournament is over, you will meet him whenever he chooses and give him the chance to settle the score. If he never takes you up on that, do not call him out.
We are all looking forward to your next bout in the Super Six tournament. Whether you appear in that bout as the villain most American fans want to see lose is up to you.
Sincerely,
Rich Thomas
Comments
comments