What a weekend! This weekend we saw a stacked boxing schedule that spanned the spectrum of possibilities.
First was the good: Former longtime Thai champion Pongsaklek Wonjongkam, the clear #1 flyweight of the last decade, beat the leading candidate to earn those honors for this decade—undefeated champion Koki Kameda. Pongsaklek, with one loss since 1996 and 71 fights, has truly distinguished himself as one of the greatest ever flyweights.
I was wrong with my pick, but it was gratifying to see the humble ex-champ clearly beat the hated Kameda. Predictably, his father freaked out after the fight, pointing fingers and threatening to have everybody fired. The decision was actually well received in Tokyo, which probably didn't sit well with the Kameda clan—which happens to live in Tokyo.
Great win for Pongsaklek. The Hall of Fame surely awaits this great champion.
Then you have Joan Guzman, somehow still undefeated after his decision over Ali Funeka. Let's hope the boxing cognoscenti looks past this defeat and gives the hard-luck Funeka another chance. Guzman, an insane 9 pounds over the limit, was basically a welterweight fighting a lightweight. He took Funeka's punches better than in their first fight and hit harder too. He won the fight, but should receive minimal credit in my opinion.
Guzman is one of the more unprofessional fighters in recent memory. He has sabotaged his own career with his weight-issues and long inactive spells. For him to so severely flout the conventions of the sport is appalling. 9 pounds over? Funeka played by the rules and managed to whip his 6'1" frame into 135 pounds. If either of these guys gets a big fight soon, it should be Funeka and not Guzman.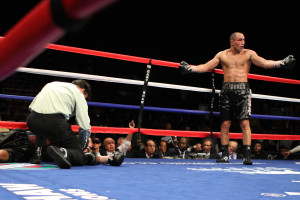 The Andre Dirrell-Arthur Abraham fight was certainly strange. The illegal blow in the 11th round that flattened Dirrell and earned him the DQ marred what should have been a coming-out party for Dirrell. Abraham was coming on and appeared to drop Dirrell in the 10th. A dramatic race to the bell was in store before the fateful punch.
Was Dirrell acting? He got hit, turned to the ref to complain for a nanosecond and collapsed—unconscious and twitching. It's bizarre to see a fighter have the presence of mind to complain to the ref after being hit, only to go lights out a second later. But I really don't think he was faking. It was just a weird reaction to a punch that really scrambled his brain. Everyone reacts differently to the type of head trauma that occurs when a beast like Arthur Abraham lands a haymaker to a fighter on one knee.
What ensued was truly jaw dropping. Dirrell, appearing to be in a fair amount of peril, was being roughed up by his own camp! A bunch of different members of his entourage were grabbing him by the neck, screaming in his face that he won, and generally treating him in a way not befitting a concussion victim. When pinhead Abel Sanchez started craning his neck forward and screaming in his face, I thought Dirrell was going to go lights-out just to escape the madness. The whole time, Dirrell was pleading, "I'm hurt. I'm hurt. Let me breathe!" To no avail.
It was disturbing. That's the only way to put it. Dirrell is either Sir Lawrence Olivier or he was in great distress. It was bizarre to see a man who just won the fight of his life acting like he had lost. But the illegal blow had knocked him OUT. His camp should have quietly taken him for medical attention. Instead, they roughed him up and let him do an interview he was in no position to give that lasted one question.
Shame on Team Dirrell.
Now on to Laurence Cole. The Texas-based referee is a nice enough guy, but one of the worst referees in recent memory. I would like someone in boxing to explain to the fans what Cole has done to deserve such important assignments. It was one thing when he refereeing solely in Texas. Fans would only have to be on high alert when fights were in the longhorn state. Apparently the powers-that-be has determined that Cole is such a scary-good referee that they should import him around the world to be the third man in huge fights.
He missed two knockdowns. The one in the tenth round was particularly hard to miss. When Abraham finally had Dirrell pinned against the ropes late in the fight and was doing damage, Cole jumped in for god knows what reason to break it up. Then, when Dirrell went to one knee, Cole might as well have been in third row. That's how far he was from the action.
When Cole is announced as a referee, you can almost feel millions of eyes rolling. It's time to come to the conclusion that Cole is not a world-class referee.
A few other tidbits from this past weekend's action:
I actually feel kind of bad for Joe Calzaghe. Using cocaine is nothing to snicker at, but for him to be shamed into admitting it seemed low. What kind of newspaper launches such a sting operation? To set Joe up like that seems more of a personal affront than actually using cocaine.
And hats off to Chris Henry. The hard punching Houston contender had a couple rough losses, but a recent KO of hot Shaun George, followed by a shocking first-round KO of Hugo Garay on Saturday has him in a good position to strike in the light heavyweight division.