Undefeated 2008 U.S. Olympian Demetrius "Boo Boo" Andrade believes his February 10 main-event fight against former USBA junior middleweight champion Derek "Pooh" Ennis, for the vacant North American Boxing Organization ("NABO") junior middleweight title, is a continuation of a well designed plan, eventually landing him a world title fight later this year or in early 2013.
With world title belt implications for the winner, Andrade-Ennis headlines the Joe DeGuardia's Star Boxing show on ESPN Friday Night Fights at Mohegan Sun Arena in Uncasville, Connecticut.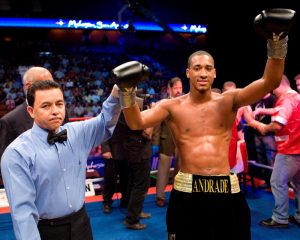 Andrade (15-0, 10 KOs), fighting out of nearby Providence, was a much decorated amateur who in 2007 became the first American since 1999 to capture a gold medal at the World Amateur Championships. The talented 23-year-old from Providence is ranked in the top 15 of all four major governing bodies: No. 9 by the World Boxing Organization ("WBO"), No. 13 by the International Boxing Federation ("IBF") and World Boxing Council ("WBC") and No. 15 by the World Boxing Association ("WBA"). He is co-promoted by Star Boxing and Banner Promotions.
"This fight will put me in a good position and let people know that I'm coming hard," Andrade said. "I will be there soon (world champion) but I'm in no rush. I've been handled the right way. We're following the game plan and picking the right fights. Once I get up to 20-0 or so, I'll be ready to call out the big guys like (Canelo) Alvarez.
"I've improved a lot since I turned pro, mentally and physically. I've kept my head on straight, remained focused and have had no distractions at all – in or out of the ring. Physically, I'm in tip-top shape, able to handle whatever comes my way."
IBF No. 9-rated Ennis (23-3-1, 13 KOs) is carrying on the rich tradition of other tough Philadelphia fighters before him such as Joey Giardello, Jeff Chandler, Bernie Briscoe and so many others from the City of Brotherly Love.
"I don't know too much about Ennis other than his record and that he has a good style," Demetrius remarked. "We're looking to step-up and fight guys like him. We're going to make this show rock. I'm going for a big win."
Like Floyd Mayweather, Jr. and Roy Jones, Jr. before him, Andrade is a exceptionally gifted boxer who has been unfairly tabbed a "safety-first fighter" because he makes fights look so easy and effortless. Boxing, though, is about hitting your opponent without getting hit. Andrade has done just that and much more during his perfect pro career to this point. The slick southpaw has been thoroughly dominant in his 15 pro fights, knocking out 10 opponents, and winning all but four of 59 rounds on the judges' scorecards.
"Sometimes, it's funny to me that, when I win by a decision, some people get mad because I didn't knockout my opponent," Andrade explained. "But they still get mad when I win by knockout. Whenever I fight, I bring a different look and nobody can say I don't. I beat (Grady) Brewer with my jab and I went to (Saul) Duran's body with power punches until he quit.
"Each and every fight, I'm better, stronger – stepping-up against better competition – and I'm still winning."