WBC Welterweight Champion Andre Berto is slated to face off with junior welterweight contender Victor Ortiz. Many pundits have labeled this fight a farce, criticizing the Haitian-American champion for cherry picking the ranks of the 140 lbs. division when he has real contenders at 147 lbs, and Top Rank honco Bob Arum has even joined into the chorus.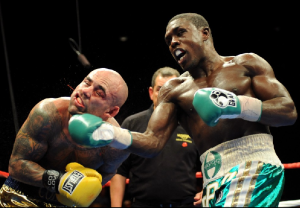 Both the claim that Berto has been ducking real challenges and the notion that Ortiz is somehow unworthy of a shot at the WBC title are ridiculous, and Berto vs. Ortiz promises to be as solid a match-up as anything on the horizon in the welterweight division. I can't shake the feeling that all of this venom is flying because Berto is a Lou DiBella fighter, Ortiz is a Golden Boy fighter, and a lot of pundits (nevermind Arum) can't stand either one of those promoters.
The critics would prefer Berto fight either mandatory challenger Selcuk Aydin of Turkey or #4 Mike Jones. Aydin has earned his shot and should get it, although what Jones has done to earn a title shot (besides avoiding a Top 10 fighter while remaining undefeated) escapes me. Either way, it is easy to see why Berto prefers a fight with Ortiz, and ducking real competition has nothing to do with it: a fight with Ortiz is a lot easier to sell than with the lesser-known Aydin and Jones.
Victor Ortiz (28-2-2 with 22 KOs)
5'9″, 70″ reach, southpaw, 24 years old
Former NABO and USBA Light Welterweight Champion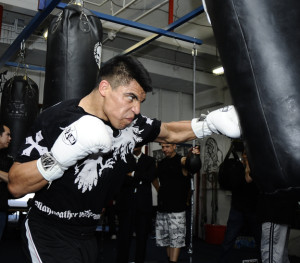 Ortiz is a natural right-hander who has trained as a southpaw, a combination that gives him a thunderous right hook. Ortiz has good head movement, good footwork and a strong left, but he has mediocre point defense, an indifferent jab and has a bad tendency to stop and admire his work. At 140 lbs Ortiz was huge, and he suffered real trouble making weight for his last bout against Lamont Peterson. I have no doubt he will make a natural, comfortable welterweight, and the critics are dead wrong to claim he will be out-sized by Berto. I'm not even sure why Ortiz's camp wanted this as a catchweight fight, and it is telling they settled for 146 lbs.
Ortiz has been proving himself as a real force at 140 lbs since capturing those regional belts and was named an ESPN Prospect of the Year back in 2008. He lost a see-saw slugfest with Marcos Maidana that saw both men on the canvas, but has since beaten Nate Campbell by a landslide and knocked out Vivian Harris. His fight with Lamont Peterson was ruled a Majority Draw, although many in attendance thought Ortiz won.
Andre Berto (27-0 with 21 KOs)
5'8 1/2″, 27 years old
WBC Welterweight Champion
Andre Berto is a lightning-fast boxer-puncher making his sixth defense of the WBC belt. Along the way he has beaten Luis Collazo, Juan Urango, and knocked out Carlos Quintana. Of that trio, only Urango was a former 140-pounder. Collazo and Quintana were both solid welterweights at the time of their clashes with Berto, and Quintana was flirting with a move up to 154 lbs at the time of his match with Berto. Most of the lesser opponents Berto has fought since claiming the title were real 147-pounders as well. The evidence for Berto seeking clashes with light welterweights and light welterweights only must come from Bizarro World, because there certainly isn't any on this planet.
Berto vs. Ortiz Preview and Analysis
I like Ortiz in this fight. I am honestly aghast at the assertion that Victor Ortiz is somehow smaller than Andre Berto – he is a hair taller and obviously bulkier. Only a liar or a blind man would think otherwise. Berto has the better defense and is by far the faster man, but has a merely average chin and lacks the heavy handedness necessary to deter a man who slugged it out toe-to-toe with Marcos Maidana.
Yet the main reason I like Ortiz is because I think Berto is there to be taken by a southpaw with good footwork. He fights from a squared-up stance much of the time, while Ortiz stays on his toes and has a nice bounce in his movement. Berto's jab is unquestionably superior, but the left jab doesn't matter so much against a southpaw. Conventional wisdom dictates Berto's main punch should be his straight right (preferably a right-left uppercut combo) and with Berto's stance he won't be able to employ it as he should. I see him landing it a lot, but lacking its usual snap because of the short distance and strange angle, and it ought not to damage the same Victor Ortiz who stood toe-to-toe with Marcos Maidana. On the other hand, I see Ortiz finding Berto's timing and using his superior footwork to set up right hooks over the top.
I also do not see Ortiz's periodic lack of focus becoming an issue. This is "Vicious" Victor's biggest fight since Maidana, and some accused him of quitting in that bout, an accusation that must have stung. Berto is his shot at redemption and to fulfill his promise, so he will show up sharp and looking to win with a stamp of authority.
Furthermore, Ortiz is at least as good as anyone Andre Berto has ever fought. For his part, Berto also has a lack of focus that I see playing into this bout. Whenever an opponent shows some craftiness or does something Berto doesn't expect, he sort of half-shuts down and goes into a cautious shell until he figures out what happened. In short, he doesn't like the unexpected and responds poorly to it. If Berto finds his efforts to puzzle out the southpaw stymied, he will slink into that shell and give away rounds to Oritz.
Finally, I do not think Andre Berto is quite as confident as a champion making his sixth defense should be. Remember the fight with Shane Mosley? Berto didn't postpone that fight to spend time with his family in Haiti; he outright canceled it and scheduled another bout not long after. That suggests he thought better of tangling with the Sweet One. The bottom line is that Berto probably thinks Ortiz is another Juan Urango, so if he finds out that assumption is incorrect, he might lose his will to win.
Berto vs. Ortiz Prediction
Victor Ortiz UD12, punctuated by at least one knockdown.