Saul Alvarez, while not yet the finished article, looked every bit the Mexican warrior in Anaheim, and certainly has a magnificent career ahead. With an ever growing army of passionate Mexican supporters, a host of influential backers and a down to earth persona, the boxing world may well have itself a new star from south of the border to follow in the footsteps of compatriots Chavez, Nápoles, Barrera, Morales, and many more.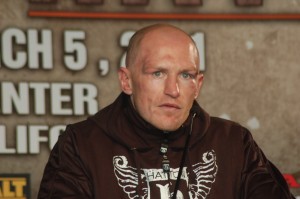 Alvarez has years to enjoy the plaudits which must surely come his way; however I would prefer to concentrate on the valiant, never say die, attitude of 'Magic' Matthew Hatton, who finally stepped out from his brothers shadow. Hatton didn't win a round against the raging bull Alvarez, but gave a performance which will live long in the memory.
As a British fight fan, my life has been full of fabled tales of brave British battlers crossing the Atlantic to take on, with mixed results it must be said, the world's finest. Randy Turpin's exploits against 'Sugar' Ray Robinson, Don Cockell's savage dust up with Rocky Marciano and Lloyd Honeyghan's implausible slaying of the feared Don Curry to name just a few. I myself have witnessed the likes of Frank Bruno, Nasaeem Hamed, Joe Calzaghe and Ricky Hatton take up the gauntlet – but few filled me with such pride as Mathew Hatton's brave stand.
Like a true warrior, Hatton went out on his shield, determined, despite the pain and the realization of defeat, to hear the chimes of the final bell.
Many in the media had dismissed Hatton as a punch-bag and were expecting a wham, bam, thank you ma'am, type of fight, in which a prostate Hatton would be carried from the ring with Alvarez barely breaking sweat. Well, this was not quite the same script Hatton had read and right from the opening bell he attempted to out-speed the naturally bigger man.
The writing was, however, on the wall, and by round two a bloodied Hatton was already looking out of his depth. More punishment was to follow and after a typically savage flurry of punches in the fourth a nasty gash opened over 'Magic's' right eye, leaving him vulnerable to Alvarez's lethal left. But try as he might, Alvarez could not put Hatton away.
Though to say Hatton just lay there and took it would be wrong. Against a much stronger opponent his shots may have lacked power, but they never lacked intent, and he kept throwing them. An incredible exchange in the seventh typified Hatton's performance. Having been deducted a point for hitting after the break, Alvarez was pumped up and steaming forward with real intent. He landed a ferocious uppercut followed by three lefts and a right which sent Hatton flying back against the ropes but in an instant 'Magic' bounced back into Alvarez, throwing lefts and rights of his own while also eating up more of the Mexican's punches, before hanging on to the bell.
At one point a worried looking Referee Lou Moret asked Hatton if he was happy to continue, with eyes swollen but still twinkling, 'Magic' replied in his Manchester drawl, "I'm fine –  he's not hurting me at all." Alvarez could break everything but Hatton's spirit.
As the rounds ticked by each time Alvarez looked poised to finish, the Brit came firing back refusing to go down. At the final bell, although the result was in no doubt, it was Hatton who seemed the happier. He had highlighted a number of weaknesses in the Mexican who was a little too easy to hit and struggled to finish off the fight. Though possibly more worrying was Alvarez's inability to make weight, and potential clashes with the likes of Miguel Cotto or Paul Williams now seem a while off.
As for Hatton, he confirmed he will move back down to welterweight and has done his reputation no harm, in fact winning high praises from Oscar De La Hoya, Richard Schafer and HBO's sports vice president Kery Davis. Expect to see 'Magic' back in the States soon ,with Paulie Malignaggi already being touted as a possible opponent.  Although an attempt at welterweight world honors first, against the likes of Jan Zaveck or Viacheslav Senchenko, would seem more tempting and an intriguing all British bout with the stylish Kell Brook could also be in the pipeline.