Ward is looking to secure number one spot against friend Andre Dirrell in Super Six Stage 3 Contest
Once again Showtime's Super Six World Boxing Classic rolls on, now to stage three of the contest as Andre Ward looks to solidify the number one spot in the semi-finals. He'll be facing his friend and American counterpart Andre Dirrell for Ward's WBA Super Middleweight title.  Fight date and location is yet to be determined.  The two sides for Ward and Dirrell are hashing out the fight details.  Friends will become foes for one night only, so will speed win out or will power when Ward and Dirrell collide?
Tale of the Tape: Ward vs. Dirrell
Andre "S.O.G." Ward is 26 years old, with 22 wins and no losses.  He stands at 6 feet and 1 inch tall, with a 73 inch reach, and he fights out of the orthodox stance.
Andre "The Matrix" Dirrell is also 26 years old with 19 wins, with only 1 loss. He stands at 6 feet 2 inches tall, with a 75 inch reach, and he fights out of the southpaw stance.
Andre Ward: An Inside Look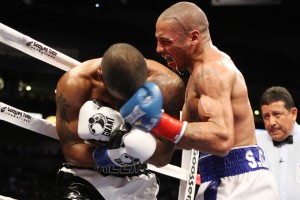 The "Son of God" is the current Undefeated WBA Super Middleweight Champion who has been tearing up the division with his slick and explosive counterpunching style every since he turned pro in 2004.  As an amateur, the Oakland, CA native won several amateur boxing championships, including winning Olympic Gold as a Light Heavyweight in the 2004 Olympics in Athens.
After the Olympics, Ward turned pro, steamrolling through his competition until finally being tested when he faced Edison Miranda in May of last year.  Before the Super Six Tournament, Edison Miranda was the only legitimate opponent that Ward had faced so there was a lot of speculation as to how he would fare in the tournament.
Ward has been nothing but sensation in the Super Six Tournament with wins over the pre-tournament favorite Mikkel Kessler to win the WBA Super Middleweight title, and over newcomer to the tournament, Allan Green. Green also was deemed to be a serious test for Ward, but Ward showed his greatness in the fight, leaving many to believe that he will ultimately win the tournament.
Andre Dirrell: An Inside Look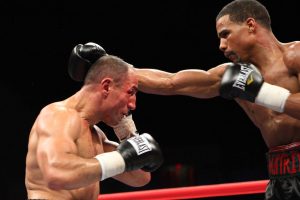 Andre "The Matrix" Dirrell's place as one of the best fighters in the sport is still unknown.  Born in Flint, MI, Dirrell, just like Ward, had an excellent amateur career, winning the Bronze medal as a Middleweight in the 2004 Olympics in Athens.
Since turning pro in 2005, Dirrell has overwhelmed his opponents with his speed and athleticism with impressive wins over Curtis Stevens and Anthony Hanshaw. Dirrell's only loss was controversial when he fought Carl Froch in the first stage Super Six Tournament.  Dirrell seemed to do enough in the fight to win, but many believe Froch was awarded a hometown split decision victory.
In Dirrell's last fight in stage two of the Super Six Tournament, he was on his way to an impressive one-sided victory over then undefeated Arthur Abraham. His glory was railroaded once again when in the eleventh round, Dirrell slipped on a wet spot in the corner of the ring and Abraham hit Dirrell while he was down on the canvas, knocking Dirrell out cold.  This led to a disqualification victory for Dirrell, but took away a brilliant boxing clinic that was displayed by Dirrell throughout this fight, and could have lasting effects on his in-ring abilities.
Ward vs. Dirrell Prediction
This fight will boil down to the counter-punching power of Ward versus the counter-punching speed of Dirrell.  This will be Ward's biggest test to date against not only because Dirrell is his good friend, but also because he is a formidable foe, and the two fighter's are relatively evenly matched.
Both fighters are elusive, with Dirrell being a little more athletic than Ward.  Dirrell also will have the reach advantage, but it will not be a factor in the fight because I expect Ward to be the aggressor, taking the fight to Dirrell on the inside, looking to break his will and slow him down.
Dirrell and Ward both have a ton of natural talent, but I believe Dirrell's stamina is still a question mark, along with his ability to change tactics mid-fight, and when the dust settles these issues will prove to be the difference in the match.
Prediction: Ward by Unanimous Decision.