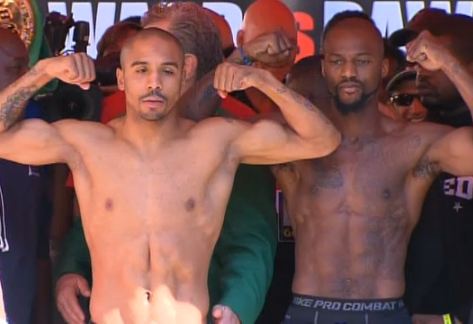 On Friday afternoon in Oakland, California, Andre Ward and Chad Dawson stepped on the scales for the official weigh-ins for Saturday night's HBO main event, which pits the number 1 fighters in the super middleweight and light heavyweight divisions against one another. Check out the complete Ward vs. Dawson weigh-in results right here, including the official weights, a photo gallery, video from the weigh-ins and more.
Andre Ward-Chad Dawson Weigh In Pictures
Ward vs. Dawson Weights
Andre Ward: 168 lbs
Chad Dawson: 168 lbs
Ward and Dawson both appeared very confident and in shape on the scales. Dawson had no issues making the super middleweight division limit, and the two combatants got into each other's faces for an extended stare down after they stepped on the scales.
DeMarco vs. Molina:
Antonio DeMarco: 134.25 lbs
John Molina Jr: 134.5 lbs
Both men were in good condition, but it did seem like DeMarco appeared a bit gaunt and drained from the weigh-in. As he stepped on the scales, his team did see happy that he was under weight, so it must have been a struggle.
Weigh-in Videos
The Ward vs. Dawson weigh-ins were the highlight of what was an entire afternoon of fanfest activities and entertainment. Oakland's mayor came out and gave a speech (and was booed), and as was highly publicized, Nick Cannon announced the spectacle (which nobody seemed to care about), and will also be the ring announcer for the fight.
But, the real entertainment comes Saturday night, of course. So who will prevail? The undefeated Super Six champion, or the recent conqueror of Bernard Hopkins? And don't miss the co-featured fight of the evening, which promises to be an all-action affair between titlist Antonio DeMarco and challenger John Molina Jr.
Thanks for checking out our official Ward vs. Dawson results and coverage, and be sure to check us out tomorrow for our live coverage of the fight itself.
Comments
comments