#There are some fighters  for which the dreaded "ducking" argument is easily dismissed. Does Wladimir Klitchsko duck tougher opponents and focus on a glut of secondary, tertiary, and quaternary (it's a word) opponents? Well, no. That's all that's available in the heavyweight division, plus it's very likely that when he was built in a lab his program didn't include the ability to feel fear. 
It's not as simple a task when you talk about the talented, but so obviously sheltered Peter "Kid Chocolate" Quillin. Should Quillin rightfully be accused of "ducking" anyone as WBO middleweight titlist? Meh. That's tough to tell.
Though, it would be a heck of a lot easier to argue that he wasn't, and that his camp's claims of his desire to seek bigger fights with greater exposure was accurate had he not signed on to fight Andy Lee for the very title he vacated in pursuit of such riches. Plus–and we're willing to give the guy the benefit of the doubt–Quillin has recently opened up about personal issues (the birth of his child, and his uncle's battle with cancer) that kept his focus outside of the ring.
Still, the knock on Quillin is often more about the series of opponents he faced before the sabbatical than his time away from the ring. Arguably, Quillin has taken as curious a path to this weekend's matchup with "Irish" Andy Lee as anyone in the sport. Here are the details:
[tabs type="horizontal"][tabs_head][tab_title]The Fight[/tab_title][tab_title]"Irish" Andy Lee[/tab_title][tab_title]Peter "Kid Chocolate" Quillin[/tab_title][/tabs_head][tab]
When: April 11, 2015 as part of the undercard of NBC Premier Boxing Champions
Where: Barclay's Center, Brooklyn, New York, USA
The Prize: Lee's WBO middleweight title
[/tab][tab]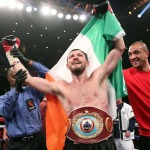 London, England, United Kingdom
Record: 34-2 (24 KOs)
Height: 6'2"
Reach: 75″
Stance: Southpaw
Key wins: Matt Korobov (2014; TKO 6), John Jackson (2014; KO 5), Darryl Cunningham (2013; TKO 1)
Rankings: #5 in middleweight division
[/tab][tab]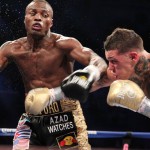 Brooklyn, New York, USA
Record: 31-0 (22 KOs)
Height: 5'11"
Reach: 73"
Stance: Orthodox
Key wins: Fernando Guerrero (2013; TKO 7), Hassan N'Dam N'Jikam (2012; UD 12),
Ronald Wright (2012; UD 10)
Rankings: #2 in middleweight division
[/tab][/tabs]
Lee vs. Quillin Preview
Fighting for the fourth time in his last seven bouts in the cozy confines of the Barclay's Center in Brooklyn, New York, Quillin will step into the ring for the first time since defeating Lukas Konecny of the Czech Republic by unanimous decision. In that fight, Quillin defended his WBO middleweight title against a game Konecny, who had announced his plans to retire–regardless of the result–prior to the bout. Since then, Quillin has been on the shelf during a nearly year-long absence from competition that saw him forfeit his title–and reportedly his biggest paycheck as a pro in the process–for refusing to battle mandatory challenger Matt Korobov.
Enter, Andy Lee.
The former Irish Olympian has patched together a respectable professional career since making the leap from the amateur ranks in 2006. After a high-profile loss to Julio Cesar Chavez Jr. in June of 2012, Lee has enjoyed a string of dominant, if unexpected, performances, capped off with a very convincing sixth-round TKO victory over … wait for it … Matt Korobov this past December to claim the then recently vacated WBO strap. Four months later, Lee will make his first defense against the last man to hold the strap, Quillin.
Lee vs. Quillin Analysis & Prediction
The first few rounds will likely be a methodical, strategic snooze, but that should be expected. Stepping back into the ring after a near year-long layoff, Quillin looking to maintain his undefeated record and regain the WBO belt and set-up a big fight should he walk away victorious.
Across the ring, Lee, who under the tutelage of Adam Booth, certainly is not looking to be a one-and-done champ, will likely proceed with a bit of caution will likely not take an overly aggressive approach upfront. No, expect these two to feel each other out for at least the first three-to-four rounds before anything remotely sexy begins. At that point, the southpaw will show whether he's destined to hold the belt for any length of time, or whether he's out of his depth in spite of recent successes.
Quillin's best approach will be to look to attack Lee and move him off of his gameplan. As a new champion, it is easy to see Lee playing it more conservative than normal. Quillin should look to dictate the flow of the fight from round 4 through its natural expiration.
A champion Lee off his game is an unknown, however it has been well evidenced that Quillin's greatest threats throughout his cherrypicked career came when he was not able to control a bout. Resilient as he is, this is virgin territory for "Kid Chocolate." Lee, like any champ, is happy to win on the cards, if it goes that far.
Quillin, has a much taller order ahead of him in this fight. A convincing win, after such a layoff, would put Quillin in a legitimate position for a larger profile fight, having dispatched a titleholder that proves to be his biggest win to date. A loss, albeit his only professional setback, could do far more damage to the carefully honed trajectory he has enjoyed thus far.
Unfortunately for "Kid Chocolate," he'll be up for the challenge, just not enough to stave off further questioning.  Lee can, and will, take some punishment in this fight, but the southpaw's ability to switch, with both ease and strength, between a strong right and swift left will allow him to outpoint his way to a defense.
And your winner … and still WBO middleweight champion, in a bit of an upset, Andy Lee by majority decision.