On the undercard of Andre Ward vs. Chad Dawson, Antonio DeMarco defends his WBC Lightweight belt against top contender John Molina. It's the featured fight on the undercard and has a good chance to upstage the main event in terms of entertainment value. Both fighters typically make for exciting fights and with the stakes so high, fans should anticipate fireworks.
Date: September 8, 2012
Site: Oracle Arena, Oakland, California
TV: HBO at 10:15 p.m. EST
Titles: WBC Lightweight Championship: 12 Rounds
Antonio DeMarco, 27-2-1 (20 KOs), Tijuana, Mexico, WBC Lightweight Champion
Vs.
John Molina, 24-1 (19 KOs), Covina, California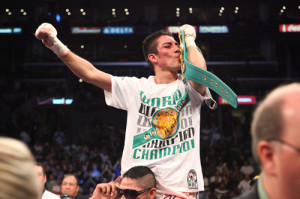 DeMarco's status as a dramatic fighter was solidified in his blood-pumping 11th-round TKO of talented Jorge Linares in November of 2011. Linares was handling DeMarco, well ahead on the scorecards. But DeMarco's sharp shots had begun rearranging Linares' facial features. Linares was still ahead, but waning when DeMarco put his foot on the gas. He sensed Linares was in a state of peril and passionately went for the kill. It was a great moment for DeMarco and in many ways a career-saving comeback.
DeMarco had already been battered into defeat by the late Edwin Valero and if Linares had hung on to the final bell, it would be to the back of the pack for DeMarco. Now, he has the WBC belt, one defense to his credit, and is poised to make a run for being the top guy in the division.
Beating Molina would be a heck of a good start. Molina is a hard-punching threat to DeMarco, who will need to be on the top of his game.
Molina is a nice kid. He has his head screwed on right. I thought his performance against Hank Lundy a few years ago was borderline magical. Lundy, a top of the line fighter, said Molina was too one-dimensional and stupid to beat him. Molina, however, was steadfast in his approach to the fight and kept plugging away on the superbly-talented Philly contender. Before long, the toughness and hard-punching of Molina had Lundy unraveling. Behind on points, Molina notched an 11th-round TKO and a high ranking.
When a fighter secures a high rating as Molina did with the Lundy win, it's common to milk it–wait for title shot while not putting that ranking at risk. So it's difficult to take Molina and his team to task, but by the time he meets DeMarco, the Lundy win will have been 26 months ago. And Molina hasn't exactly spent that time well for a guy about to fight the biggest fight of his life.
Molina took off 10 months after the Lundy win and returned with a win over outmatched Alejandro Rodriguez. A month later, he stopped tough journeyman Robert Frankel. But he took another year off after that and returned this past June to decision 25-23-1 Miguel Manguia. [Editor's Note: There were some promotional issues hindering his career]. It was an understandable course of action, as Molina's title shot was slow to materialize, but a potential Molina backer would have liked to have seen better action from him over the past few years.
DeMarco, 26, has been busy. More importantly, he's been getting battle-tested, while Molina has been on the sidelines. There could be a small chance that Molina is refreshed, while DeMarco is a little woozy after a series of tough fights, but I wouldn't bank on that. If anything, DeMarco might benefit from some increased sharpness over his rusted-out opponent.
DeMarco vs. Molina Prediction
I really like Molina, 29. He's a legitimate contender and an exciting and hard-hitting addition to the world-class mix at lightweight. And he figures to give DeMarco some problems. This should be a good close fight, but in the end, DeMarco is a little sharper, faster, and better-rounded than his foe.
DeMarco will need to emerge through some tough moments, but I think the last few years have given him the confidence to pull through the rough spots. Look for DeMarco to pull away late to lock up the decision win.
Prediction: Antonio DeMarco wins by unanimous decision.