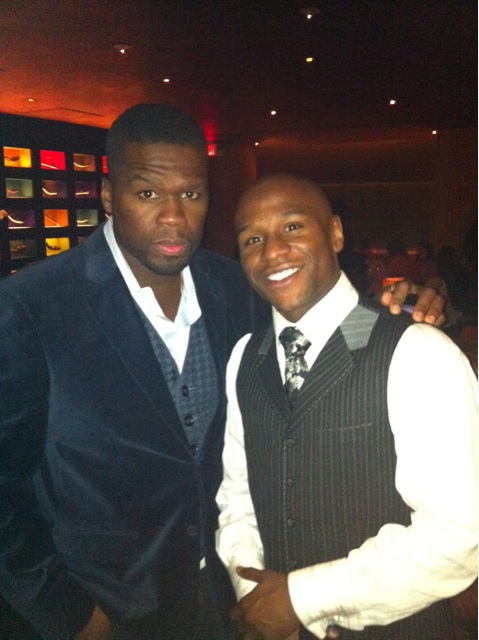 Earlier this weekend, news broke that 50 Cent is now officially joining the field of boxing promoters. His promotional company, TMT – The Money Team – is licensed to promote in the state of New York, and is pursuing a license in Nevada as well.
Of course, 50 Cent has long been a close friend of Floyd Mayweather, and a member of his training camp entourage. Mayweather also often uses the term "money team" to describe his entourage and buddies.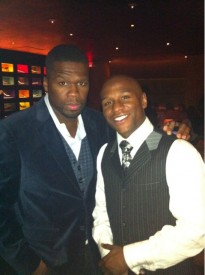 It was rumored that 50 Cent may get involved in boxing by trying his hand as a professional boxer. Instead, it seems like he'll satiate himself with some promotion, and it already appears as if he's pulling in some big names to join his ranks.
—-> Check out our special photo gallery: The Flashy Lifestyle of Floyd Mayweather
Apparently both Yuriorkis Gamboa and Andre Dirrell have already signed with TMT promotions and 50 Cent, and other fighters are rumored to be heading over as well. Of course, TMT will surely also be working with Mayweather himself. Considering Mayweather has his own company, Mayweather Promotions, it will be interesting to see if they end up basically merging with one another or what.
Another question is who ends up handling the business aspect of the operation. For example, Oscar De La Hoya is the front man of Golden Boy Promotions, but Richard Schaefer handles much of the business.
Either way, with Gamboa and Dirrell, 50 Cent's TMT promotions becomes an instant player, and we'll be seeing and hearing more from them in the future.
More information can be found in this story from Business Insider.