With the training camp for his June 2nd fight against unbeaten Lateef Kayode heating up, former light heavyweight champion and current IBO Cruiserweight champion Antonio "Magic Man" Tarver took time out from his busy schedule to check in with his thoughts on another high-profile matchup – the May 5th meeting between Floyd Mayweather and Miguel Cotto,
"I think that Mayweather's coming in with all the natural God-given ability and talent, and Cotto comes in with the physical game," said Tarver, who also doubles as a ringside analyst for SHOWTIME. "But we've seen Cotto beat, and beaten bad on two occasions. He was outclassed against (Manny) Pacquiao, and he took a beating against (Antonio) Margarito. We haven't seen that with Floyd Mayweather yet. I think he (Mayweather) is at the top of the game right now, and he's gonna have more options to do the things that he does in the ring."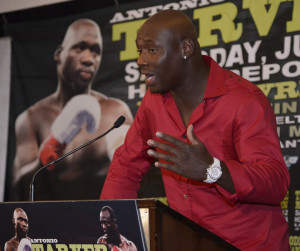 Yet despite the odds, Tarver doesn't count the 154-pound world champion from Puerto Rico out against the unbeaten "Money" Mayweather, even though he believes Cotto will have to throw the boxing equivalent of a perfect game in Las Vegas.
"Cotto's gonna have to be perfect," said Tarver, who upset 5 to 1 odds in his most recent bout, knocking out Danny Green in the ninth round last July. "Cotto's gonna have to be physical, have his defense intact, and he's gonna have to match Floyd. When Floyd opens up, he's gonna have to punch with him. That's how you negate speed, and that's a big risk, but his reward is so gigantic that's he's gonna have to be willing to lay it all on the line and if has to go out on his shield, go out trying to get that victory."
As for Mayweather, Tarver is looking forward to seeing what his teammate on the 1996 United States Olympic boxing team has in store, not just on May 5th, but in the future.
"Floyd's gonna have to keep doing what he's doing, and in two or three more fights, he can ride out into the sunset," he said. "Hopefully Pacquiao's in the scheme of things and we can see that fight eventually. That would be great if he could pull that off. If he beats Pacquiao, he's one of the greatest of all-time and not too many people can say that."