Two-time world champion Randall "The Knock-out King" Bailey, arguably the biggest pound-for-pound single puncher in boxing, finally gets an opportunity to exorcise years of demon-like frustrations on June 9, when he takes on unbeaten Mike Jones for the vacant International Boxing Federation ("IBF") Welterweight Championship, in the 12-round co-feature on the Manny Pacquiao–Timothy Bradley pay-per-view card, live from MGM Grand in Las Vegas.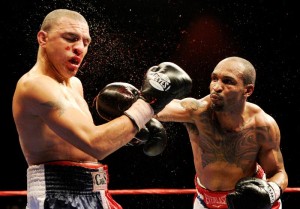 For years, Bailey (42-7, 36 KOs) has been considered too much of a risk for some of today's brightest stars. Awesome, one-punch knockout ability will do just that to a fighter's reputation like Bailey's.  Ask Jackson Isei Bonsu and Frankie Figueroa, two of Bailey's 36 knockout victims, who were literally out cold before they hit the mat, after getting chin-checked by a powerful Randall right.
"Randall Bailey has been frustrated most of his career," his longtime manager Si Stern said.  "He is unquestionably the strongest puncher in the world today and, I know this may sound crazy to some, maybe in boxing history.  Just look at his knockout record.  He's been shunned by a lot of top fighters out there today.  Why?  They know Randall can take them out with one punch. History tells us that dangerous punchers like Randall have always been avoided.
"Jones (IBF #1) didn't want to fight Randall (IBF #2), either.  The IBF pushed the issue and said that Jones had to fight Randall or he'd lose his world title shot.  Once he wins the world title again – he was too young when he was world champion – he knows the money will follow and that's what has kept Randall going.  He has no fear of Mayweather, Pacquiao or any of the other top welterweights.  Randall knows that he can knock out any of them because of his power.  Mayweather doesn't want to fight Randall, who loves stand-up fighters like Pacquiao.  His past problems have been against opponents who hit and run.  Guys who stand and fight have never been a problem for Randall."
The 37-year-old Bailey, now promoted by DiBella Entertainment, made his pro debut in 1996, when Jones was sweet sixteen.  Randall won his first 21 pro fights, all by knockouts, including his World Boxing Organization ("WBO") light welterweight title-winning performance against Carlos Gonzalez in 1999, followed by two successful title defenses against Hector Lopez and Rocky Martinez. In 2002, Bailey stopped Demetrio Ceballos in the third round to become the Interim World Boxing Association ("WBA") Light Welterweight Champion.
After losing his IBF 140-pound title shot in 2009 to Juan Urango, Bailey moved up in weight to welterweight, and he is unbeaten in four fights in that division with three victories, including the Bonsu knockout in their IBF title eliminator, and a no decision.
"I pleaded with him to get out of the 140-pound division," Stern note.  "He walks around at 154 pounds, so making weight is no longer a struggle for him at welterweight.  I bet he's within a few pounds of making weight for the Jones fight right now, working out in Florida with his trainer, John David Jackson.  Jones has never fought anybody like Randall Bailey; he will knock out Jones."
Five of Bailey's seven career losses have been to world champions:  Urango, Miguel Cotto, Ener Julio, and Diosbelys Hurtado. Randall has defeated three world champions: Gonzalez, Corley, and Juan Polo Perez.
Like fine wine, Randall Bailey keeps getting better with age, something Stern believes Jones will discover June 9, probably at the end of single, concussive punch.