Some nations are fixtures in world class boxing, consistently producing crop after crop of world class fighters: Britain; Mexico; Cuba; the United States, and since the end of the Cold War, Russia. Yet most hover on the fringes of competitive professional boxing, with at best one truly world class boxer active at any time.
Every so often, though, a country or region bursts into world boxing with a host of high quality talent. And so it is with Argentina and now Quebec, raising the question of what nation or region will produce boxing's next big breakout crop of top fighters.
The Argentine Bull Rush
[Also See: The Top 5 Best Argentinean Boxers in History]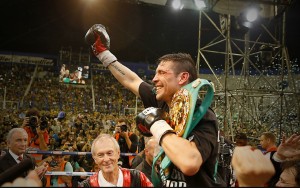 Although no one knew it at the time, the first sign of the Argentine breakout was when unheralded Carlos Baldomir upset Zab Judah in 2006. This started a three-year run as a ranked welterweight contender for the tough swarmer, and opened the door to a succession of other fighters hailing from the Pampas or Patagonia: Marcos Maidana, Lucas Matthysse, and most importantly, Sergio Martinez.
These four may herald a lasting Argentine presence in the top ranks of the sport. Diego Chaves, who humbled Demetrius Andrade at the Olympics, was looking very good prior to his rising-fighters clash with fellow undefeated Keith Thurman for the fake WBA welterweight strap. Chaves was stopped in 10, but his career may rebound.
Furthermore, neither Baldomir or Martinez were given much attention before their first big wins, so who knows who might be lurking in Buenos Aires's gyms? Martinez's homecoming bout against Martin Murray in front of tens of thousands of fans was a coronation not only for himself, but in a way, also for all of Argentinean boxing.
Quebecois Renaissance
[Also See: The Top 5 Best Canadian Boxers in History]
Montreal is a boxing town, but it had been a long time since anyone had any reason to notice that. Boxing has always had at least one or two prominent fighters from Quebec (and it is Quebec, not the larger Canada). Arturo Gatti and Eric Lucas were around at roughly the same time, for example. Yet despite Gatti's fan favorite status, he was never a pound-for-pound entrant, and Lucas was a fringe contender who was lucky to grab a world title.
Now Montreal is a powerhouse. Jean Pascal and Adonis Stevenson sit at the top of the light heavyweight heap, with Lucian Bute not too much lower. Add in names like David Lemieux, and the fact that Quebec occupies so much of the 175-pounder Top 10 that it now has cross-town rivals matches (Pascal vs. Bute), and it's clear that Quebec has arrived in the sport. Are more top boxers coming?
Where's Next?
Is there another nation or region out there waiting to produce a breakout crop of fighters? Perhaps Ireland's revived Olympic boxing program will produce more world class fighters. Maybe the success of Joe Calzaghe or Mikkel Kessler has inspired more Welshmen and Danes to get into boxing, with great promise for the future. Maybe three or four unknown boxers with world class talent in the 154- to 168-pound band lurk unknown in Japan, waiting to explode onto the scene with their first big title fight.
Who knows? But the thing the Argentine and Quebecois boxing revivals tell me is that boxing is far from dead. How can it be, when more countries around the world are grabbing a larger presence in the sport?