Quick Results from the HBO Double Header – Adamek vs. Arreola & Angulo vs. Julio
The HBO card tonight between heavyweights Chris Arreola and Tomasz Adamek, as well as junior middleweights Alfredo Angulo and Joel Julio promises to provide two great, action packed battles. The card, held on the West coast, does not begin until 11:15 pm Eastern. ProBoxing-Fans.com will be in attendance live at ringside, and will offer a full report of the card later on. But for quick Arreola vs. Adamek results and Angulo vs. Julio results, here's your spot.
Arreola vs. Adamek Results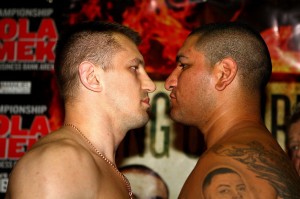 Through the first two rounds of the fight, Tomasz Adamek has been using his speed and overall technical skills to really take advantage of the larger, slower Arreola. Still, Arreola has connected with a few punches and when he does the difference in size and power is palpable. Can Adamek keep it up?
Round 3 was great for Adamek, and he took advantage of his superior skills to easily win it on the scorecards. However, in round 4, Arreola decked Adamek a few times early and for the rest of the round was in hot pursuit. It was his first winning round of the night, and it was a big one for him showing how he can impose his strength.
In rounds 5 and 6, Arreola continued to land some hard shots and dominate the action. Adamek has a chin of steel but he's clearly affected by the weight differential and the sheer power of Chris Arreola. Adamek is still very much in the fight, but Arreola has taken over the action.
Adamek has been bringing himself back into the fight. He has been staying on his toes, circling around and switching his directions to keep Arreola from landing any big shots. He steps in, unleashes a quick series of shots and jumps back before Arreola can land anything. By the end of round 9, Adamek is controlling the bout.
In round 10 Arreola really turned up the heat. He put his punches together, effectively followed Adamek to where he wanted to go and decked him with solid shots and combos. Adamek survived but was tagged badly. Arreola starts the 11th round strong and the crowd goes crazy, but Adamek is also landing some strong shots as well.
Arreola is dealing with a hand or arm injury on his right side, and his face is a bit busted up. He's been bleeding from the mouth since the first few rounds, but can now be seen actually spitting and spurting blood from his mouth during the action. Both men close out the 12th strong, and at the end of the night, Adamek landed more and landed at a higher percentage, but it was Arreola that of course did more damage per shot. Here come the judges' scores…
114-114….. 115-113….. 117-111…… Majority Decision winner, it's Tomasz Adamek!!
Angulo vs. Julio Results
The fight between Alfredo Angulo and Joel Julio is underway. For the first three to four rounds, Julio has been staying on his toes, circling, and applying some good boxing to get the best out of a somewhat slow-footed Angulo. Both men look sharp, and Angulo clearly has some real thud in his punches.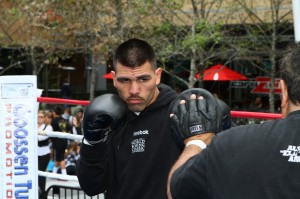 As the rounds continue, Angulo begins to find his mark a bit more and land some hard shots, but Julio remains effective as well. If he can stay on his toes he can win the fight, but if he tires or loses focus, Angulo is going to continue catching him and breaking him down.
Now through the 8th round, Angulo has really been tagging Julio with some flush, hard shots. Julio doesn't seem deterred, but it seems as if it's going to be a matter of time before Angulo really puts some hard leather on him. For the record, this is the best, most complete Joel Julio I've seen in the ring, fluid with his punches and his movement.
Through round 10, Julio's punches just are not denting Angulo, while Angulo's are systemically breaking down his man. Julio needs to find a way to dish out his punishment but avoid the wrath of Angulo, and it doesn't seem like he has the tricks in his bag to do both.
Predictably enough, in the middle of the 11th round, Angulo lands a monster right hand that crushes Julio, sending him sprawling to the canvas. He beats the count but the referee makes the right call and stops the bout. Angulo TKO 11.
It has been a huge weekend of boxing action. The Super Six continued as Mikkel Kessler beat Carl Froch, and with the great fights scheduled here on this HBO card. Keep checking in with ProBoxing-Fans.com for the best in boxing news coverage, up to the minute results and much more.