Live Froch vs. Kessler Results & Round by Round
The big Super Six Stage 2 match between Carl Froch and Mikkel Kessler is finally here. The fight is scheduled to begin at bout 9 pm Eastern on Showtime, and you can find live results and a round by round blog right here on ProBoxing-Fans.com. Of course it's a huge fight for the tournament, with Kessler desperate to get a big win and Froch looking to keep his title belt and maintain his winning ways. NOTE: The fight is tape delayed, and this is for those who have not seen the prior results. To see how the basic recap of how the fight played out earlier this evening, go here!
Kessler vs. Froch Round by Round Scorecard
| | | | | | | | | | | | | | |
| --- | --- | --- | --- | --- | --- | --- | --- | --- | --- | --- | --- | --- | --- |
| Round | 1 | 2 | 3 | 4 | 5 | 6 | 7 | 8 | 9 | 10 | 11 | 12 | Total |
| Carl Froch | 9 | 9 | 9 | 10 | 10 | 10 | 9 | 9 | 10 | 10 | 9 | 9 | 113 |
| Mikkel Kessler | 10 | 10 | 10 | 9 | 9 | 9 | 10 | 10 | 9 | 9 | 10 | 10 | 115 |
Kessler vs. Froch Results & Analysis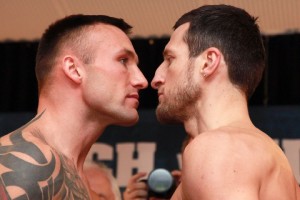 The Showtime telecast has now begun, and the fighters are walking out into the ring and we're set to go…. the crowd goes crazy for Kessler of course, and Froch looks completely focused and determined on the task at hand. He has bad intentions on his mind, but Kessler looks confident and focused as well….

Rd 1: Kessler starts the fight walking forward behind his jab. He definitely has the quicker hands. Froch lands a few wide shots, and tries to get his own jab working. Froch starts getting off first, and the two trade combos. Froch landed the harder shots, Kessler controlled more of the action. 10-9 MK.
Rd 2: Kessler opens up the round quickly and lands to both the head and body. Froch jumps in and misses with a huge uppercut, and follows t with a few jabs. He's circling the ring as Kessler presses forward behind the jab. Another close round for Kessler.
Rd 3: Kessler walks Froch into the ropes and lands some solid body shots. Froch returns with a body shot, and they bring it back to the center of the ring. Kessler's quicker, shorter shots, allow him to land before Froch's wider, slower shots. Froch is waiting and looking for the big shot, and Kessler is scoring more points.
Rd 4: Froch is using the jab and some defense in the first minute of the round, keeping Kessler from connecting. Froch lands two overhand rights to the head back to back, but Kessler is unfazed. Froch takes a step or two back and then tries to time Kessler walking forward to land his own shots. Kessler lands a wide right at the end of the round and attacks to cheers from the crowd, but it's Froch's round.
Rd 5: Froch lands a really wild left hook, launched from his knees, and it sends Kessler back to the ropes. Kessler recoups though and starts the jab and the 1-2 up again. Kessler misses with a big uppercut, and goes back to the body. Froch seemingly knocked down an off-balance Kessler, but the referee calls it a slip. That could be big. Froch continues his strategy of half steps back and then lunges forward to catch Kessler when he's not ready. Kessler continues his body work, and Froch lands another huge right hand to Kessler's head. That one hurt him a bit. Froch is in hunting mode as the round ends. Exciting round is Froch's best. (On replay the no-knockdown was the correct call, he was off balance and no punch landed).
Rd 6: Froch goes back to the jab, and continues to try to time Kessler with a big shot. Kessler lands a big left, and begins to be more aggressive. Froch jumps in wildly, and looks to land a few looping hooks. Kessler gets him to the ropes and Froch ties him up. Froch also getting more aggressive, and more wild. Kessler opens up with about 10 punches, and then Froch unleashes his own assault. Froch is finding a home for his straight right to the head. Good comeback round for Kessler, but Froch did enough to pull it out.
Rd 7: The pace slows a bit, but it's another close round and both men are looking to land big shots. Kessler is working behind his jab, and even triples it up. The action is Kessler's in round 7, and Froch is getting a little bit too showy or cocky for his own good. The fight is getting dirtier too, with the two men holding and hitting, and Kessler landing a big shot to the back of Froch's head. Kessler presses forward aggressively as the round ends. 10-9 Kessler.
Rd 8: Kessler continuing to be aggressive in round 8, and is walking forward. Froch seems to be perhaps a bit tired, his mouth is open a bit, he's getting sloppy and he's not throwing as often. Froch lunges in and Kessler lands a huge right to Froch's nose that buckles his knees. He backpedals and Kessler pours on the pressure. Froch is trapped in the corner, and eventually holds on. Froch's nose is busted up on the bridge, and he seems exhausted as the round ends. Big Kessler round.
Rd 9: Both men turn to the jab at the start of the ninth. Froch partially gets through an uppercut, Kessler opening up a bit more. Froch comes forward with some hard shots, Kessler still working behind the jab. Froch starts landing a few hard shots as he jumps in. Both men are clearly tired as their punches start getting looser. Close round that could have gone either way, but Froch landed a few harder shots.
Rd 10: Kessler lands a sneaky half left hook, half uppercut that stings Froch. Froch circles and looks for opportunities to bounce in. Kessler doubles up on the jab, Froch lands a few of his own. Kessler is opened up over his left eye. Froch lands an extended left, Kessler answers with a right. Froch throwing every shot as hard as he can, the two stand toe to toe and open up for a moment. Froch's hands are straight down on his sides, the two stand and trade wildly at the end of the round. Another round that could have gone either way, once again I think Froch landed the harder shots though.
Rd 11: Kessler goes back to the jab, hooks off of it and then opens up more with a full repertoire. Froch is barely throwing, only sticking out a jab or two every so often. Kessler on the other hand is throwing punches in combinations, is bouncing on his toes, and is opening up. The two are now both exchanging wildly, Kessler lands an overhand right and a solid left hook. Froch is out of gas, somehow lands a few punches on nothing but grit. Action finally slows, the two trade a few wild shots and then hold on. Kessler blocks some shots and takes home a great round.
Rd 12: The two both miss the mark with their shots through the first 30 seconds. Froch lands a 1-2, Kessler lands some more of his jabs and then digs down for a few hooks. Froch still taking half step backs looking for the home run, and Kessler continues to come in and fire away. Froch starts to rough it up on the inside, then lands a flush left hook. Kessler just keeps throwing though, lands some of his on hooks and for about 30 seconds is non stop throwing power shots, pinning Froch to the ropes. Froch comes back forward and opens up, getting Kessler to the ropes. Froch is bleeding heavily from his left eye, the two trade hard shots, Froch lands a few solid rights and left hooks. 10 seconds left and the two are exhausted, each trades as the bell rings. Kessler's early work wins him the round, but another round that could potentially go either way.
ProBoxing-Fans.com unofficial scorecard is 115-113 for Mikkel Kessler. If that holds he wins the WBC super middleweight title, takes Carl Froch's undefeated record and launches himself back into the mix to win the Super Six. Either way in this fight he proved he could fight outside of his element, he could fight toe to toe and brawl, and he could aggressively win the day. On my scorecard the bout was tied going into the 11th and 12th rounds, the championship rounds and Kessler stepped up and won both of them. Also important is that the standings from the Super Six will now be extremely tight heading into the third and final group stage, and the Ward vs. Green bout in June.
Awaiting the official judges's scorecards…. it has taken a long time for the cards to be read…. Al Bernstein says he thinks Froch won, Tarver says he thinks Kessler won…
Unanimous decision… 117-111, 115-113, 116-112…. and the NEW, Kessler wins the fight and the title, and the crowd erupts.
Thanks for checking out our live Froch vs. Kessler results page and round by round blog. Don't forget to check out all of the other great coverage we have on the site, including our Super Six Standings page, our boxing photo galleries including tons of shots from the Super Six and all of the best and latest in boxing news.