Arthur Abraham will battle Andre Dirrell to kick off the second round of the Super Six World Boxing Classic at the Agua Caliente Casino in Rancho Mirage on March 27.
Abraham, 29, leads the tournament in the point system, the only fighter to score a knockout in the initial stage, as he pounded Jermain Taylor for a 12th round KO. Dirrell, 26, is tied for last place, having lost his first-round bout to Carl Froch via very controversial decision. As is usually the case in the fight game, there is a lot behind these numbers and facts.
Abraham, 31-0 (25 KOs), looked great in beating Jermain Taylor in his second fight at super middleweight, his other fight being a non-title win over Edison Miranda. Taylor is not the force of old; so beating him does not carry the same weight as it might have a few years ago. Taylor had been knocked out twice in vicious fashion, and once in his most recent bout. But let's not be too hasty in undermining Abraham's win here. The version of Taylor that graced the ring that night in Berlin was a somewhat reasonable facsimile of a prime Taylor. He fought well, but could not deal with the strength, ability, focus, and punching power of the Germany-based Armenian juggernaut.
Andre Dirrell, 18-1 (13 KOs), is in one of those situations that often sprout up in the fight game where a fighter has enhanced his reputation by losing a fight. In his first-round fight in Froch's hometown of Nottingham, Dirrell showed the promise many believed he always had by thwarting the attacks of Froch for most of the night while boxing with distinction. Froch was dogged in his pursuit of the fleet-footed upstart and the judges awarded him a split decision that many found puzzling.
The decision sparked a debate among those who felt Froch's aggression was not effective and those who felt Dirrell ran too much to take a title from a champion. There is something to be said for both sides of the debate. Froch was the one who gave the appearance of the guy in the ring who wanted to fight.
This observer, however, didn't see Froch land an abundance of clean punches to make his aggression effective enough to win. At the same time, Dirrell made it hard on himself. There were times where he was in full flight during his retreats from Froch, almost running away from his pursuer. This was disappointing to see, especially in light of how superbly Dirrell was boxing. He didn't need to run. He could have been a bit more economical in his movements, and not given the impression to the judges that he was scared crazy of the hard-charging local fighter.
He constantly complained to the referee and just had a whiny countenance about him during the whole fight. While Dirrell's skills were enough to win, his lack of professionalism is what eventually cost him. You cannot expect to go to a local fighter's hometown and win by running that much and complaining incessantly. Dirrell boxed well, but his vision of the fight and the situation at hand needs further development.
Abraham vs. Dirrell Preview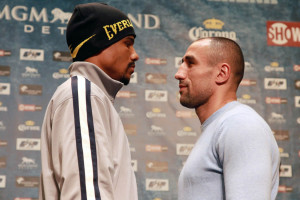 Abraham is the favorite and rightly so. Since winning the IBF Middleweight Title in 2005, he has largely had his way, except for a viciously contested 2006 bout with then-undefeated Edison Miranda. Dirrell, a 2004 Olympic Bronze Medalist, had a slow rise to the top of the division. His bout with Froch was his first against a legitimate world-class foe.
There is no mystery about what these fighters will be trying to do come March 6. Dirrell will be boxing and moving, using his advantages of 4 inches in height and 3 inches in reach, while Abraham will be applying pressure trying to hammer home some of his power shots. It's a typical clash of styles. What isn't typical, however, is the excellence in which these fighters ply their trade.
Dirrell might improve for this fight. One is almost compelled to give him a pass for being so negative in the Froch fight. Fighting against a wildly popular champion in front of his rabid hometown fans is a baptism by fire that most young fighters would cave under. Dirrell did not. He showed he belongs amongst the elite at 168.
Could these two be each others most difficult opponents thus far in each of their careers? Perhaps. Abraham is aggressive and hard-hitting like Froch, but attacks with more refinement and skill than the crude Englishman. And no one on Abraham's record had the ability to employ the kind of high-level boxing and moving style that Dirrell brings to the table.
The more one watches Abraham, the more he shows. Upon first glance, he appears to be an aggressive puncher. Keep watching. Notice the cleverness in his pursuit, the economy of his movements, and how he moves his feet. To call him a crude banger is not taking into account the full scope of his abilities. There's a certain subtlety lying underneath his slugging style. But it's what he has on the inside that could potentially give way to a legendary career—his unshakable self-belief, fighting spirit, and advanced vision of what is occurring in the ring.
Dirrell will have a speed advantage and will be looking to use it. While his overly-footsy performance against Froch drew criticism, he would be well advised to use a version of that strategy here. It would be nice to see him stand his ground, but Abraham brings even more menace into the ring than Froch. With a world-class fight in which he performed well under his belt, maybe, just maybe Dirrell will settle more into his role of a world-class fighter.
Dirrell must win the early rounds of this bout if he hopes to win. Abraham can start slowly and Dirrell needs to put some rounds in the bag for the rainy day that is bound to come. When Abraham gets heated up, Dirrell will be in an unenviable spot. He will need to call on his toughness, which is perhaps not an area of strength in his arsenal. Maybe he can tire Abraham out, survive the middle-rounds assault and then surge at the end for a decision win.
That scenario sounds plausible enough. If Dirrell fights the fight of his life, he can win. He has the talent. He has the speed to trouble a fighter like Abraham. Whether he wins or not, however, will be more determined by his inside-makings of a fighter more than his technical acumen perhaps. Can he weather the storm? Having not taken a really clean clout to the jaw against Froch, can he stay together after getting clocked on the chin? Will he sample Abraham's power early and erode into a negative style of full retreat?
Not to single out Dirrell. Some questions could still be asked about Abraham. Is his status a bit of a mirage? Beating Miranda twice is commendable, but Miranda might not be as good as some think and their first fight was a life-and-death struggle. The Taylor win was impressive, but was not against a prime opponent. The rest of the opponents on his ledger are a collection of unspectacular European middleweights who stood no chance against Abraham.
Abraham vs. Dirrell Prediction
Abraham is the real deal. Dirrell's speed and legs will give him an early edge. At some point, Abraham will begin dialing in his game. Look for some early well-placed body shots to ebb Dirrell's resolve as the fight goes into the middle rounds.
After 6 rounds of a moderately competitive fight, Abraham will begin to close the distance and batter Dirrell with enough shots to send him into a state of full retreat. With the fight slipping away, Dirrell will make a final stand in the 11th round and get hammered to the canvas. He'll get up, but Abraham will continue to pour it on until the referee comes to the rescue of Dirrell.
Prediction: Abraham by TKO in the 11th round
Keep checking back in for more Super Six news, fight previews and coverage, as the second stage of the tournament kicks into gear.