Bute vs. Miranda Fight Official – Quotes from the Press Conference
As previously announced, Lucian Bute will be defending his super middleweight championship against challenger and hard-punching Edison Miranda. Earlier this week they got together for an official press conference to announce the bout to be held April 17th in Montreal.
Jean Bedard (InterBox President)
"With the signing of this fight, we continue our tradition by bringing into Montreal a world class event with two world class athletes in Lucian Bute and Edison Miranda. The pre-sale of tickets is going strong and indicates we will have an amazing crowd and ambiance at the Bell Centre the night of April 17th," states InterBox president Mr. Jean Bedard.
"Power is a shortcut to win. Miranda can put out the lights with any punch…One week after his fight with Librado Andrade, Lucian was back in the gym. He's training hard, taking Edison Miranda seriously and he'll do everything he has to do to stay World champion for a long time. Lucian is an ambitious fighter, he wants to be a hall of famer and it's a privilege for me to work with him.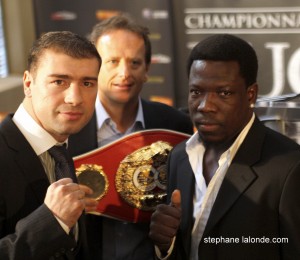 Lucian Bute
"Last time I fought it was the Pepsi Colisee in Quebec City that exploded with action and with the result. This time it's going be the Bell Centre! I am taking Miranda very seriously, I have a lot of respect for him, he's courageous and I know he comes to win.   He demolished many good fighters and is a notorious puncher.  I will have to keep my concentration level on high, show my speed, footwork and ability to stay champion," declares Lucian Bute.
Steve Benbasat (Miranda's Manager):
"We have a tough task ahead of us. Miranda fought Pavlik, Abraham twice, Ward, but this is the fight of our lives. We respect for Bute. We are honoured to be facing him. The most exciting place to fight in Canada is Montreal, probably #1 in North America. These fans have a passion for boxing. We want to put on a show."
Ricardo Funez (co-trainer):
"Thank you for the opportunity. Bute is a great champion. We will work extremely hard in the gym and give the people a terrific fight.  Edison will be ready for battle on April 17th"
Edison Miranda (33-4-0, 29 KO):
"I saw the first fight between Bute and Andrade. He (Bute) won my heart. Bute deserves a lot of blessing. I come to fight. I come to win. I have nothing against Bute. I will prepare myself. I may not win, but I guarantee you will all be very happy (ticket purchasers). I have a lot of respect to InterBox and Bute. In the 12th round of Bute vs Andrade, Bute was hurt and Andrade hit him and he (Bute) still got up. I said he is a real champion.  He fights with his heart, like me. I want to fight him"