Froch vs. Abraham in Super Six Stage 3
The wide-open Super Six Boxing Classic enters its third round, as Arthur Abraham and Carl Froch do battle. With so much still up in the air, both fighters realistically need a win to move into the semi-finals of this tournament. Each has gone 1-1 in their first two tournament matches.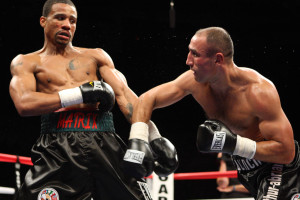 Abraham got off to a fast start, stopping Jermain Taylor, and earning an extra point for the knockout. He was installed as an early tournament favorite and his demolition of Taylor seemed to underscore that. Then in his second round match, Andre Dirrell handily outboxed him before Abraham was disqualified in the 11th round. Froch did better against Dirrell in their first round match, earning a controversial decision. In his second round match, Froch dropped a narrow decision to Mikkel Kessler.
These men have some things in common entering this bout. Both were undefeated boxers prior to their last fight. They are both hungry to erase their first losses with a win here. Going on to win the tournament would certainly help put those losses deep into the past. Each fighter, by virtue of their massive struggles with Andre Dirrell, has shown to be somewhat impotent against fast movers. This matchup should be more to each fighter's liking. They won't need to look too hard for their opponent in this fight.
Abraham vs. Froch Preview: Records
Abraham, 30, is 30-1 (25 KOs). He was IBF Middleweight Champion for over four years, making 11 title defenses. The beginning of this tourney signaled his entrance into the competitive waters of super middleweight. Some of his better moments in the ring were his gutsy decision over Edison Miranda—where Abraham soldiered through a broken jaw to retain his title, and the dominant rematch knockout over Miranda. The win over Taylor, though perhaps over a spent force, was nonetheless impressive.
Froch, 32, is 26-1 (20 KOs). He beat the very good Jean Pascal for the vacant title in 2008. Prior to this tournament, he also stopped Jermain Taylor in the final round of their 2009 fight. This fight seems to be under-celebrated, being that it is a comeback story that belongs in the annals with Mike Weaver vs. John Tate and Jake LaMotta vs. Laurent Dauthille. Down by 4 points on two cards, Froch hammered Taylor into defeat with only 14 seconds remaining in the fight. Both of Froch's tournament fights have been painfully close.
Abraham vs. Froch: Styles
These guys like to fight. They prefer to engage, not flitter around the ring trying to look cute. Against fellow tournament entrants like Andre Dirrell and Andre Ward, their styles are much less effective as they chase their speedy and mobile opponents around the ring. This fight represents a chance for both men to show what they have against an opponent who will stylistically oblige them in the ring. With several inches in height and reach, Froch will be firing from longer-range than Abraham, but "King Arthur" will not have to look to hard to find him.
Froch vs. Abraham Questions
How will each man respond to his first loss? Neither defeat seemed to be the kind of loss that takes something out of a fighter. Though their confidence could be dented, expect both men to come out and try to establish their credentials again. Both seem to feel they were wronged in their first defeat. Froch likely feels he was at least as good as Kessler, but just in the wrong spot at the wrong time. Abraham, who was making a late-rounds run at Dirrell, feels that Dirrell overacted to the illegal punch and that he was on his way to stopping his fleet-footed opponent late.
Is Arthur Abraham slipping? Although two years Froch's junior, it seems he has been through more—the struggle with Miranda, the nearly five-year title reign, the weight struggles, and now this physically demanding tournament. He seemed diminished in the Dirrell fight. That should probably be chalked up as a stylistic problem. He looked great in his fight before that against Taylor; so let's just call that an off night against the wrong-styled opponent.
Are the sites of these fights too important of a factor? It seems like the location of the fights are too big of a determinant on how a bout will play out. For example, Froch's two fights had results intrinsically tied to the site of the bout. If the Dirrell fight were in Detroit, does anyone doubt that Dirrell would have been given the decision? If Froch's defeat to Kessler were in Nottingham rather than Denmark, does anyone question whether or not Froch would still have his belt? Let's hope these two fight on neutral grounds. A fight in Germany or England could be worth 3 rounds on the scorecards to the hometown fighter.
Abraham vs. Froch Prediction
When looking at this fight along the lines of styles and motivation, it is difficult to not imagine a war. Both men are eager to replace this losing feeling with a winning one, chomping at the bit to get their careers on the right track and get people talking about them again. They draw opponents whose styles cannot serve as an excuse if they lose.
Each fighter is easy to hit, but Froch might find more success early. With his long arms and ability to rip punches from a distance, he will find Abraham early with some shots. Abraham, more vulnerable to speed than power, will remain stoic and patient. Abraham is prone to slow starts, but he doesn't get ruffled. He is confident that as the rounds wear on, he will be able to steer things his way.
Froch will be tense while winging away at Abraham, in fear of the lethal reprisals Abraham has in his repertoire. I picture Froch becoming more ragged in the middle rounds, as Abraham begins to find his range and hone in. Entering the final four rounds, Froch will have a slight lead, but Abraham will have the momentum. Froch will be winded and flailing, with Abraham more within himself. With a more stationary Froch in front of him, Abraham will have the better form and be able to work Froch over with some big shots.
Abraham will drop Froch late, and perhaps stop him, but I'm a big believer in the heart and grit of Froch. I think he will be able to dig down deep and come up with something to hold off the Abraham blitzkrieg. Abraham will take a unanimous decision by a couple points.
Prediction: Arthur Abraham by unanimous decision.