Devon Alexander has his chance to shine, as he headlines an HBO fight card on August 7th and defends his WBC and IBF 140 lbs. titles against the skilled, tough Ukrainian Andriy Kotelnik. This is a bout that sees the #2 and #7 junior welterweights in the world clash, so it promises to be a good fight in its own right.
However, with top dog Timothy Bradley and #3 ranked Amir Khan rapidly clearing out the division in step with Alexander, it also sets the stage for a mega-fight in the near future. Whoever wins, Kotelnik or Alexander, that fighter surely has a place on the dance card of either Bradley or Khan in the next year.
Alexander vs. Kotelnik Preview
Andriy Kotelnik (31-3-1, 13 KOs)
5'7″, 32 years old
Ukrainian Living in Germany
Former WBA Light Welterweight Champion
Kotelnik is a former champion and a seasoned, well-schooled contender. Five years ago, a relatively untested Kotelnik dropped fights to Souleymane M'baye and Junior Witter. He later evened the score with M'baye somewhat by earning a Draw in a rematch, and given how hard fought the first bout with Witter was and how much better Kotelnik is today, it is a real question whether Witter would win a second encounter.
He also owns wins tough Muhammad Abdullaev and powerful Marcus Maidana. His two-year reign as WBA champ came to an end only recently, at the speedy hands of Amir Khan. Kotelnik has good skills and a solid chin. Although no one would call him a puncher, he isn't as much of a featherfist as his less-than-50-percent knockout record would indicate. This is the kind of guy who can be counted on as a live opponent, and who will make the man who takes him for granted pay dearly.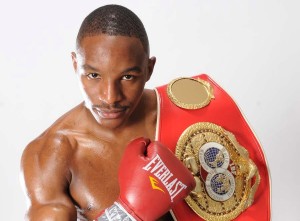 Devon Alexander (20-0, 13 KOs)
5'7″, 71″ reach, 23 years old, southpaw
American
WBC and IBF Light Welterweight Champion

"Alexander the Great" has all the confidence one would expect from a distinguished amateur with an undefeated record and two belts around his waist. DeMarcus Corley was shopworn by the time Alexander got to him, but it still says a lot about a fighter when he whips a former world champion in only his 14th professional fight.
He was handily beating Junior Witter when Witter was forced to quit with an injured left hand. He then smashed two-time champ Juan Urango with an uppercut and stopped him in the 8th with a hook. Neither the bigger Andre Berto nor the mauler Ricky Hatton were able to stop the tough Urango. He is a fast, complete boxer-puncher.
Alexander vs. Kotelnik Prediction
Without a big fight in the world beyond Kotelnik, "Alexander the Great" certainly won't look past him or take him for granted, which would be Kotelnik's only real shot at a win. Alexander no doubt wants to out-do Amir Khan by knocking out Kotelnik, rather than merely winning a lopsided points victory.
Devon Alexander is faster, slicker, a better mover and a harder hitter than the Ukrainian, but he won't be able to do that. Kotelnik is almost as rugged as Urango, but a much better technician. He is tough enough that I doubt Alexander has the power to score with the one big punch, and past that he is skilled and seasoned enough to stay out of trouble. However, he hasn't got a prayer of victory against a focused, motivated Alexander.
Devon Alexander UD12
Comments
comments