This past week, I had the pleasure of attending the Adrien Broner-Gavin Rees fight in Atlantic City. From the weigh-in to the fight itself, the experience certainly was memorable.
I wanted share some of my observations and experiences from the Broner vs. Rees fight week. Also, I will give my report on the undercard bouts that may not have been seen by many fans.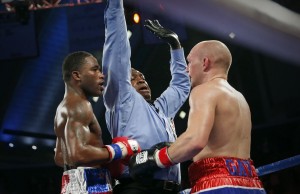 I had the honor of meeting Gavin Rees' father and girlfriend prior to Friday's weigh-in. They were both very pleasant people to hang around and more than willing to engage in conversation.
His dad was very confident that his son would prevail on Saturday. He also talked glowingly about his son's accomplishments in the ring and in life.
His girlfriend told me of how she had been away from him for five weeks. She was not quite as confident and at one point actually asked for my honest assessment on the fight.
At the weigh-in itself, I noticed Devin Alexander standing right behind me. So I went over and asked for a photo and he was happy to oblige.
Further, as the crowd filed in, more and more people went over to Alexander. Alexander was more than willing to pose with photos with anyone who asked and talk with all fans that approached him. I could not have been more impressed with what I saw and wish more athletes were like Devin Alexander.
Coincidentally, on Saturday, I went over to a casino restaurant and once again bumped into Rees' father. He acted like we were old friends. I also noticed Gavin sitting at the table and wished him best of luck that night.
There were five bouts on the card prior to the HBO telecast. The first three featured upcoming prospects in four round bouts.
Olympians Jamel Herring and Rau'Shee Warren each scored easy knockout victories. They both took care of business against overmatched foes.
The prospect I was most impressed with, however, was Robert Easter Jr. He stopped his opponent, Jose Valderrama, on cuts in the first round.
Easter is a fairly tall Lightweight (5'11") and showcased a very stiff left jab during the course of the fight. He was able to get very good leverage on his punches and displayed some eye popping hand speed. I think he is someone fight fans should keep their eyes on going forward.
The Vicente Escobedo-Edner Cherry bout turned out to be the best bout of the evening.
Cherry started out fast in the first round outworking Escobedo. Escobedo started to get his jab going in the second and appeared to be winning the round until he was dropped late with a short right hand.
The next three rounds were controlled by Escobedo. He got his jab going and worked combinations off that from the outside. Cherry cooperated as well as he was trying to land that big bomb again.
However, in the sixth, Cherry turned the tables on Escobedo. Instead of seeking one shot, Cherry began to effectively land combinations.
Towards the end of that round, Cherry landed a massive right hand that sent Escobedo down again. Escobedo was able to get to his feet but was in serious trouble. A barrage of punches by Cherry at the end of the round sent Escobedo down again and the referee waived the bout off.
This was certainly a solid win for Cherry. I have a feeling he may get a bigger opportunity in the near future based off this performance.
The final undercard bout featured a match between Junior Middleweights Demetrius Hopkins and Charles Whittaker. This bout looked like a chess match on paper and unfortunately lived down to expectations.
To say the first three rounds were tactical would be an understatement. Hopkins worked from the outside at a safe distance with his jab and occasional flurry of punches. Whittaker followed Hopkins around the ring but stayed in a relatively defensive posture while throwing very few punches.
The fans were awoken in the fourth when Hopkins landed a flush overhand right that dropped Whittaker. Whittaker was able to get up and the next two rounds followed the same pattern as earlier.
Following the sixth round, Whittaker decided to retire on his stool due to his swelling left eye. It was a fitting end to the bout and honestly I was a little relieved that we did not have to endure six more rounds.
In my opinion, there is nothing in sports that matches the excitement and experiences of attending a live professional boxing event. I will certainly be attending more fights this year and plan to share as many of my experiences as I can with everyone out there.
Comments
comments