What possible fights lie ahead for the fallen superstar?
This past Saturday night, August 14, was suppose to have been a defining moment in the career of light-heavyweight champ "Bad" Chad Dawson when he faced off against Canadian French boxer Jean Pascal, with the WBC, IBO, and the Ring Magazine light-heavyweight titles on the line.  The fight was there for Dawson's taking, but Dawson just did not do anything with the many opportunities that were presented to him in the fight.
This fight took place in Pascal's backyard at The Bell Centre in Montreal, Quebec, Canada, but Dawson was a 4 to 1 favorite going into the fight. Dawson is considered by most experts as the best light-heavyweight in the division and most thought that this fight would propel Dawson even further up the pound for pound talks with a win against the lesser known WBC light-heavyweight champ Jean Pascal.
Before the fight Dawson claimed that he would win every single round decisively against Pascal.  On the other hand you had Pascal who claimed that Dawson never had seen anyone like him and that Dawson he be in some trouble in this fight.  So which fighter proved to be correct in the matter?
In the first round of this fight, "Bad" Chad was boxing Pascal, but Pascal was backing up.  Dawson was throwing out his jab, but was not landing.   Pascal would lunge in with an occasional hook and straight jab that would catch Dawson.  Again, this fight was in Pascal's home town, so just about every punch that Pascal threw at Dawson that made any type of contact caused the crowd to go berserk.
Pascal kept up his running and lunging in strategy going throughout the fight.  The second round could have went either way, but I feel that Dawson had gotten back on track by throwing his occasional combinations and effective jabs that got through to Pascal's head and body.
In rounds three though five, Pascal used the same strategy, jumping in and throwing power shots and combinations.  Dawson just never threw any counter-shots when Pascal lunged in.  Dawson did nothing.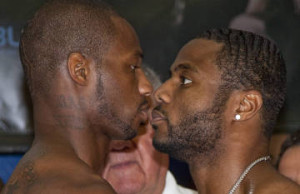 By round six, Dawson had got back to his effective jabs and combinations and for all of that lunging and punching, Pascal for the first time in the fight looked gassed, worn down, and ready for Dawson to take him out.  I thought, "Okay, now it will be Dawson's fight the rest of the way."  Boy was I wrong!!
Time after time in the fight, Pascal was ready to go, and Dawson just backed off and let him off the hook.  Dawson never stepped up the pace and applied pressure to an obviously dead-tired fighter in Jean Pascal.  Instead, Dawson allowed Pascal to rest and hold on in rounds seven through ten, with Pascal left to do the same lunging in and throwing power shots, and surprisingly catching Dawson with some of those shots going down the stretch of each round.  I could not believe what I was seeing.
Because Dawson did not take advantage of Pascal's stamina issues, this also allowed the crowd to play a role in the fight as well, as the crowd was going bananas round after round for their hometown boxer Jean Pascal.
Pascal's game plan of backing up the whole fight and lunging in to throw quick punches every now and again worked to perfection, so much so that Dawson needed a knockout going into the championship rounds of ten through twelve.  Dawson continued to let Pascal off the hook in the tenth round.
In the first thirty seconds of the eleventh round, Dawson came out and finally applied effective pressure to Pascal, seriously hurting Pascal against the ropes.  Again, Pascal tried to rally by throwing a combination to Dawson, but was caught with a huge left-uppercut, which put Pascal back in serious trouble and ready to go.  As Dawson went back to work in the eleventh round, the two fighters clashed heads, which opened up a bad cut over Dawson's right eye.
Dawson was looked at by the ring doctor and he stopped the fight.  Because Dawson was unable to continue due to the accidental head butt, the fight went to the judges' scorecards.
The fight was scored 108-101, 106-103, and 106-103 all for the winner by Unanimous Technical Decision, Jean Pascal.
Jean Pascal won this fight with effective power punching.  I am not taking nothing away from Pascal, but I feel that Dawson simply just do not work enough.  Dawson was by far the superior fighter going into the fight, and it was just a shame that he did nothing to counteract Pascal's tactics.
During Jean Pascal's victory interview with HBO boxing analyst Larry Merchant, he called out undefeated super-middleweight Lucian Bute, and retired undefeated light-heavyweight great Joe Calzaghe.  Whoa!!  Pascal needs to slow his roll because first of all, I feel that Pascal is not that great, and the two fighters that he called out will not let him off the hook with the backing up and lunging gameplan.  I feel that Bute and Calzaghe would stop Pascal if he clashes with either one of these two fighters.
As for Dawson, he claimed that Pascal was head butting him all night, and also was hitting and holding him the whole fight.  Dawson also claimed that he was on his way to stopping Pascal if Pascal did not head butt him.  I feel the thing that was hurt the most that night was Dawson's Pride.
So what's next for Dawson?  Again, take nothing away from Pascal.  He won the fight, but clearly Dawson is the better fighter in my opinion.  I would like to see Dawson fight Tavoris Cloud next.  Cloud is another fighter who had some difficulties in his fight with "The Road Warrior" Glen Johnson, and though Cloud won the fight, he did not show me that he could possibly be a serious threat in the light-heavyweight division.
No matter who Dawson fights next, I hope that his fight with Jean Pascal was a wakeup call for him, and when he looks back on this fight that he will learn from his mistakes of not counter-punching and taking advantage of a dead man in the ring.  Maybe it's a good thing that "Bad" Chad lost a fight.  Maybe now he is ready to be the face of the light-heavyweight division.