In 1994 Barry Hearn had shocked the world when he decided to pull his two fighters off of a high profile pay-per-view card. Herbie Hide and Steve Collins were both scheduled to have title bouts in Hong Kong on the evening of October 22.
"Well it was just another statement of the type of people we are."
After fears over payments Barry Hearn made a stand and withdrew his men from the card leaving the promoters no choice but to cancel what was billed as a four-fight card.
Barry exclusively spoke to Pro Boxing Fans about this night and the week leading up to the pull out.
"[Bob] Arum had come up with this idea to do this show in Hong Kong. We had Herbie Hide on and Steve Collins on and it just didn't smell right when I got there. The guy that was promoting had a schedule of payment dates that he had to make a payment and he didn't make the payment. 
"So, I pulled the fight and quite rightly. I wasn't going to let any of my boxers go in the ring without me knowing that they were definitely going to get paid and they weren't going to get paid, as we found out afterwards, the guy was a conman. 
"But it was one of those things where you have to make a stand and my stand was put your clothes back on, we're going home and that was it."
Herbie Hide was due to fight Tommy Morrison and Steve Collins was planning to face Lonnie Beasley, neither fight ever materialised even at a later date.
All the fighters on the bill had endured full training camps, sacrificed blood, sweat and tears but ultimately had nothing to show for it.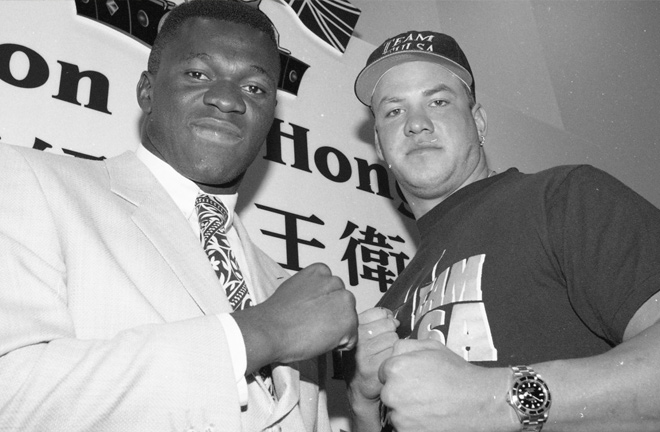 "The weigh-in was six o'clock, I remember it clearly. And he was supposed to pay the money the week of the fight and he said to me, his famous words were, this is the promoter, he said; 'Don't worry.' People always say, don't worry, when you supposed to worry. He said, 'Don't worry. I promise I'll pay you Sunday.' And the fight was Saturday night. And I said, 'No, you have to pay me this week.' I said, 'And this week finishes at six o'clock on Friday, and by six o'clock on Friday we have to be in funds or my boys are not getting on the scales to weigh in for your fight, because there isn't going to be a fight.'
"I don't know whether he thought I was bluffing or whether I would let it go through, but at five to six there was no money. I said, 'Right, everybody out, we're going home.' And that was the end of that."
John Daly was the man in charge, a Hollywood film producer, not a boxing promoter. Daly had spent a rumoured figure of at least $800,000 of his own money into the promotion. "My end of the deal was kept," Daly argued. "I had to arrange the stadium, air fares and all the pre-fight promotional expenses, which I did, but the purses were not part of my obligation." He said that the boxers' purses were Arum's responsibility, which Arum did not agree with.
Daly didn't have the best time when it came to boxing after he was the brains behind 'The Rumble in the Jungle' which was credited to Don King and then 'High Noon in Hong Kong' was the final involvement the producer had in boxing.
John Daly will always be remembered fondly in the cinematic world as the producer of 'Platoon' but unfortunately he couldn't mould himself into a boxing promoter.
"Yeah. Well he had a strange track record, didn't he? He was the one that had the original idea for The Rumble in the Jungle, which was effectively taken over by Don King during the buildup, but he started off as John Daly's idea, which he never forgot, but he just didn't have the money to do what he wanted to do. 
"There's an awful lot of people in life that have great ideas and have operations, but they don't have the money, they don't have the collateral to stand their corner. And those types of people I don't tolerate."
Boxing is a dangerous sport, life changing in more ways than one. But, financially life changing is the one hope for all combatants. 
"I mean people can get injured in fights and we know there's a risk in boxing, of course there is, but there shouldn't be a risk of getting paid. And there was a huge risk, because of course, what he was relying, stupidly, relying on walk up to pay the boxers. Well, you can't… 
"I mean, one of the fighters actually sued Bob Arum, I think it was Tommy Morrison, and I had to go to the court case and the judge asked me the same question, why? Why did you pull a fighter out? Why did you pull your fighters out? And I explained the situation and the judge said in Las Vegas court, he said, 'You did exactly the right thing. You were looking after the interest of your boxers.' And that's what I'm paid to do.
With Hearn pulling out of half of the billed bouts the decision was made to cancel the show entirely. Spectators who had brought tickets had to wait over a year to receive refunds but the eight fighters never saw the purses they should've received. 
The other two bouts would've involved fellow Brits, Frank Bruno and Billy Schwer with the Heavyweight favourite due to have a non-title bout against Ray Mercer.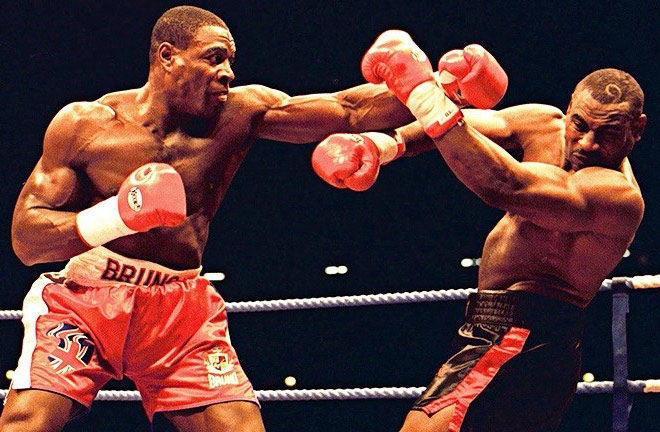 At the time Frank Bruno said: "I feel very let down by Bob Arum and the promoters. They were supposed to be top professionals, the creme de la creme. I thought they were the business, but to be quite honest they've been unprofessional, totally unprofessional.
"To cancel a promotion just like that without consulting anyone is very serious. A lot of money has been going into this. Top Rank are big promoters and they should have dug deep in their pockets – they've made enough money out of fighters over the years.
"It's tough for all the fighters, and for the people who worked five days a week to afford to come over here and support us. It's disgusting. It's staggering."
Also speaking in 1994, Mickey Duff, who planned to sue Arum and Top Rank on behalf of Bruno and Billy Schwer said: "What kind of promoters are these? I've been in the business 45 years and I've never cancelled a show just because I was going to lose money. I'd rather cut my throat than do that."
What could've been had the event proceeded is unknown but it set the precedent going forward for Barry Hearn proving he isn't a man to be played with.