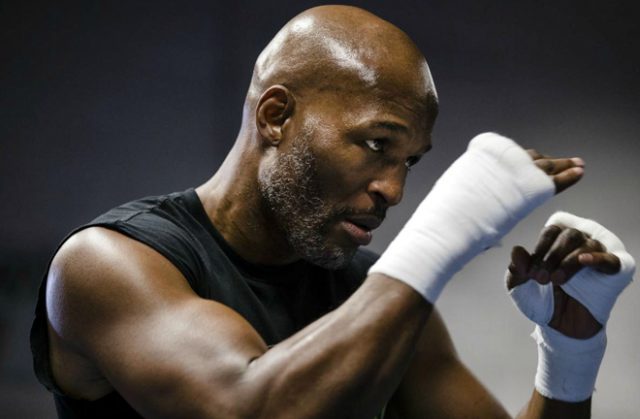 In the final part of our look at the Middleweight reign of Bernard Hopkins, we see his remarkable run stretch to 20 defences, before finally surrendering his many crowns in 2005.
Defence Sixteen, Morrade Hakkar, 29th March 2003
Result: Hopkins forces Hakkar corner retirement at the end of eight rounds
Over a year removed since his last successful defence against Carl Daniels, Bernard Hopkins returned to action and it would be an uninspiring opponent for his second defence of the WBC, WBA and IBF belts.
One Frenchman was replaced by another, as Erland Betare withdrew for reasons unknown, and in stepped reigning European champion, Morrade Hakkar to take on the formidable Hopkins.
Hakkar had lost to Christian Sanavia via razor-thin majority decision in December 2001, but in May 2002 he immediately avenged this loss, winning the belt with a seventh round retirement victory.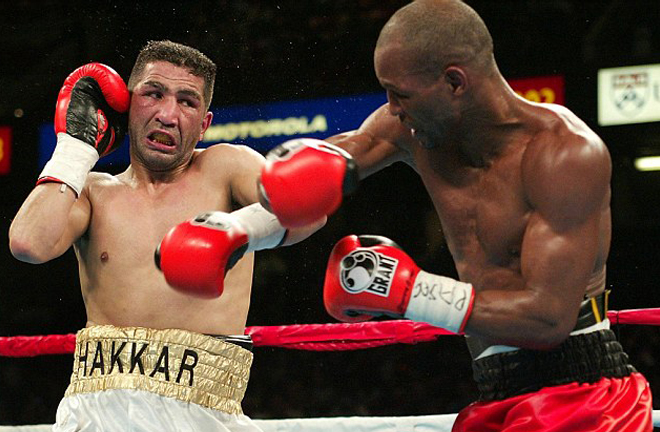 Again, it was a home assignment for the champion, as he appeared in Philadelphia at the Spectrum.
It was a forgone affair, as 'The Executioner' did pretty much as he pleased with his opponent lacking in experience at world level.
In the sixth round, Hopkins was so relaxed, he was almost horizontal, and he flashed a stiff right hand to Hakkar's temple, which floored the visitor in a delayed fashion.
It was an unusually showboat-type performance from the champion, with the end coming at the end of round eight. The challenger groggily returned to his corner, where the ringside doctor informed the referee that the fight was over.
After the bout, HBO interviewer Larry Merchant tore into Hopkins for the poor opposition, asking if Bernard was embarrassed with the selection, and the two engaged in some angry exchanges, while the winner dodged questions regarding facing Ronald "Winky" Wright, focusing on the division south of his.
"He was a mandatory, and I had to fight him. If I didn't, the WBC would have stripped me. You do your job and I'll do mine. I want to fight the Junior Middleweights and challenge those guys".
Defence Seventeen, William Joppy, 13th December 2003
Result: Hopkins via unanimous decision (119-108, 119-109 & 118-109)
It would be a series of frustrating defences for Hopkins, and next up was his WBA mandatory challenger, William Joppy.
Virginia-based Joppy had lost much of his reputation following a five round thrashing by Felix Trinidad, who relieved him of his WBA Middleweight title in May 2001, but he'd regained the "regular" version of the belt with a majority decision win over Battersea-based Guyanese, Howard Eastman in Las Vegas six months later.
A tenth round stoppage defence in Japan against Naotaka Hozumi led to a crack at the trio of belts that Hopkins held, with the fight set for the Boardwalk Hall in Atlantic City.
Prior to the fight, Hopkins placed a $50,000 bet with Joppy that he take him out, which his opponent accepted.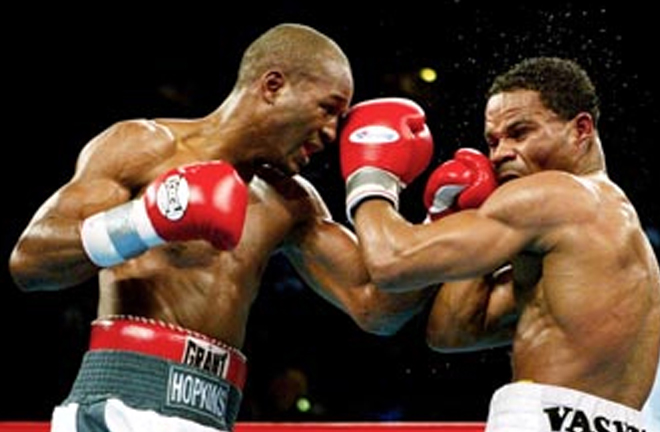 Hopkins broke the Middleweight CompuBox record for number of punches landed during the fight as he landed 419 of the 819 shots he threw, beating the old record by some 44 blows.
With the $50,000 on the line for the knockout, Hopkins emptied the tank in the last round, but had to settle for a wide and comfortable points win, proving a shrewd betting move from Joppy.
"He earned that $50,000," said the victor.
"We gave the people their money's worth, he could have quit but he didn't.
"Things are back now, 2004 is something i'm looking forward to.
"I'm a free agent from 24th January 2004, and I'm looking at Oscar De La Hoya and Shane Mosley, those kind of guys.
Defence Eighteen, Robert Allen III, 5th June 2004
Result: Hopkins via unanimous decision (119-107×2 & 117-109)
The collision course the boxing world had been waiting for was on, but first, to allow the fight between Bernard Hopkins and Oscar De La Hoya to marinate a little, the two fought on the same bill in the summer of 2004, with De La Hoya moving up to Middleweight to challenge for the WBO belt, meaning all four titles would be on the line, should both men come through their final tests at the MGM Grand in Las Vegas.
De La Hoya met Felix Sturm, but his mooted meeting with Hopkins nearly went up in smoke, with the 'Golden Boy' fortunate to receive a 115-113 across-the-board verdict from the judges, despite looking second best for a lot of the contest, as he became champion in a sixth different weight class.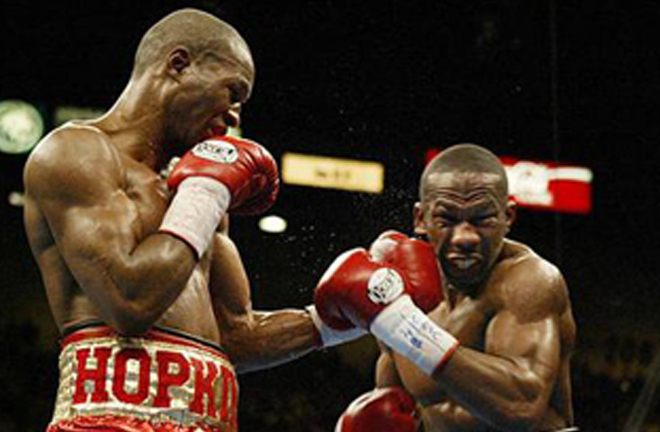 Hopkins did his part by going over old ground for a third time against Robert Allen, who had worked his way to IBF number one contender. A flush right hand knocked Allen down in the seventh, and Hopkins smothered him all night, eventually settling for yet another lopsided points win.
Hopkins admitted to being cautious during the fight in anticipation of facing De La Hoya. "I was nervous. Theres $10 million plus waiting for me should me and Oscar win, so there's a lot on the line."
Defence Nineteen, Oscar De La Hoya, 18th September 2004
Result: Hopkins by ninth round knockout
So both men had made it, and the MGM Grand in Las Vegas was again the setting, as all four belts, along with the Ring Magazine title would be on the line for the winner in a blockbuster matchup. It was the signature victory that Hopkins was waiting for.
At nearly 40-years-old, Hopkins began as favourite and although, he was the long reigning Middleweight champion, Hopkins would be the "B" side of the promotion, earning $10 million to Oscar's $30 million.
The fight itself saw eight and a half tactical rounds, but with Hopkins yet again getting the better of them to build a sizeable points lead, at least on two of the cards, with a third having Oscar in two rounds ahead.
In the end it would be a left hook to the body that left De La Hoya writhing in agony, counted out by the referee Kenny Bayless in one of Hopkins' most complete performances.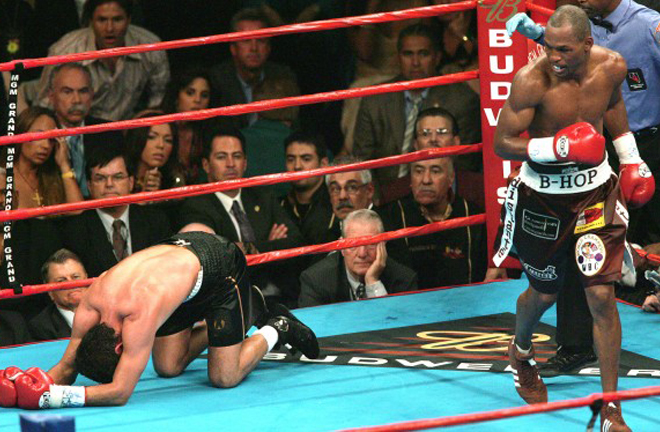 The contest would produce 1 million pay per view buys, generating some $56 million.
"That was chopped liver with a little bit of sauce on it. It was one of my best body shots I've thrown," Hopkins said post-fight.
Yet again the talk was of a Roy Jones Jr rematch, with his compatriot falling from grace with a heavy knockout defeat to Antonio Tarver, but again that would have to wait.
Defence Twenty, Howard Eastman, 19th February 2005
Result: Hopkins by unanimous decision (119-110, 117-111 & 116-112)
Defence number one of the undisputed Middleweight crown saw Bernard, now 40-years-old take on his WBC mandatory challenger in Howard Eastman. This would prove to be the Philadelphia great's 20th and final defence of the 160lbs gold.
Eastman had beaten his now-trainer Robert McCracken in 2001 via tenth round stoppage and had only been defeated once in a 41 fight campaign in a challenge for the WBA in the very next bout.
Despite knocking William Joppy down in the twelfth and final round, Eastman dropped a majority decision.
Eight straight wins following the Joppy reverse earned a crack at all of the gold and his meeting with Hopkins was set for the Staples Centre in Los Angeles.
It proved to be a patient Hopkins that dominated the contest encountering little trouble from his challenger, as he notched up a defence that equalled the great Larry Holmes, taking home a wide decision.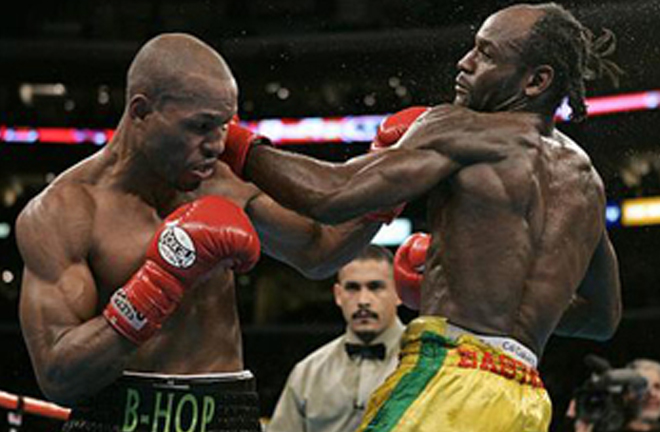 The crowd were becoming less and less appreciative of Hopkins' boxing skills with boos heard around the arena.
'The Executioner' had talked about a move to Light Heavyweight, but Jermain Taylor loomed large, whilst the champions at 175lbs were otherwise engaged.
Taylor would be the man to finally bring the curtain down on Hopkins' long reign, as he took a controversial, razor-thin split decision win in July 2005 and then took a two point win on all cards in a rematch five months later.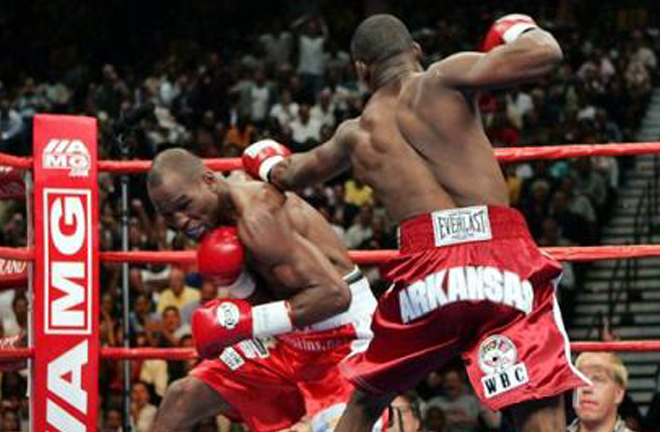 Rather than Hopkins' career coming to an end, his legacy became even more astonishing, with his unification of belts at Light Heavyweight, at 49-years-old and defeating a who's who of boxing before retiring finally in 2016.