Conor Benn made his debut in the USA in style by defeating Brandon Sanudo in the second round via stoppage at the Nassau Coliseum, Long Island, New York.
Benn looked focused from the start, connecting with a straight right in the first and ending the round with body shots as Sanudo was cornered.
In the second round, Benn came out with a left hook, catching Sanudo and kept up his speed to attack his opponent. With Sanudo pushing back, Benn then connected with a left hand to the body, sending Sanudo grimacing and down to the mat, giving Benn his 10th win.
Benn enjoyed fighting in the USA and spoke to Sky Sports after his win.
"I really enjoyed it and got some reception here, so it's just a great experience so early in my career, to hit America and England is something special. It's really different."
"Here the way they do things is completely different and it will take a while to get used to it, but it is early doors and when it comes to the time to fight here – potentially for titles – I will know what I'm in for."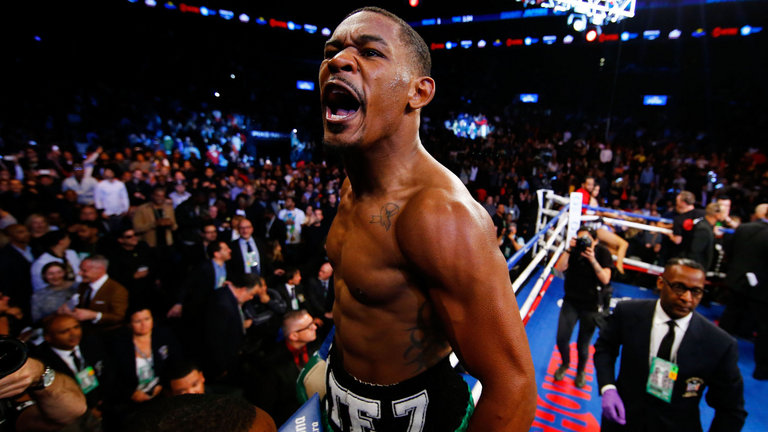 On the same night, Daniel Jacobs defeated Luis Arias via unanimous decision to keep him on track for a Middleweight title shot.
Jacobs dominated the fight, bringing down Arias on two occasions, showing his dangerous jab and counter punches which prevailed at the end though Arias did well to battle on throughout the latter rounds.
Jacobs sad after the fight, speaking to Sky Sports, "It wasn't one of my best performances but I definitely felt I dominated the fight."
"I wanted to get a really, really impressive knockout and I think that's what I was lunging for a bit more than I should have, instead of putting my combinations together. But I've been out for some time but now I can stay more active, I think I will be stronger in the future."