Bernard Hopkins has never been a taciturn figure, so that he would crow loudly over taking Tavoris Cloud's IBF belt and pushing his own record as boxing's oldest world champion forward a notch isn't surprising. However, only boxing fans with long memories and a keen interest in the sport might have understood why he was boasting about "putting Don King out of business."
Out of Business?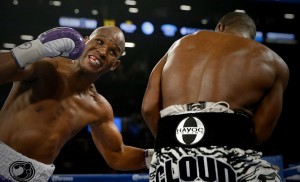 The start of 2013 might very well prove the death knell for Don King Productions. King, who was once the sport's dominant promoter, has been semi-retired for years and started the year with only three world champions in his stable: Cloud, junior middleweight Cornelius Bundrage, and cruiserweight Guillermo Jones. Bundrage lost his own red IBF belt last month, so when Hopkins beat Cloud this weekend, King was left with only Guillermo Jones.
Of course, King has suffered severe setbacks before. Indeed, the history of boxing over the last 40 years could be written around King's misjudgements and the setbacks they produced. Yet while it is unlikely King will fold up his tent and call it a day, it is equally unlikely that he will recoup into anything other than a modest place among the sport's power players.
In that respect, Hopkins can claim half the credit for confirming King's nadir. Ishe Smith gets the other half.
B-Hop's Vengeance
Hopkins' grudge against Don King goes way back, all the way to the early days of Hopkin's long reign as middleweight champion. After losing his first stab at the title to Roy Jones, Hopkins came back to earn a second shot against Segundo Mercado, a King-promoted fighter in a King-promoted show before Mercado's hometown crowd in Ecuador. The fight could hardly be called a robbery, since while Hopkins boxed well he was drilled and knocked down twice, and the result was called a Draw. Even so, it forced Hopkins to fight Mercado again five months later, this time in the U.S. and prevailing by TKO7, in order to finally claim his crown.
Hopkins spent the next several years bedeviled by Don King, who was at the time enjoying his last run as the sport's top promoter, and controlled the plurality of middleweight contenders of the day. In particular, King controlled the WBC and WBA titlists, Keith Holmes and William Joppy. Both of these DC-based fighters captured their belts in 1996, and for years Hopkins, Holmes, and Joppy would dance around each other, with King refusing to countenance a unification match that would have furthered their careers. Instead, Hopkins had to fight a succession of lesser King-backed fighters for lesser paydays, with Hopkins himself estimating he disposed of 15 King fighters by 2004.
When King decided to finally do something with all the middleweight belts at his command by staging a unification tournament with Felix Trinidad as the beneficiary, Hopkins finally scored his first measure of revenge. Hopkins dominated Keith Holmes, and then went on to dominate Trinidad. King was so certain of the outcome that he had a commemorative trophy made with Trinidad's name on it, and Trinidad's loss turned out to be the beginning of the end for King's empire. Hopkins helped cement King's decline by becoming a junior partner in Oscar de la Hoya's Golden Boy Productions, the outfit that replaced King's at the top of the sport.
Revenge is Sweet
In the run-up to Hopkins vs. Cloud, Don King denied there was any bad blood between the two, and Hopkins' histrionics are more often aimed at promoting himself and his fights than anything else. Yet in this instance, one cannot help but believe that Hopkins really means what he says as he gloats about driving the last nail in Don King's coffin.
Hopkins had to struggle for years before he could finally break out and become a super star, and Don King was almost entirely responsible for that. It might look unseemly for Hopkins to gloat over consigning a sick, elderly man to obscurity, but given Don King's long and utterly ruthless history in boxing, can you blame him?
Comments
comments