Don King is Largely Absent from the Boxing Game Today
Starting with the Rumble in the Jungle in 1974, Don King began a march from small-time Cleveland street operator to boxing's top promoter. For a quarter century, Don King was the sport's major power broker, with Bob Arum and Top Rank running a clear second. Yet in recent years, King has slipped not just from the top spot, but to a point where the man with the bombastic personality, majestic plume of hair and scandalously greedy fingers is nowhere to be seen. Just what happened to Don King anyway?
Don King Productions Today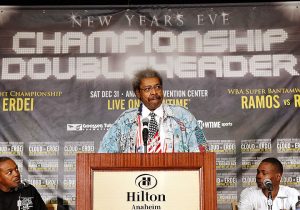 Don King is still active in the business today. Champions Cornelius Bundrage, Guillermo Jones and Tavoris Cloud can testify to that, as all three are promoted by Don King. Light welterweight contender Devon Alexander was in King's stable until late last year. Contrary to conventional wisdom, King is neither dead or retired.
"Semi-retired" is a more apt-description, which is not surprising given that King is 80 years old. His longtime arch-rival Bob Arum is the same age (King is only four months older than Arum), but Arum seems robust and spry for an octogenarian, while King is reportedly not in the best of health. King's slip is partially explained by the simple fact that the man himself can't keep up the pace necessary to dominate the sport anymore.
The changing promotional scene in the sport also played a large part in King's decline. "Dung King's" bailiwick was always the heavyweight division. Even though King promoted names like Julio Cesar Chavez, Terry Norris and Felix Trinidad, these fighters were often neglected. In my book, King started giving Chavez the attention he deserved because of both the outcome of the first Meldrick Taylor fight and Mike Tyson's rape conviction in equal measures. The potential of Terry Norris was completely wasted, and Trinidad didn't finally break into the big time until after Tyson and King had parted company and King had lost control over much of the heavyweight division to Lennox Lewis.
From that point of view, the Holyfield vs. Tyson and Holyfield vs. Lewis fights were clearly King's last hurrah, since after that his toehold in the heavyweight division was reduced to John Ruiz. After wrangling the WBA strap away from Lennox Lewis, King staged the truly awful Ruiz vs. Holyfield trilogy, which ended with the black strap in Ruiz's hands. Ruiz and King soldiered on for a while (including the loss to Roy Jones, Jr.), but ultimately lost control of the WBA strap to Nikolai Valuev in 2005. In this, King succumbed to the rise of Slavic heavyweights and German promotional interests.
Boxing Without Don King
Don King isn't quite gone, but his influence in the sport has been reduced for long enough to evaluate what the changes might mean. First is that boxing has become more multi-polar. The sport still has two big promoters at its center — Golden Boy Productions and Top Rank — but the role of other promoters is now greater than it used to be. In the 1980s, there was King, then Arum, then the Duva clan, and then a bunch of relatively small-time promoters and guys in the UK like Mickey Duff. The idea of anyone below the standing of Duva and Main Events putting on a major boxing event without the participation of King or Arum was ridiculous, since they had most of the biggest names in boxing stabled between them.
Things are very different today, with names like Gary Shaw, Lou Dibella, Sauerland, Cedric Kushner and Dan Goosen now elevated to middleweight status. If you run down the Top 20 Pound-for-Pound fighters in the world today, I bet only half are in the services of Top Rank and Golden Boy Promotions [Editor's note, exactly 10 of 20 in our current P4P list are Golden Boy or Top Rank affiliated, including "free agents" Floyd Mayweather and Juan Manuel Marquez] . Can you conceive of a Super Six tournament in 1992, when Don King reigned and Bob Arum plotted and schemed from his dukedom? I can't either. The decline of Don King opened a vacuum that Golden Boy Promotions only partially filled, and the result has been a more open promotional field that has been a real positive for both boxers and fight fans.
King's decline hasn't been all good, however. Jose Sulaiman and the WBC used to be de facto subsidiaries of Don King Promotions, and most of the WBC's historic offenses against boxing were undertaken at the behest of Don King. The relationship between King and Sulaiman was such that it was spoofed in the film The Great White Hype, where Samuel L. Jackson played a King-like character and Cheech Marin played a toadying parody of Sulaiman. In retrospect, it is plain that Sulaiman became more independent during the course of the 1990s, which is concurrent with King's slide.
A Jose Sulaiman free to do as he pleases doesn't seem to be a good thing. As opposed to stripping boxers to favor just Don King, he now does it to favor a much longer list of cronies, like Erik Morales and the Chavez clan. As bad as he was back in the day, we also never heard about things like Sulaiman's son trying to extort the bloody trunks off Kelly Pavlik for sale on the memorabilia market back when Don King held Sulaiman's leash. One can only hope that Jose Sulaiman, who is also 80 years old, will soon depart the scene as well.
Comments
comments