Last Thursday, U.S. President Donald Trump posthumously pardoned Jack Johnson, the first black heavyweight champion.
Flanked by former heavyweight champion Lennox Lewis, reigning WBC heavyweight titleholder Deontay Wilder and actor Sylvester Stallone, Mr. Trump signed the official order.
The move was anticipated though as Trump openly considered it via Twitter in response to a call he received from Stallone, who brought the decade's old case to his attention.
Despite his obvious historical significance, Johnson was a polarising figure throughout much of his lifetime.
The Galveston Giant won the heavyweight title in 1908, but flaunted his success, taunted white opponents, dated inter-racially and eventually married a white woman in a segregated society.
Johnson's unapologetic lifestyle incensed whites and sometimes drew the ire of conflicted blacks.
White America, in particular, saw Johnson as an insult to societal norms and customs but more broadly as a direct challenge to their romanticised assumptions about racial superiority.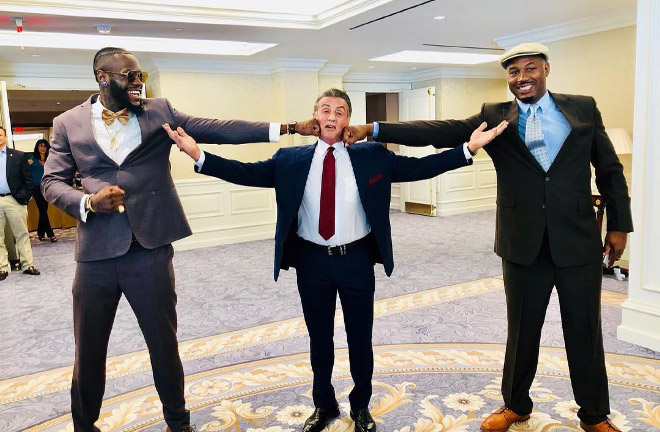 This outrage gave birth to concerted efforts by the media, boxing insiders and political forces to find a white fighter capable of winning back the title and restoring racial hegemony. James J. Jeffries, a former champion who had been in retirement, became the 'Great White Hope.'
Will this eventually be resolved
However, it was clear on the day of the fight that the two men were not equals as Johnson picked Jeffries apart and humiliated him in the most consequential boxing match of the 20th century.
The outcome set off a chain reaction of violent riots throughout the nation and intensified attempts to bring down the champion.
Johnson was twice indicted and ultimately convicted by an all-white jury in 1913 for violating the Mann Act. Furthermore, which prohibited the transporting of women across state lines "for immoral purposes." He was sentenced to a year in prison, but fled the country for several years before returning in 1920 to serve a 10-month sentence.
Johnson was in fact guilty of breaking the law but it was the vengeful pursuit of the government based upon who he was, not for what he had done that cried injustice.
That dubious conviction effectively destroyed Johnson's boxing career and cast a cloud over his legacy in the ensuing years of the fighter's death in 1946.
Sentiment toward Johnson changed and his precarious plight eventually won bipartisan support in both chambers of Congress culminating in a resolution to petition the White House for a posthumous pardon.
Previous presidents passed on the opportunity to exonerate the long dead boxer for various reasons before it unexpectedly fell into the hands of the current administration.
Trump's own sexual history and spotty civil rights record provide interesting ironies here but the controversial Commander in Chief is also a well-known attention seeker and seized the moment with a photo op of the signing in the Oval Office with an ornate WBC title belt propped up prominently on his desk.
Theatrics aside, we should not miss the deeper significance of what just took place. The pardon was a long time coming and however symbolic, serves as vindication for one of sport's most transcendent athletes.
Comments
comments