Ultrachem TKO Gym Boxer & Celebrity Football Tournament In Aid Of The Indee Rose Trust
WBA Heavyweight Champion of the World David 'Hayemaker' Haye has a busy schedule this coming weekend. On Saturday evening David will be at the First Annual BBBofC Southern Area Boxing Council Awards Dinner. Then on Sunday 'Hayemaker' fans will get the chance to not only meet with their hero but also get to watch him in action at The Ultrachem TKO Gym Boxers & Celebrity Football Tournament, in aid of The Indee Rose Trust will be at the Brockwell Stadium, Canvey Island.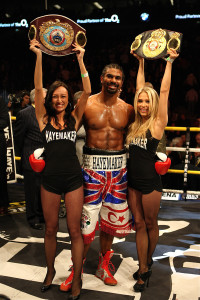 David, who won the WBA crown by thoroughly out boxing Russian behemoth Nikolay Valuev in November '08, has been nominated for the Southern Area Fighter Of The Year Award. Coincidentally both Darren Barker and Kevin Mitchell, who have also been nominated for the Fighter of the Year award, are set to be playing on Sunday at the Charity Football Tournament.
the First Annual BBBofC Southern Area Boxing Council Awards Dinner, which was created by the regions newly appointed Chairman Mick Collier, will be held at The Grange City Hotel, 8-14 Cooper's Row, London, EC3N 2BQ on Saturday 24th July 2010.
David, and his trainer/manager/business partner, Adam Booth, were two of the first to pledge their support for the Charity Football Tournament to organisers Johnny Eames and Derek Grainger. In addition, to playing at Sunday's event, David and Adam have also donated a signed framed photograph of David with the WBA belt to be auctioned at the event.
Speaking briefly, by phone, David said, "I'm really looking forward to this weekend, it'll be nice to relax with friends on Saturday at the BBBoC Southern Area Awards. It's an honour just to be nominated. If I win, well that'll be the cherry on top.
Sunday's gonna be a lot of fun. We'll get chance to play some football and spend some time with the fans. What makes this really special though is that, not only will we be having a fun time, we'll be raising funds for a much deserving cause. The Indee Rose Trust do such wonderful work. I'm honoured to have been asked to take part at this very special event."
David 'Hayemaker' Haye  is just one of a host of boxing, TV, film and music stars taking part in the tournament to raise funds for  the Indee Rose Trust, which provide support to children recovering from brain and spinal tumors.
Amongst those already committed to the event are former undisputed Light Welterweight King Ricky Hatton, European Champion Darren Barker, British & Commonwealth Super Featherweight Champ Kevin Mitchell, British Super Middleweight Champion Paul Smith, Commonwealth Champions Ricky Burns & Tony Bellew, former Irish Heavyweight Champion, and Mike Tyson's sparring partner 'Big' Joe Egan, Olympic Gold Medallist James DeGale, World Amateur Champion Frankie Gavin and Olympian Billy Joe Saunders.
From the world of television and film, actors Gerald Kerns & Ciaren Griffiths, both of whom are currently starring in the hit TV series Shameless, Mark Wingett (Jim Carver from the Bill) and former English Super Featherweight Challenger and Coronation Street star Stephen Bell, who will be guesting on the National Journalists team.
Representing the Music biz are Rock superstars Iron Maiden, who are co-favourites, with Team Scotland, to win having former England star Teddy Sherringham in their squad, and Razorlight frontman Johnny Borrell, who will be guesting on the Ultrachem TKO Gym team.
The Ultrachem TKO Gym Boxers & Celebrity Football Tournament, in aid of The Indee Rose Trust will be at the Brockwell Stadium, Canvey Island on Sunday 25th July 2010. Tickets are available from The Ultrachem TKO Gym, Gillian House, Stephenson Street, Canning Town, London E16 4SA – Tel: 0207 474 3199 or buy on-line at www.tickets.justlisten2this.com