Casamayor vs. Guerrero Big Fight in the Careers of Both Men
Two-division world champion Joel Casamayor figures prominently in the outstanding undercard of the July 31st Juan Manuel Marquez vs. Juan Diaz rematch, as he takes on a hungry, fellow two-division champ in Roberto Guerrero. This is a must-win situation for both men. Roberto "The Ghost" Guerrero is a 27 year old former 126 lbs. and 130 lbs. champ who has somehow never been in a big fight before, so he needs a win over a name opponent to consolidate his career and avoid being sent into the wilderness. At 38 years old, Casamayor is on his last run as a world contender. If he wins, the future holds a fight with the likes of Amir Khan, Devon Alexander, Timothy Bradley or a rematch with Juan Manuel Marquez. If he loses, "The Brush" might as well hang up his gloves and call it a day.

Casamayor was one of the top 130 and 135 lbs. fighters of this decade. Sure he lost a few, but he owns thrilling wins over Diego Corrales, Nate Campbell and Michael Katsidis, and no one would ever call "The Brush" anything but a tough opponent. The howlers on the boxing forums are calling Casamayor "shot," yet one must wonder why. Yes, he is 38 years old and past his best. Still, his only loss in almost five years was in a competitive fight with P4P entrant Juan Manuel Marquez. Is one loss in a fight where the guy ruled the first four rounds today's basis for being shot? Two of the judges had that fight scored even when Casamayor fell in the 11th.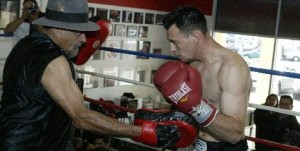 On the flip side, Roberto Guerrero is young, exciting, powerful and certainly has great personal fortitude. We can count on him to bring a big fight to the ring. The question is will be be able to apply his power and pressure Casamayor? Casamayor is clearly the more skillful and experienced of the pair, and frankly Guerrero has never fought anyone remotely like him. Also, Casamayor will be the bigger man in the ring that night. Neither man is a natural 140 pounder, but Casamayor started at 130 and had a distinguished career at 135. Guerrero started at 126 and fought a bit at 130, but has no real experience at 135 or 140. Guerrero is a puncher, but does he hit harder than Diego Corrales or Jose Luis Castillo? Casamayor's sole stoppage loss was to Marquez, who ground The Brush down between the 5th and the 11th.
Guerrero's people are clearly believing the talk of Casamayor being shot, although there is zero evidence for that, and doing so at their great risk. Guerrero cannot out-box or out-muscle Casamayor, and the Cuban's chin and skills will be enough to deflect whatever power Guerrero throws at him. A cracking knockout isn't likely here. Guerrero's only hope is to out-last Casamayor. The Brush is fraying around the edges, so if you push him long enough and hard enough, he might crumble. I have a hard time seeing that happening, though. Joel Casamayor has enough left in the tank, plus enough dirty tricks, to turn Guerrero aside and score well for several rounds. I see Casamayor winning a close, ugly and probably dirty fight, and getting another run at the top in the process.