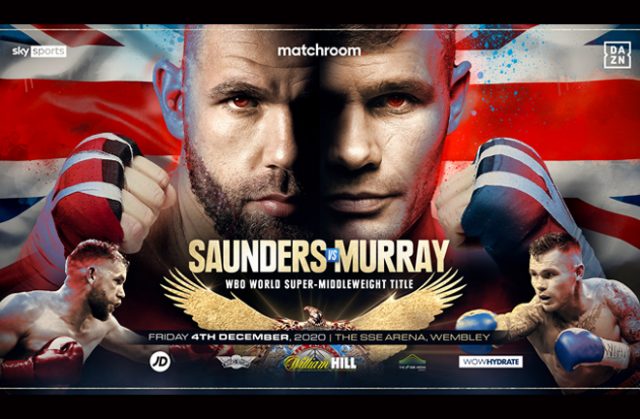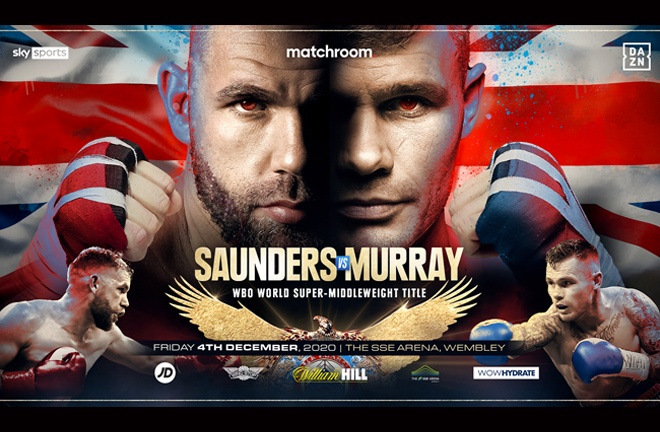 Billy Joe Saunders kept on the tail of the big names that he craves as he defended his WBO Super Middleweight title by pounding out a wide points win over the brave Martin Murray at the SSE Arena in Wembley.
Murray was making a fifth challenge for a world title, having previously failed twice in Germany, and once each in Monte Carlo and Argentina, while two-weight world champion Saunders was defending his 168lb gold for the second time.
It was a quiet opening round as Saunders sought to open Murray's defence via his southpaw jab. Murray was very tentative early on, as he was way of Saunders' unorthodox style, and the action was sparse through the first couple of rounds. 
Murray landed a nice right hand at the start of round three, and this sprung the fight into action, with Saunders landing an eye catching left uppercut in response. 
Saunders' speed was causing problems for the challenger, as he was being repeatedly beaten to the punch, with Billy Joe growing in confidence, landing multiple hard shots in the fourth that seemed to trouble Murray, with one that looked like a knockdown but was ruled a slip. 
Murray's jab was decent enough, but he was having to take a multitude of shots in return, and he was slowly being broken down. The pair were talking to each other, and the fight was beginning to become messy, with referee Phil Edwards dishing out several warnings for various infractions, including a Saunders low blow in the eighth.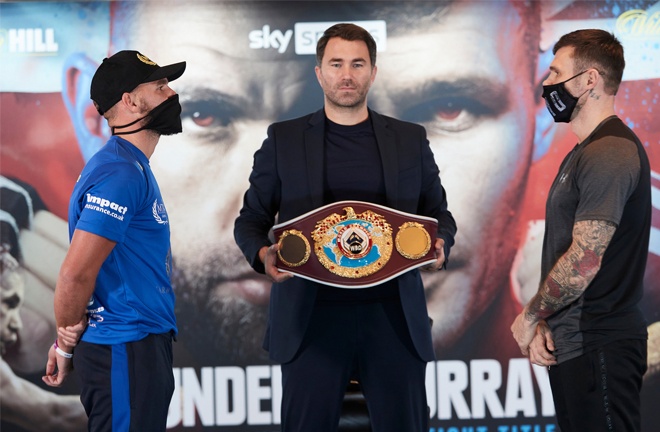 Saunders' combination punches were disheartening Murray, and the St Helens man could only manage sporadic success as the champion was simply too fresh and accurate for the 38 year old as the fight neared its end. 
Saunders continued to outbox Murray down the stretch, and the 38-year-old was content to last the distance, which he did to his credit, and the fight went to the scorecards.
Two scores of 120-109 and a third at 118-110 confirmed Saunders' dominance of the contest as he improved to 30-0.
"I've been out for over a year, but that was like boxing in a cemetery" said Saunders to Sky Sports post fight. "I like to perform in front of a crowd. I tried to set a rhythm, but Martin was a cunning old fox. In 2021, it's important for me to stay in the gym. Let's get the big names. I need the big fights to get me going".
The undercard lost a significant fight with Zach Parker's Super Middleweight clash with Cesar Nunez called off at the last minute after Nunez's cut man tested positive for COVID.
Heading the preliminaries was Belfast banger, James Tennyson, and it didn't take long for him to blast out previously unbeaten Josh O'Reilly inside a round in their WBA Lightweight title eliminator.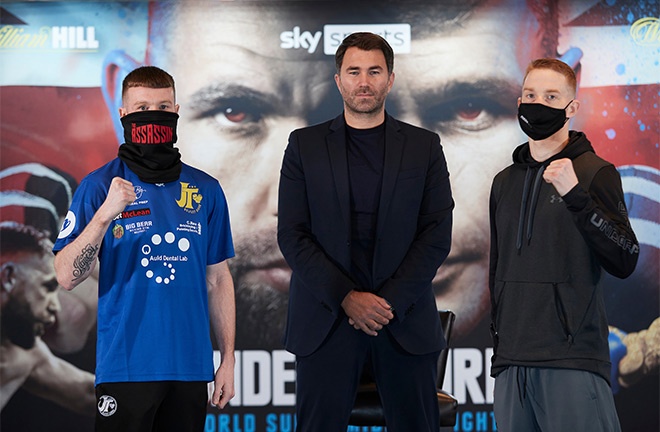 O'Reilly was on the floor with under a minute gone, as a volley of spiteful punches forced him to backpedal to the safety of the canvas. The conclusion wasn't long in coming, with the Canadian down for a second time after another multiple punch salvo from Tennyson, finishing with a cuffing left hand. 
The fight was allowed to go on, and after more sledgehammer shots, Marcus McDonnell mercifully stopped the contest to hand Tennyson another impressive win.
Lerrone Richards made his debut under the Matchroom banner, and he took all eight round in a drab win over Timo Laine. The Finn showed little ambition, and Richards, although he put his punches together nicely enough, could possibly have got Laine out of the contest if he had put his foot on the gas. Richards did hurt Lane in the dying embers of the fight, but had to settle for an 80-72 win for referee Bob Williams.
Shannon Courtenay went a long way to exercising the demons of her first professional loss last time out, as she knocked out Dorota Norek in seven rounds at Bantamweight. 
Norek started off like a whirlwind, and Courtenay had to be on her mettle. The Watford native quickly controlled the action, and in the penultimate round, she uncorked a right hook right on the Pole's chin that spun her around. She rose groggily, and shook her head in concession of the fight, and the contest was waved off. 
Courtenay quickly set her sights on a rematch with her conqueror Rachel Ball, with Eddie Hearn keen on matching the two for the vacant WBA title.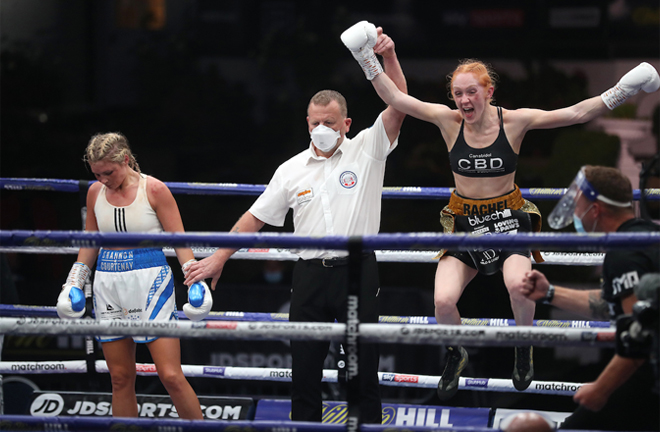 Willliams was also the sole arbiter in Donte Dixon's entertaining 58-56 win over Wales' Angelo Dragone at Featherweight. It was competitive stuff, but Dixon was the more polished, and finished strongly, almost scoring a last round stoppage.
At Light Heavyweight, Lewis Edmondson moved to 4-0, dropping John Telford twice en route to a third round stoppage win.