Best Boxers from the Former Soviet Republics
Take a look at the top 5 boxers in history from former Soviet Republics, not including Ukraine, which gets its own list headlined by the Klitschko brothers. Mother Russia of course also has its own top 5, so the best fighters from the other republics are grouped here under one roof.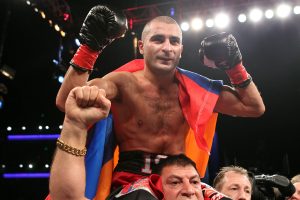 Vic Darchinyan (Career: 2000-present): Born in the former Soviet republic of Armenia, Darchinyan has been based in Australia during his pro career, which has been outstanding. Beat an excellent flyweight titlist in Irene Pacheco and compiled six inside-the distance defenses before running into the left hook of Nonito Donaire in 2007. Won a belt at 115, before winning in a dominant stoppage of favored Cristian Mijares in a unification fight, followed by a stoppage of Jorge Arce. Suffered 2 losses at 118, before finding his groove in stopping another favorite in Yonnhy Perez.
Arthur Abraham (Career: 2003-present): Never the clear-cut best in his weight class, the Armenian born/German-based Abraham did make ten defenses of the IBF Middleweight Title, including 2 wins over Edison Miranda. Stopped Jermain Taylor in Super Six tournament debut, before dropping 3 straight to Andre Dirrell, Carl Froch and Andre Ward, with one barely-a-tuneup fight in between.
Orzubek Nazarov (Career: 1990-1998): Kyrgyzstan-born lightweight titlist was unusual—lanky, but a great bodypuncher with solid power in his fists. Beat 29-1-1 Dingaan Thobela for the IBF belt, beat him again in a rematch, and then made 6 title defenses. Also knocked out 36-1 Joey Gamache and future titleholder Leavander Johnson in defense of his belt. Was unbeaten until his final fight.

Be sure to check out the rest of our Boxing: The Best of a Nation series for more top 5 and 10 lists of the best boxers from different countries and locales.

Vassilly Jirov (Career: 1997-2009): Tough-as-nails southpaw bodypunching cruiserweight had a good run, following a 1996 Olympic Gold Medal-wineffortning , which saw him defeat Julio Gonzalez, Troy Ross, and Antonio Tarver. Kazakhstan product knocked out Arthur Williams for the IBF belt in 1999, before losing it to James Toney in 2003 after 6 defenses.
Ruslan Chagaev (Career: 1997-present): Lost decisively to Wladimir Klitschko, but still compiled a decent resume at heavyweight, including becoming the first man to defeat Nikolai Valuev in 47 fights, a win that earned the Uzbekistani southpaw the WBA belt. Also beat John Ruiz, Matt Skelton, and Kali Meehan.
A lot of geographical ground to cover including all of the former Soviet Republics minus Ukraine. Enjoy the list and if you beg to differ, leave a comment below and make your case