History of Boxing in the 1990s
Recent history only serves to prove the old adage that hindsight is 20-20, and this is especially the case with boxing. Beset by the loss of most of its top draws and most exciting fighters early in the decade, whether it be to age, drugs or jail, many a fan and pundit derided the fighters who came later. In the early-to-mid 1990s, it seemed like no one could catch a break, as every pundit who could draw a breath or type at a keyboard was intent on insisting that so-and-so couldn't carry the jockstrap of Mike Tyson or Tommy Hearns or was a protected phoney, fed on a diet of old men or European cream-puffs. After several years of continuous griping, the "experts" finally came around and realized what they had, albeit only at the very end and when it was almost gone.
Where Boxing Stood in the 1990s
By 1990, three of the "Four Kings" — Leonard, Hearns and Hagler — were all either in retirement or fast fading and soon to hang up the gloves, so the focus of boxing was squarely on Mike Tyson. However, Tyson would lose his heavyweight title in February 1990 and be arrested for rape in July 1991, eliminating him from the scene. The result was that many casual sports fans lost interest in boxing for a time, which was a shame because they missed some fights that rivaled anything from the 1980s or 1970s.
Don King reacted to the loss of his main meal ticket (Tyson) by pushing Mexican assassin Julio Cesar Chavez into the gap, while many in the press derided the man who stepped into Tyson's shoes — Evander Holyfield — as a "blown-up cruiserweight." Little did they realize that Holyfield's title reign began what many are now coming to consider the Silver Age of the Heavyweight Division. Riddick Bowe, Lennox Lewis, Ray Mercer, Michael Moorer, and comebacking legends such as George Foreman and Larry Holmes produced fights that matched Tyson's knockouts for action and exceeded them for drama.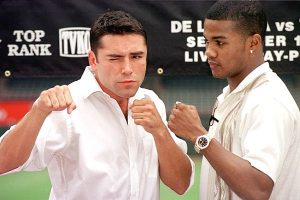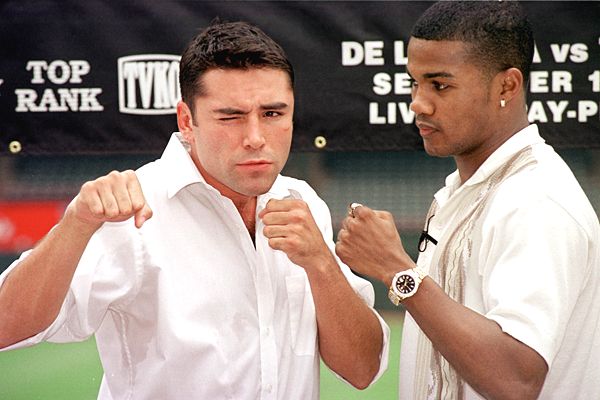 Meanwhile a skinny Mexican-American lad from East L.A. went to Barcelona in the summer of 1992 and won Olympic Gold. With his combination of good looks and lightning lefts, Oscar de la Hoya would rise to become the biggest earner in boxing outside of the heavyweight ranks. By the time he reached welterweight in 1997, the Golden Boy had carved a path of destruction through three weight classes and was set to square off with three well-established champions: Pernell Whitaker, Felix Trinidad and Ike Quartey.
Finally, in the United Kingdom two developments defined the decade and produced some of the most exciting pugilism the British Isles had ever seen. First was among the British middleweights, the best that country had ever seen, with multiple world-class contenders producing a scene so talent deep that it had no need to seek competition on the Continent or in America. As men like Eubank and Benn began to age, a cocky Yemini floated onto the scene aboard a Persian carpet and set about knocking out anyone who got in his way. "Prince" Naseem Hamed's showmanship and punching power brought eyeballs and money down to the featherweight division, paving the way for big money fights that continued even after the Prince himself had long since retired.

Best Fighters of the 1990s
Julio Cesar Chavez: Although the original "King of Mexican Boxing" was at his stone-fisted best as a 130- and 135-lbs champion in the late 1980s, he was no slouch in the 1990s, and it was in that decade that Chavez enjoyed his defining reign as WBC Super Lightweight Champion. He opened the decade with his Fight of the Year clash against Meldrick Taylor, whipped his arch-rival Hector Camacho, and destroyed a trash-talking Greg Haugen in Mexico City before a staggering crowd of over 132,000 spectators. Although in the latter half of the decade Chavez was a very faded fighter, in the first half he was one of the biggest and most feared names in the game.
Chris Eubank: The 1990s were the Golden Age of British middleweight boxing, with multiple world class contenders duking it out with each other and crossing the sea to give their American and European competitors the odd bloody nose. Of this class of middleweights, the best was unquestionably Chris Eubank. As he was so often fond of saying, Eubank was "Simply the Best."
Naseem Hamed: "The Prince" plowed his way through the featherweight division in the 1990s, and with his elaborate ring entries and cocksure ways, carried a bathtub full of money to the lower weight classes to boot. If you compare the financing available for fights at 126 lbs before and after Hamed, it becomes pretty clear that without this man's presence, names like Erik Morales, Marco Antonio Barrera and even Manny Pacquiao would not be nearly as important as they are today. Although some consider him overrated and Hamed's style certainly had flaws, his mixture of speed, reflexes and mule-kick power made him a formidable presence until he simply lost interest in the game and started sliding.
Evander Holyfield: One of the two stand-outs of the Silver Age of the Heavyweight Division. Originally derided as a "blown-up cruiserweight," Holyfield struggled hard through the decade to earn respect. In so doing, he became the first man to win the heavyweight title three times, participated in some of the classic fights of the decade, and eventually became one of two men from his generation of big men to withstand the test of time. He truly was "The Real Deal."
Oscar de La Hoya: Oscar de la Hoya was certainly the decade's Golden Boy. After winning the gold at the 1992 Barcelona Olympics, he became the decade's non-heavyweight cash cow with his mixture of good looks, charisma, rapier-like left jab and lightning bolt of a left hook. This was the decade that saw him win world titles in four different weight divisions and beat a wheelbarrow full of former champs, current champs and Hall of Famers along the way. The 1990s ended with de la Hoya receiving his first loss at the hands of Felix Trinidad, a fight that many think de la Hoya won and remains controversial to this day.
Roy Jones, Jr.: The record of Roy Jones, Jr. remains controversial, for after beating Bernard Hopkins, "Sugar Boy" Malinga and James Toney in the early 1990s, Jones consciously avoided showdowns with dangerous opponents. His cherry picking have led many to question if Jones was really ever that good, but they shouldn't. As a middleweight and super middleweight, Jones was a frightening symphony of power and grace that would have destroyed any available opponent in the 1990s. Talents like those propelled him through clashes with bigger (albeit less able) men from 175 lbs to heavyweight.
Lennox Lewis: Lewis shocked the world with his demolition of Razor Rudduck, then thought of as the #2 or #3 heavyweight in the world, on Halloween night in 1992. Although his 1990s record was marred by a questionable stoppage at the hands of Oliver McCall, by the end of the period he was the last man standing from his generation. Riddick Bowe ducked him and he beat just about everybody else worth fighting. It set the stage for what many consider to be the last great heavyweight championship of record.
Ricardo Lopez: Ricardo Lopez won the WBC Strawweight Title in October 1990. By the time the decade was done, Lopez had defended his championship in that weight class 22 times and moved up to Light Flyweight to capture the IBF crown there, starting a second reign as champion. He reigned as champion for almost the entire decade, fighting a host of worth opponents from Japan, Thailand, Korea, Colombia, Nicaragua, his native Mexico and elsewhere. Lopez would ultimately tie Joe Louis for most successful title defense and retire as one of the very few undefeated world champions.
Pernell Whitaker: "Sweet Pea" won his first world title in 1989, so almost all the events that would win him lasting fame as the great defensive wizard of the latter half of the 20th-century came in the 1990s. He became the Undisputed World Lightweight Champion and won world titles in four divisions, displaying the beguiling wizardry of a man so slick he could stand right in front of a world class opponent and make that man miss time and again without even moving his feet. His 1993 Draw with Julio Cesar Chavez was the great robbery of the decade, as everyone except Chavez and Don King thought Whitaker won with ease, with even Sports Illustrated making it their cover story and declaring "Robbed!"
Best Fights of the 1990s
Douglas vs. Tyson: This bout wasn't the Upset of the Year or Upset of the Decade, or even the greatest upset of boxing. Buster Douglas vs. Mike Tyson was the greatest upset in the history of sports. Douglas entered the fight a 42-1 underdog, odds that only a comatose man with only two limbs realistically deserves. Tyson, however, was in steep decline. While Tyson was in good shape that night, he had prepared very little and was unfocused. Douglas, by contrast, was a talented fighter who was blessed with size and strength, but had never seemed to be able to achieve the focus necessary to hang with the very best. That night Buster Douglas had the focus, and whipped the "Baddest Man on the Planet." Tyson landed a lucky shot that floored Douglas in the 8th; Douglas rose at the count of 9 (whatever Don King might say). Douglas rallied and knocked out Tyson with a five-punch combo in the 10th.
Chavez vs. Taylor I: Dubbed "Thunder Meets Lightning," this was the first great clash of the decade. Meldrick Taylor was the "Lightning," a well-schooled Olympic Gold Medalist blessed with blinding speed. Julio Cesar Chavez was the "Thunder," a hard-hitting Mexican gladiator who epitomized the school of leading with a cast-iron chin and following with the left hook. Taylor used his evasiveness and hand speed to outscore Chavez by 5 to 1 and build a commanding lead, but at a cost. Chavez might not have landed nearly as many punches, but most of his blows were very, very damaging. By the final three rounds, Taylor began to falter. He could have cruised to a thumping decision victory, but in a classic strategic blunder, Lou Duva instructed his charge that he was behind on points. Taylor went out to engage Chavez and bag the round, and Chavez punished him for it. Hurting Taylor badly, Chavez cornered him and hammered away, leading referee Richard Steele to controversially stop the fight with exactly two seconds to go.
Bowe vs. Holyfield I: Before this bout, Evander Holyfield was a "blown-up cruiserweight," Riddick Bowe was the man who disappointed all at the Olympics, and both were supposedly lucky that Mike Tyson was in jail. That attitude continued for some time afterwords, so great was the reputation of Tyson, but in retrospect Bowe vs. Holyfield I was the first great title fight of what was to become the Silver Age of the Heavyweights and the start of a legendary trilogy. Holyfield boxed well in the 1st Round, but after that was drawn into a slugfest where defense went out the window. It cost The Real Deal the fight, yet did wonders for his reputation. In a see-saw war, Bowe came up with an answer for everything Holyfield threw at him. Holyfield would be rocked by hard blows from the bigger man one minute, only to miraculously recuperate and tear at Bowe the next. Bowe won the fight and the World Heavyweight Championship, but he had to fight for it every minute of every round.
Holyfield vs. Tyson I: Calling this fight a great upset is difficult, if only because in hindsight (or foresight for those who weren't blinded by the Tyson mystique) it should have been clear that Mike Tyson was not the wrecking ball of his youth and Evander Holyfield was far from done. Meeting a full six years after they should have, Holyfield enacted a simple-but-masterful game plan to deflect Tyson's still-formidable power and "bully the bully," stopping "Iron" Mike and becoming only the second man to win the heavyweight crown three times. Tyson had no answers, and his mystique was fatally punctured. While Mike Tyson would rumble on for a few more years, it would be as more of a sideshow attraction than as a feared champion. The focus of gravity permanently shifted away from him and to Holyfield and Lennox Lewis.
Foreman vs. Moorer: George Foreman's victory over Michael Moorer was noteworthy for one reason, and one reason alone, but that reason makes it an all-time classic. Moorer tattooed Foreman with blows all night, and with his growing arrogance he stopped moving around. Standing right in front of Foreman, the china-chinned southpaw gave Foreman too many chances, and Big George crushed him with a 1-2 in the 10th. With that, Foreman became the oldest man to win the heavyweight crown in 1995. He also won back the title he lost to Muhammad Ali in the 1974 Rumble in the Jungle after a 20 year interval, the longest interval between reigns in boxing history, and wearing the same trunks he had worn in 1974 no less. Finally, the 19 year age difference between champion and challenger was a record for heavyweight championship fights.
Benn vs. McClellan: Perhaps the most high-profile tragedy of the 1990s, Nigel Benn vs. Gerald McClellan was also a classic encounter, cross-pond drama matching a British banger with an American slugger in a fight that was one part pugilistic epic, one part horror movie. Benn was literally punched out of the ring, but climbed back in and doggedly hung on to stop "the G-Man" in the 10th. Tragically, McClellan was badly injured and suffered permanent brain damage, which is perhaps why this fight so rarely appears on lists of classic boxing matches. Benn too was damaged, as he was never able to muster the same energy that made him the "Dark Destroyer" thereafter.
Carbajal vs. Gonzalez I: A Mexican-American amateur star and 1988 Silver Medalist, Michael Carbajal brought glamor to the ranks of the light flyweights (108 lbs), a division previously the province of small men from Asia and Central America. Humberto Gonzalez was a grizzled Mexican veteran. Both men were well-established champions on a collision course, and in meeting Gonzalez, Carbajal became the first little guy to earn a $1 million payday. In an absolute barn-burner, Gonzalez boxed well and using rangy shots and counter-punching to put Carbajal down, cut him above the eye and knock him down a second time during the first five rounds. Yet by round six, Gonzalez was gassed and Carbajal came on. Unable to stay away from Carbajal, Gonzalez traded blows toe-to-toe in the 7th and was felled by a right uppercut-left hook combo.
Whitaker vs. Chavez: This fight was hands-down the greatest robbery of the decade, with Sports Illustrated's verdict having already been discussed in this chapter. Whitaker so handily out-boxed Chavez that he would have made it look easy, were it not for the utterly mesmerizing effect of "Sweet Pea's" masterful defensive skills. The once-fearsome Chavez was clearly, suddenly shown to be vulnerable, and although the record books don't show it, everyone knows that Pernell Whittaker was beat Julio Cesar Chavez that night in September 1993.
More Boxing History
1980s Boxing ← 1990s