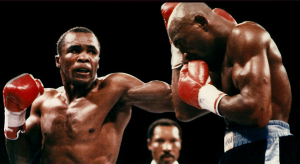 History of Boxing in the 1980s
Questions loomed as the 80s began. Ali was fading into the sunset, leaving a huge void and threatening the sport's high-profile nature. There was no such need for worry, as the 80s proved to be one of boxing's greatest periods. It was the last golden era of the sport. Superstar fighters laid it all on the line, as historic battles were waged for giant-sized stakes.
Where Boxing Stood in the 1980s
There was no let-up during the entire decade, as the sport kept replenishing with new faces. It is difficult to name another decade where the volume and diversity in talent was as plentiful. The list of names competing in the 80s is a who's-who of the upper pantheon of boxing greats.
The sport enjoyed mainstream appeal throughout the decade. The round-robin fights between greats Sugar Ray Leonard, Roberto Duran, Wilfred Benitez, Thomas Hearns and Marvin Hagler captivated the boxing world. The emergence of Mike Tyson was a phenomenon that hasn't been seen since in the United States. International superstars flooded the sport, keeping boxing thriving around the globe.
Boxing enjoyed high exposure during this time. Networks threw a lot of money into the sport and fans reaped the benefits. On any  given afternoon, you could watch top boxers for free, often in high-stakes fights—many of which were absolute classics. With the proliferation of cable-TV, it was a great time to be a boxing fan. By the end of the decade, most of the big-time fights were moved to pay-per-view. The eighties were the last time where it was really easy (and cheap) to be a boxing fan.
While being a glorious era, it was also a time where the foundation was laid for things that most boxing fans didn't appreciate. By the close of the 80s, fans needed to order PPV fights if they wanted to see the biggest matches. Also during this time, the world championship landscape became indecipherable. The IBF and WBO formed in this decade, further muddling an increasingly hard-to-follow title picture.
The addition of several new divisions also clouded the picture, with cruiserweight, super middleweight, junior bantamweight, and strawweight being added into the mix. While the days of 8 weight classes with 8 champions were long gone, fans could still keep up with who the champions were—until the 80s.
Other divisions, although not created in the 80s, such as junior flyweight, junior featherweight, junior lightweight, junior welterweight, and junior middleweight enjoyed their first periods of sustained success in this decade. Those trying to keep up were left dizzy. With 17 divisions and 4 champs per weight class, the term "world champion" was diluted considerably. With the new divisions and organizations, the amount of world champions nearly tripled during this period.
At the same time, it is impossible that the old system would have accommodated the massive influx of talent during this period. A lack of clarity on the identity of world champions is not beneficial to the sport, but the explosion of available titles gave way to a number of important and classic fights that might have otherwise not taken place. Over the past two decades, this system has grown to be cumbersome and unnecessary—far too much available "glory" for the talent that actually exists. In the 80s, however, the explosion of titles was in some ways a good thing.
The cluttering of sanctioning bodies, combined with power of big-time promoters, gave way to a certain amount of corruption during this period. Shady characters are to be expected in an unregulated sport. By the 80s, however, the prevalent gambling connection to the sport had thankfully dissipated. But dirty work was still afoot. Fixed fights were in far less abundance than past eras, but it was during this time where the rankings were the most dubious.
Alphabet organizations seemed to lack objectivity. The South American-based WBA consistently overrated fighters from that continent, while the WBC transparently gave lofty rankings to Don King's stable, and Mexican fighters. The IBF, supposed to provide relief, would prove to be utterly corrupt. It was a time where being connected was very important. Unconnected fighters and those unwilling to play ball, even if they were very good, found the going difficult during this period.
A few high-profile ring fatalities in the early-80s also got the wheels spinning to end all 15-round bouts. With the televised deaths of Johnny Owen, Kiko Bejines, and Duk-Koo Kim, in addition to the Luis Resto-Billy Collins fiasco; there was a dark glow over the sport. By the end of the 80s, 15-rounders were a thing of the past, as fans and fighters alike acclimated to the new 12-round title distance. In addition, the ceiling for ring brutality was lowered somewhat. At the beginning of the decade, one could still see incredibly brutal ring battles with referees hesitant to stop fights, especially in world title bouts. By the end of the decade, ring officials were considerably more squeamish.
The 1980s were a time of excess. In boxing, the impact was felt on all levels. One talented fighter after the next fell by the wayside, victims of frenzied lifestyles that sapped them of all their promise. The 80s would have been even more thrilling if not for the demise of countless talents. Nevertheless, it was still a great time to be watching boxing. It is a testament to the depth of talent during this time that boxing managed to have one of its best periods despite all the destructive factors working against it.
Best Fighters and Champions from the 1980s:
Sugar Ray Leonard: Probably compiled the most compelling resume of anyone in the 80s, with wins over a 72-1 Duran, 33-0 Hearns, and 62-2-2 Hagler—3 surefire first-ballot Hall of Famers. The marquee fighter of the decade took on the best and beat them all.
Marvin Hagler: Simply one of the very few greatest middleweights of all time. Became more of a slugger toward the end of his reign, but began the 80s as a diverse boxer-puncher. Reigned as undisputed champion from 1980-1987. His win over Thomas Hearns was one of the most inspiring victories of this period. Provided stability in one of boxing's glamour divisions. An exciting and dominant champion.
Larry Holmes: Provided stability in the post-Ali era, eventually emerging from the shadow of "The Greatest" to become one of the best heavyweights of all time. A dominant champion with 20 defenses and a jab that deserves its own wing in the Hall of Fame. Won his first 48 bouts.
Michael Spinks: One of the all-time great light-heavyweights, who rose to the top of the weight division during the best era ever at 175 pounds. Became the first light heavyweight champ to annex the linear heavyweight title, with a pair of wins over the previously unbeaten Larry Holmes. Former gold medallist's only loss was in his last fight to Mike Tyson.
Thomas Hearns: Unusually tall for a welterweight, Hearns captivated the public with his knockout over the feared Pipino Cuevas. Lost his 2 biggest fights against Leonard and Hagler, but his highlights are plentiful. His one-punch KO of Roberto Duran is one of the more stunning and brutal performances of the decade. Also beat Wilfred Benitez and countless other good fighters.
Roberto Duran: One of the best fighters of the 70s was less dominant in the 80s, but remained a major factor throughout the decade. First win over Leonard was perhaps the biggest victory of the entire decade for any fighter. Written off many times, only to come back with gusto.
Mike Tyson: Heavyweight sensation wreaked havoc over the big men in the latter part of the decade, creating a gigantic buzz with his speed and incredible punching power. During his brief prime, was one of the most dominant heavyweight forces ever seen in the prize ring. The undisputed king of boxing as the 80s came to a close.
Julio Cesar Chavez: Mexican super-legend spent the last half of the decade laying the foundation to his legacy. After winning a title at 130, moved up and demolished Edwin Rosario for a title at 135. Went on to outlast Roger Mayweather for a 140 lb. belt, before setting his sights on the 90s.
Salvador Sanchez: The great what-if story in boxing. Sanchez, despite being killed in a car wreck at 23, still compiled an excellent resume and is now considered one of the greatest featherweights of all time. Scored two wins over Danny Lopez, a stoppage of Wilfredo Gomez, and a TKO over Azumah Nelson in his final fight.
Wilfred Benitez: Probably a better fighter in the 70s, but still a force in the early part of the decade. Crushing knockout of Maurice Hope and decision over Duran were his highlights of the decade.
Aaron Pryor: Though cocaine would eventually claim this immense talent, he still accomplished an awful lot. His victory over Alexis Arguello in '82 was the fight of the decade. Largely responsible for making the 140-pound class a marquee division. A compelling talent.
Alexis Arguello: "The Explosive Thin Man" continued the dominance he established in the 70s into the 80s with wins over 46-0 Ruben Castillo, Rolando Navarrete, 27-1 Cornelius Boza-Edwards, 67-2 Jose Luis Ramirez, lightweight titleholder Jim Watt, and  20-0 Ray Mancini.
Azumah Nelson: Gave Salvador Sanchez all he could handle in only his 14th fight. Went on to stop a fading Wilfredo Gomez in 1984 for a belt at 126, before snagging a title at 130 in 1988. Finished the decade 32-1 and as one of the best fighters in the sport.
Wilfredo Gomez: The first dominant junior featherweight in history continued his dominance into the 80s, scoring more title defenses. Came out on the wrong side of a superfight with Salvador Sanchez in 1981, but returned with a rousing 14th-round stoppage over bantamweight great Lupe Pintor in 1982. Beat Juan LaPorte for a featherweight belt, before getting knocked out by Azumah Nelson.
Mike McCallum: "The Bodysnatcher" was one of the decade's finest fighters, combining old-school craft and unparalleled bodypunching ability to win his first 32 fights. Scored huge wins in the 80s over such luminaries as Julian Jackson, Donald Curry, and Herol Graham. A contemporary of Leonard and Hearns, McCallum was shut out of the big fights during this time.
Khaosai Galaxy: A truly unique and super fighter. Huge and muscular upper-body, with spindly legs, Galaxy lost his 7th pro fight, only to go 43-0 (38 KOs) for the remainder of his career. Held a belt at 115 pounds from 1984-91, becoming probably the best fighter in the history of the division.
Eusebio Pedroza: Mega-talented featherweight champion came into the 80s, already a dominant champion. Continued his assault in the 80s, with 13 more defenses, before losing to Barry McGuigan.
Matthew Saad Muhammad: Impossible to really tell how many fans this Hall of Fame light heavyweight champion brought to the sport with his network-televised thrillers in the early part of the decade. His 1980 war against Yaqui Lopez, won by Saad on a 14th-round KO, was one of the best fights of the decade.
Dwight Muhammad Qawi: The 5'6" light heavyweight wreaked havoc on this division, despite getting off to a late start due to a stint in prison. Twice stopped Matthew Saad Muhammad at 175, before losing to Spinks. Spent the latter half of the decade as one of the best cruiserweights in the world.
Jung-Koo Chang: South Korean legend avenged his only defeat by beating Hilario Zapata for a 108-pound belt in 1983, reigning until 1989. Made 16 title defenses, while helping legitimize the junior flyweight division.
Other Notables:
Hector Camacho: Vastly talented, but underachieving superstar was one of the more naturally gifted fighters of the decade and perhaps of all time. Undefeated in the 1980s.
Donald Curry: Dominant run at the top was cut abruptly short, but at one time the "Lone Star Cobra" was considered one of the very best.
Michael Nunn: Yet another fighter in the long line of 80s mega-talents who were sidetracked by self-sabotage. Could have been one of the all-time great middleweights, but was still the dominant force during the late-80s middleweight revival.
Jeff Fenech: Unique and skilled pressure fighter won titles in 3 weight classes. Troubled by hand problems, but still a lighter-weight phenomenon for several years. One of Australia's greatest fighters.
Evander Holyfield: The best was yet to come, but he cleaned out the cruiserweight division and began to make strides as a heavyweight contender during this period. By the end of the decade, was considered the only man who had a legitimate chance of beating Mike Tyson.
Ray "Boom Boom" Mancini: Major attraction and matinee idol, whose fights were high-action thrillers.
Lupe Pintor: Top bantamweight who established himself in the 70s by beating Carlos Zarate for the belt. Continued his dominance into the 80s with a series of defenses, before a car accident and Wilfredo Gomez slowed his progress.
Jeff Chandler: Hall of Fame bantamweight champion and excellent boxer-puncher. "Joltin' Jeff" reigned from 1980-1984.
Gilberto Roman: Immensely skilled boxer and one of the best 115-pounders of all time.
Pernell Whitaker: Victimized by a horrible decision against Jose Luis Ramirez in 1988, Whitaker still established himself as the best lightweight in the world by the end of the decade.
Julian Jackson: One of the hardest punchers of all time. 1989 demolition of Terry Norris underscored his numbing power.
Sot Chitalada: Chitalada was the dominant flyweight of the period and an excellent fighter.
Bobby Chacon: While not the force of old, his wars with Cornelius Boza Edwards and Bazooka Limon were heroic performances that made for high-drama on network TV.
Barry McGuigan: Exciting featherweight champion made his bones by beating the long-reigning Pedroza and was a popular and exciting attraction during his brief stay at the top.
Jorge Paez: Popular featherweight titlist was one of the more comedic and theatrical performers of all time and a pretty darned good fighter to boot.
Iran Barkley: Up and down middleweight, who scored a handful of huge victories, including a from-the-brink knockout over Tommy Hearns.
Sumbu Kalambay: Classy middleweight was the first man to defeat Mike McCallum and was one of the best during his era.
Myung-Woo Yuh: Lightning-quick 108-pound titlist reigned over the course of the second half of the decade. Immensely gifted fighter avenged his only career defeat.
Hilario Zapata: Former 108 and 112-pound champ was one of the best lighter-weight fighters of the decade.
Yoko Gushiken: Only 3-1 during the decade, he helped bring some credibility to the junior flyweight division as its first standout champion.
Edwin Rosario: One of the hardest-hitting lightweights of all time. Productive decade included title fight wins over Jose Luis Ramirez, Howard Davis, Jr., Frankie Randall, Livingstone Bramble, and Juan Nazario.
Jiro Watanabe: The first really good junior bantamweight, this Japanese legend made 11 defenses before Roman relieved him of his laurels in 1986.
Brian Mitchell: Hall of Fame junior lightweight titlist was penalized for being a white South African, but his ability was unmistakable. Very workmanlike champion was an excellent bodypuncher. Had only one avenged loss in 49 fights.
Jose Luis Ramirez: Knocked a peak Arguello down in a title try at 21. 4th-round TKO over an undefeated Edwin Rosario for the WBC Lightweight crown was biggest win, not counting gift decision over Whitaker. Won over 100 fights.
Marlon Starling: Standout welterweight champion beat Simon Brown and Mark Breland, en route to becoming the best welterweight over the second half of the decade.
Ruben Castillo: Fast California contender had the misfortune of having his prime take place at the same time during the glory years of Alexis Arguello, Salvador Sanchez, and Julio Cesar Chavez.
And how can we forget… Sammy Serrano, Sean O'Grady, Simon Brown, Buddy McGirt, Ayub Kalule, Mustafa Hamsho, Bobby Czyz, Matthew Hilton, Rocky Lockridge, Roger Mayweather, Virgil Hill, Prince Charles Williams, Dodie Boy Penalosa, Juan LaPorte, Michael Dokes, Tim Witherspoon, Pinklon Thomas, Hiroki Ioka, Antonio Esparragoza, Mike Weaver, Cornelius Boza-Edwards, Albert Davila, Frankie Duarte, Miguel Lora, Lloyd Honeyghan, Fidel Bassa, Davey Moore, Mark Breland, Greg Page, Saoul Mamby, Raul Perez, Livingstone Bramble, Hilmer Kenty, Jimmy Paul, Gianfranco Rosi, Steve Cruz, Gene Hatcher, Marvin Johnson, Carlos DeLeon, Bonecrusher Smith, Billy Costello, Howard Davis, Jr., Meldrick Taylor, Gerrie Coetzee, Tony Tucker, Don LaLonde, Milton McCrory, Daniel Zaragoza, Richie Sandoval, Gaby Canizales, Orlando Canizales, Wilfredo Vasquez, Bazooka Limon, Santos Laciar, Juan Coggi, Ossie Ocasio, Tony Tubbs, Trevor Berbick, Dennis Andries, Calvin Grove, and Frank Tate.
Biggest Fights from the 1980's:
Sanchez vs. Lopez I: Birth of a great champion. Sanchez, elegant and strong, beat a big and hard-punching champion in the Hall of Famer Lopez. "Little Red" was tough, but Sanchez prevailed by 13th-round stoppage. Sanchez would win the rematch in 14 rounds.
Duran vs. Leonard I: Perhaps the best fighter of the 1970s beat the fighter of the 80s in an impassioned performance. Dragged Leonard into a brawl and then proceeded to fight like a rabid dog for 15 rounds, clearly getting the best of Sugar Ray, becoming the only man to defeat Leonard in his prime. A performance for the ages.
Hearns vs. Cuevas: As emphatic a coming-out party as you will ever see. You might not have noticed it as Cuevas was deposited to the canvas like spackle being flung to the floor, but he was actually a feared champion at the time. Hearns' right hand turned the streaking champion's lights out in round 2.
Hagler vs. Minter: The long-neglected Hagler was in his prime and took his frustrations out on Minter, who had stirred the pot with some racial pre-fight buildup. Minter was absolutely filleted, as Hagler romped to a 3rd –round stoppage. The Wembley crowd pelted Hagler and his team with anything they could get their hands on. Regardless, it was the beginning of a new era at middleweight.
Holmes vs. Ali: One of the saddest spectacles of the decade. Ali, trying to win the heavyweight crown for the 4th time, took a bad beating from old gym mate Holmes. Though a titleholder for a few years, this confirmed Holmes' status as true heavyweight champion. All in all, a dark evening for boxing.
Leonard vs. Duran II: The infamous "no mas" fight. Eschewing the macho approach, Leonard turns the tables on an ill-prepared Duran, using movement and his legendary speed to frustrate "Manos de Piedra." In the 8th, Duran simply quit—a shocking and unfathomable ending to this fight.
Benitez vs. Hope: Benitez, having already won titles at 140 and 147, leveled titleholder Hope with a single blockbuster right hand.
Sanchez vs. Gomez: Gomez, undefeated and on a streak of 32 straight knockouts, gave it his all, but was eventually overcome by the elaborate boxing skills of Sanchez. An 8th-round stoppage added another gem in the crown of Sanchez.
Leonard vs. Hearns I: Historically speaking, it was the highest stakes fight in the annals of the welterweight division—two undefeated champions who would go on to become Hall of Famers and top all-time welterweights. Leonard had early success, but was thrown into a quandary by the stick-and-move tactics of the much taller Hearns. Hopelessly behind on the cards and with a gargoyle eye, Leonard got to Hearns in the 13th, before finishing him in style in the 14th. This highly anticipated fight actually delivered on the hype. Probably Leonard's greatest win.
Benitez vs. Duran: The last moment of greatness for the legendary Benitez. Considering the success Duran had after this bout, it was a very good win for Benitez, as he used his defense and great skill to clearly outbox Duran.
Holmes vs. Cooney: Thankfully, one of the last boxing matches where race played a major factor in the build-up. Many fancied the chances of the murderous-punching "white hope," but Cooney was little match for the exquisite boxing skills of a supreme champion like Holmes. Cooney fought gallantly before being stopped by a dead-prime Holmes in the 13th round.
Pryor vs. Arguello I: Fight of the Decade. An absolute war for the ages. Black bottle or not, Pryor displayed a chin that was legendary, as he somehow soldiered through Arguello's power shots to batter the legend into a 14th-round stoppage. Brutal fight with a brutal ending that profoundly affected both men's lives, underlining the high stakes of this sport.
Mancini vs. Kim: The death of Kim makes some of us forget what a great fight this was and rightly so. Nevertheless, Kim's heroic performance was awe-inspiring. The tragedy that ensued increased the squeamishness of everyone in the game. This result helped usher in the 12-round title fight.
Hearns vs. Benitez: In a battle of Hall of Famers, Thomas Hearns outboxed the master boxer Wilfred Benitez to win a title in his second weight class. In out-slicking the 44-1-1 Benitez, Hearns showed that while he could be outpunched, no one could ever outbox "The Hit Man."
Spinks vs. Qawi: WBA champ Spinks collides with WBC champ Qawi to determine the top dog at 175. In a bout to determine not only the best at light heavy, but also the leading 175-pounder of the division's best era, Spinks cleverly outboxed the fireplug Qawi. In the dressing room before the fight, Spinks was reduced to tears, as his daughter asked him if her mother and his wife could come to the fight. She had sadly passed away earlier in the year.
Duran vs. Moore: By now, Duran was on the heels of the "no mas" fight, in addition to a few bad losses. Moore was undefeated, one of boxing's touted young champions, and a betting favorite. Duran brutalized him. It wasn't even close. The old primal fighting machine was back, dishing out a horrific 8-round shellacking that saw boxing at its most brutal and unforgiving. Duran added a junior middleweight belt to his growing trophy case. Moore would never be the same. A very dark evening, considering the infamous Luis Resto-Billy Collins fight was on the undercard, where Collins was ruined by the doctored gloves and dirty work of Resto and scumbag trainer Panama Lewis.
Hagler vs. Duran: Hagler, still in his prime, seemed to be a bit leery of the massive Duran mystique. Duran acquitted himself admirably, as the former lightweight king lost a 15-round decision by only a single point on two scorecards.
Hearns vs. Duran: Considering the opponent, this might be one of the greatest knockouts of all time. In the 2nd, Hearns exploded a right hand cannon shot that left Duran face first and out cold on the mat. A chilling display of power and one that put Hearns back in the spotlight.
Hagler vs. Hearns: Perhaps the most celebrated fight of the decade. Within mere seconds, these two were digging into each other with passion, skill, and power. It is still hard to not marvel at Hagler's chin, as he walked through shots that would have crumbled his contemporaries. For 3 rounds, they eschewed self-preservation and engaged in a breathtaking brawl that left everyone slack-jawed. Hagler won in the 3rd in perhaps his greatest victory.
Spinks vs. Holmes I: An increasingly indifferent Holmes finally met his match in the much smaller Spinks, who outhustled "The Easton Assassin" over 15 rounds to become the first light heavyweight to lift the heavyweight title.
Spinks vs. Holmes II: A more revved-up Holmes appeared to do enough to win his title back, but Spinks was resourceful and cunning in winning a split decision. The feeling here was that the boxing shot-callers had tired of the difficult Holmes. For a legendary heavyweight champion, he sure didn't catch any breaks from the judges in this one.
Hagler vs. Mugabi: Hagler, now a little past the peak, struggled massively to repel the challenge of the spirited Ugandan. Mugabi, 26-0 (26 KOs) going in, fought with determination and vigor in becoming the first challenger to seriously hurt Hagler, who called on all his power, grit, and experience to pull through via KO.
Holyfield vs. Qawi I: Holyfield, a pro for less than two years, drew a tough first world-class assignment in cruiserweight titleholder Dwight Muhammad Qawi. The 15-rounder was a great and draining encounter that saw Holyfield debut what would become his legendary grit. A close 15-round decision went to Holyfield, signaling the start of what would become the reign of the greatest cruiserweight ever. A year-and-a-half later, Holyfield stopped Qawi in 4 rounds.
Leonard vs. Hagler: Despite Leonard's opportunism, this ranks among the best comebacks of all time. With one fight in 5 years, Leonard took on the pound-for-pound best fighter in the sport without a tune-up and boxed his way to a much-debated split decision win. One of the higher profile fights in a decade full of mega-events.
Tyson vs. Berbick: The birth of a true boxing superstar. Berbick was a highly serviceable heavyweight, but was reduced to jelly by the hammer-like fists of Tyson. Final punch caused Berbick to comically flounder around the ring as he tried to regain his senses. One of the more imagistic coming-out-parties for any boxer.
Tyson vs. Holmes: At the time, Tyson's throttling of Holmes seemed predictable enough. Looking back, Tyson deserves major points for being the only man to dominate Holmes in this fashion. The 4th-round knockout was prime Tyson.
Tyson vs. Spinks: Tyson's landmark win. 91-second leveling of undefeated Spinks had people thinking Tyson could become the greatest ever. As clean and ruthless a knockout as seen in the decade.
Chavez vs. Rosario: Our first real confirmation that the Mexican star was something special. It was a vintage Chavez performance, as "J.C. Superstar" ravaged Rosario. His power, precision, bodypunching, and unshakeable chin were in full bloom, as Chavez tattooed Rosario over 11 one-sided rounds to claim the world title at lightweight.
Duran vs. Barkley: Barkley, coming off a KO of Tommy Hearns, was favored to beat the aging Duran. On a truly magical night, Duran reached back to recapture his old form. The old skill was still there, just in a pudgier and older package. Nearly 38, Duran was fantastic, winning a decision to claim a world title in his 4th weight class.
Leonard vs. Hearns II: Though both men had seen better days, their 1989 rematch was quite a pleasing bout. Leonard applied pressure effectively at times, but was dropped twice and troubled greatly by a supposedly shot Hearns. Draw decision seemed to be generous to Leonard.
More Boxing History
1970s Boxing ← 1980s → 1990s Boxing