Boxing History at the Turn of the 20th Century: History of Boxing from 1900-1920
Before boxing reached its pinnacle of popularity in the 1920s and 1930s, the sport began to take firm root in the public consciousness at the turn of the 20th century. The two decades that followed saw fighters including Jack Johnson, Harry Greb, Sam Langford and Benny Leonard plying their trade, amongst others. As world champions became recognized, stars were born, while racism and cultural feuds were inherent in the game at every level.
Where Boxing Stood from 1900-1920
Boxing at the turn of the 20th century was still coming into its own in terms of developing into the modern sport we know today, with its established rules. During this time, fights that did not end in knockout typically had no official winner or loser. Instead, these fights had "newspaper decisions" where the reporters and journalists came to their own conclusions about which fighter had won the day, and published the fight report as such.
Therefore, in many boxing historical records of the time, finding a fighter's true win/loss record and total amount of fights he participated in is a cloudy process to say the least. You might see newspaper decisions counted separately, not included at all, or only included when additional verification exists.
It was common during this period for boxers to fight hundreds of times over the course of their careers, many of which went undocumented, whether due to the above reasons or whether the bouts were arranged hastily and conducted off the books. This was a major change from the era which preceded it, in which fighters as prominent as heavyweight champion James J. Corbett fought just 24 times in his career.
Boxing's champions, as well as the many less notable fighters composing the sport's gatekeeper, tomato can and contender ranks, typically reflect the poorer, immigrant classes of the United States. As such, at the turn of the 20th century, many of the best boxing champions and fighters were Jewish. These fighters included Benny Leonard, Abe Attell and Kid Lewis, and comprise three of the top five Jewish fighters to ever lace up the gloves.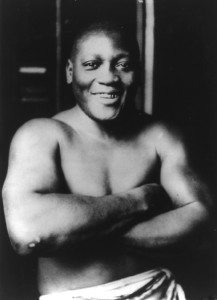 While Jewish fighters thrived, often in the face of anti-Semitism, African American fighters had a much more difficult go of it. By and large, many of the best black fighters during these years were never given a chance on the biggest stage of the sport. The most glaring and obvious example of this is of Sam Langford, one of the best boxers of all-time, and the best to never win a major title belt, because he was never given the chance to.
Jack Johnson became the first black heavyweight champion in 1908, and also became one of the sport's biggest stars. He didn't have a legion of supporters though, as his flamboyant personality out of the ring continually got him into trouble with white society and the establishment. Six years before Johnson broke through in the heavyweight division, Joe Gans became the first African American world champion, winning the lightweight crown in 1902.
As the 1910s came to an end, the heavyweight division, already the sport's focal point and "the biggest prize in sports", began to become even more prominent, as Jack Dempsey and Gene Tunney dominated headlines in the sport during the decade following. They carried on the throne and legacy which started with fighters like John L. Sullivan, James J. Corbett and Bob Fitzsimmons during the late 1800s, and continued, with much controversy, through the reign of Jack Johnson.
Best Fighters & Champions from 1900-1920
Jack Johnson: A polarizing figure if there ever was one, Jack Johnson was larger than life and was the first black heavyweight champion, capturing the title in 1908 via decision over Tommy Burns. During his career he defeated Sam Langford, Tommy Burns, James Jeffries and Stanley Ketchel amongst others, and finished his career with a 68 (35) – 12- 10 record.
Harry Greb: The Pittsburgh Windmill, remembered for fighting with one eye blinded in the latter stages of his career and boxing so often he didn't train, he just continually fought, Harry Greb had one of the more fantastic boxing careers in all of the sport's history. He fought 300 times on record, with an unknown number of additional bouts off of the books, compiling a 160-20-17 record. He defeated fighters such as Gene Tunney, Battling Levinsky, Tommy Gibbons and Tommy Loughran amongst scores of others.
Benny Leonard: Widely recognized as one of the best Jewish boxers of all-time, Leonard was a speedster and superb tactician that began professionally fighting at the age of 15 in 1911. A career record of 183 (70) – 19 – 11 extends all the way through 1932, but he won the lightweight title in 1917 and challenged for the welterweight title the next year.
Sam Langford: "The Boston Tar Baby" is recognized unanimously as the best boxer in history to never win a major world title. That deficit in his resume is to no fault of his own, instead, he was largely frozen out of the title picture because of his race and his amazing skill set. Instead, he fought for the Mexico heavyweight title, the "colored" heavyweight title and more, making his mark against fighters like Harry Wills, whom he fought on 17 occasions. Langford started boxing around the lightweight waters, and defeated champion Joe Gans in a non-title bout, before battling in the light heavy and heavyweight ranks for much of the end of his career. His final career record was 206 (129) – 48 – 55.
Abe Attell: "The Little Hebrew" was a featherweight champion with a record in title fights of 18-1-3 during his prime years. He won the title in 1903 and held onto it for most of the following decade, amassing a career record of 109 (39) – 17 – 23.
Joe Gans: The first African American fighter to hold a prominent boxing title, Joe Gans won the lightweight strap in 1902, and later won the welterweight title. The majority of his work was in the 135 lbs division however, where he made 14 successful title defenses. The "Old Master" finished with a career record of 151 (96) – 12 – 18.
Tommy Burns: Tommy Burns captured the heavyweight title from Marvin Hart in 1906 and then put up a 10-0-1 record in title defenses in the two plus years that followed, including a win and draw against Philadelphia Jack O'Brien, before he ran into a force known as Jack Johnson. Burns finished his career with a 46 (34) – 5 – 9 record.
James J. Jeffries: Jeffries took home the heavyweight title from Bob Fitzsimmons in 1899, and then made some 7 successful defenses of his championship as the 20th century began, including twice turning back James J. Corbett and defeating Fitzsimmons in a rematch before retiring as champion. In perhaps the most racially charged boxing match ever held, Jeffries failed in his return from retirement to dethrone Jack Johnson, being overwhelmed and dominated until being stopped in the 15th round.
Jack Britton: Lewis's American rival, The Boxing Marvel Jack Britton was a slick and defensive fighter that thrived by outpointing and outlasting his opposition. He had an ongoing contest for championships with Kid Lewis that would be completely unheard of in the sport's more recent history. A three-time welterweight champion, Britton also split a pair of fights against Benny Leonard and finished his career at 217 (30) – 53 – 44.
Ted (Kid) Lewis: Kid Lewis, another of the era's Jewish champions, was a welterweight hailing from London. He captured the title in 1915 from Jack Britton, a man he fought 20 times in his career, and defended it on many occasions before giving it back and exchanging it with Britton. Britton won the last three encounters, all welterweight title defenses. Lewis finished his career battling it out against larger men at light heavyweight, and ended up with a 232 (80) 44 – 24 record.
Jess Willard: The largest heavyweight champion to lace them up, until he was surpassed by the likes of mob-favorite Primo Carnera, the Klitschko brothers, Nikolai Valuev and the like, Williard stood at 6'6″ and weighed about 240 lbs at his best. Willard, the latest Great White Hope, defeated Jack Johnson to win the heavyweight title before losing it to Jack Dempsey.
Jack Dempsey: The bulk of Dempsey's most notable work, as well as that of career-rival Gene Tunney, was done in the 1920s, but by the end of the 1910s, Dempsey was already a big name. He won a version of the heavyweight title in 1919 from Jess Willard before officially winning the world title in 1920 and becoming one of the biggest stars to ever perform in the squared circle. The Manassa Mauler was revered for his power and toughness, with 50 KO wins amongst 65 career victories.
Biggest Fights from 1900-1920
Johnson vs. Jeffries: In front of over 16,000 fans in a specially constructed stadium in Reno, Nevada, the heavyweight championship fight between Jack Johnson and James Jeffries from July of 1910 was a racial battle as much as a boxing one. Jeffries infamously was quoted as saying he wanted to win the match for whites, and promoter Tex Rickard took advantage of the racial implications to stage a spectacle. Jeffries had retired as heavyweight champion six years prior, and now well past his best, was dominated and stopped by Johnson in the 15th round. Jeffries later said he never would have beaten Johnson, even at his best.
Johnson vs. Willard: Jack Johnson's title reign came to an end against the massive Jess Willard in April of 1915. Fighting from Havana, Cuba, Willard KO'd Johnson in the 26th round to become heavyweight champion of the world. Willard, as did most of Johnson's opponents, became hailed as the latest Great White Hope. But his title reign, although lengthy in time, featured few fights until he was outdone by a superior challenger in Jack Dempsey.
Willard vs. Dempsey: Some 40,000 people attended the Jess Willard vs. Jack Dempsey fight, a huge number, although it was less than half of what the promoters had been hoping for. Dempsey, already the fan favorite, disposed of Willard via third round TKO after knocking him down 7 times in the first. It was the start of Dempsey's title reign, and his run as one of the most popular American sporting figures of all-time.
Jeffries vs. Corbett I: In May of 1900, James J. Jeffries met his tutor, former champion James J. Corbett, in the ring for the heavyweight championship of the world. Jeffries had won the title from Bob Fitzsimmons less than a year prior and had already defended it twice. Corbett, the slicker fighter, gave up 30 pounds to Jeffries and was knocked out in the 23rd round of a scheduled 25 after outclassing Jeffries for much of the early going.
Burns vs. Johnson: In a bout eventually stopped after 14 rounds by police (as scheduled), Jack Johnson dethroned Tommy Burns and became the first black heavyweight champion of the world, the day after Christmas in 1908. The fight was held in Sydney, Australia, circumventing larger racial prejudice in the United States, and marked the beginning of a new era, although the transition was never easy.
Erne vs. Gans II: In a match that was more historically significant than it was considered huge at the time, Joe Gans took home the lightweight championship of the world from Frank Erne and became the first black boxing champion in any weight class. His 1902 triumph, a one round KO win, came after an unsuccessful 1900 challenge against Erne.
More Boxing History
Jeffries, Hart & Burns ← 1900-1920 → 1920s Boxing