Boxing's Heavyweight Champion Lineage Continues in the 1900s – James J. Jeffries, Marvin Hart & Tommy Burns
Peter Hathaway Capstick, author and hunter, described the fearsome Cape buffalo as looking at you as though you owed him money.  That's very much how James J. Jeffries looked at those unfortunate enough to find themselves face-to-face with him in the squared circle.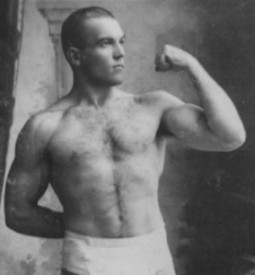 Jeffries' heyday was more a century ago, although it could be 10 times that, given how little he's remembered or regarded. Odd, given that the great Sam Langford once said that the only man he wouldn't fight was Jeffries. Nat Fleischer called him, "One of the most formidable fighting machines the prize ring ever produced."
Jeffries was well schooled in technical boxing, and learned to fight from an effective crouch, but nonetheless was very much a throwback to the John L. Sullivan school of destroy thy opponent and save the niceties for the ladies.  Joe Frazier, who followed Jeffries as champion some seven decades later, very much resembled him, given his willingness to absorb punishment in order to dish it out.
Jeffries Defeats Fitzsimmons
Known as the "Iron Man of the Roped Square", Jeffries was so impressive that he was given a shot at the heavyweight championship only four years after first entering the ring.  Still, most were surprised when Jeffries took the title from Bob Fitzsimmons by KO in the 11th at Coney Island on June 9, 1899.
When they met again three years later in San Francisco, Fitzsimmons avenged his wounded pride and the loss of his championship by shattering Jeffries' nose, ripping both cheeks to the bone, and gashing his forehead.  To no avail.
Impervious or indifferent to the injuries and the pain, the champ doggedly continue to move forward. A right to the stomach, a left hook to the jaw, and Fitzsimmons was out for the count in the eighth.
Following his championship win in 1899, Jeffries scored a 25-round victory over Tom Sharkey, breaking two of his ribs and sending him to the hospital.  Sharkey, who lived to the 1950s, thought Jeffries superior to Jack Dempsey and Joe Louis. Jeffries fought eight more bouts — including a 23rd-round KO of former champ Corbett in 1900, his second defeat of Fitzsimmons in 1902, and a 10th-round TKO of Corbett in 1903 — before retiring.
Jeffries would regrettably end his retirement six years later to challenge then-champion Jack Johnson in what was nothing but a racially-fueled and downright ugly affair.
Marvin Hart and Tommy Burns
Jeffries chose Marvin Hart and Jack Root to fight each other for the title.  The bout, refereed by Jeffries, took place in Reno, Nevada on July 3, 1905.  Hart kayoed Root in the 12th, and was declared (pretty much exclusively by Jeffries) the new Heavyweight Champion of the World.
No disrespect, but Hart was what A.J. Liebling would have called a champ of "little worth".  No one took the reign of the "Fightin' Kentuckian" less seriously than Tommy Burns.  Burns had fought all over the world, against a list of opponents which included such worthies as Jack "Twin" Sullivan.
Finally given a shot at the title on February 23, 1906, Burns decisioned Hart in Los Angeles over the course of a 20-rounder. Over the next couple of years, Burns scored 12 wins, 11 by KO.  But the day after Christmas 1908 was anything but merry for the champ.
Jack Johnson Takes Center Stage
Burns had a shadow by the name of Jack Johnson, who dogged him, demanding a shot at the crown.  Burns eventually agreed, no doubt persuaded by a guaranteed purse of $30,000 ($750,000 today), and the battle took place in Australia on, appropriately enough, Boxing Day.
Burns, though able and brave, was no heavyweight — even by the standards of his day.  At five-foot-seven, he's the smallest heavyweight champ in history. At the time of the Johnson fight (the first time a black man was given a shot at the heavyweight crown), Burns weighed less than 170, while his opponent tipped the scales at over 190.
Johnson — bigger, stronger, and better — destroyed Burns, the police stopping the fight in the 14th.  The new champ graciously said of his opponent:  "He was beaten, but he was game."
The reign of Jack Johnson was to be marked by no shortage of controversy and excitement — both in and out of the ring. Johnson is unfortunately remembered today more for the controversy he generated, but perhaps Flesicher's understated observation of his abilities summed him up best–someone who "could make things most uncomfortable for an opponent."
More Boxing History