Betting on Boxing – Looking at Chad Dawson vs. Bernard Hopkins II & Lamont Peterson vs. Amir Khan II
For boxing fans who check in on the latest odds for upcoming bouts, there may be a few surprising lines for two anticipated rematches this spring. In the first, Chad Dawson vs. Bernard Hopkins, the legendary Hall of Fame bound Hopkins is given a surprisingly slim chance to best his younger counterpart. In the second, Lamont Peterson is a large underdog to Amir Khan despite the fact that he beat him the first time they met.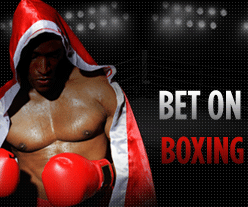 Sign up for Boavada and get a 20% bonus up to $100!
Chad Dawson vs. Bernard Hopkins II
The "rematch" between Dawson and Hopkins is more like the first actual time they'll meet in the ring. The original bout lasted less than two rounds, and its verdict was changed to a no contest after the fact.
Dawson looked to be performing decently enough – but what can we really learn from less than six minutes of action? Was it enough to completely discount B-Hop?
I don't think so, but that's what the Dawson vs. Hopkins II odds show:
Chad Dawson -400
Bernard Hopkins +300
That's a pretty remarkable line if you ask me. Especially since it's a well known fact that Hopkins always – always – performs at his best when he's the underdog, and when he has been counted out. Further – when was the last time Chad Dawson really impressed you with his performance?
I think Hopkins being a 3:1 underdog is a fantastic opportunity if you're an upset-minded bettor looking for favorable odds.
Lamont Peterson vs. Amir Khan II
Peterson ruined Khan's aspirations for a 2012 date against Floyd Mayweather when he won a decision against him in December. The aftermath created a bit of controversy, as Khan had been deducted several points, and the scorecards seemed to show some favoritism to the hometown kid.
Nevertheless, Peterson earned the nod and made an impression by staying in Khan's face, doing excellent body work, and keeping Khan off of his game plan.
Considering that, you'd think the odds in the second fight might be a bit closer. But here's where they stand right now:
Amir Khan: -500
Lamont Peterson: +350
Now, I'm not saying that I guarantee that Peterson will win the rematch. But do we simply never learn anything from history? How about when Orlando Salido shocked Juan Manuel Lopez… how did the rematch play out? Oh yes, he was a big underdog again, and went on to beat him again in the exact same way!
This fight has different circumstances to be certain, but you cannot tell me that Khan warrants being a 5:1 favorite against the guy he just lost to. Particularly when he seemed solely intent on making excuses for the fight's verdict, rather than on improving his deficiencies in the ring.
Once again, if you're looking for an upset to back, getting +350 on Peterson ain't bad.
So do as you please with these boxing betting odds on two very intriguing rematches on the docket. When you're ready to get in on the action, sign up for Bovada and get a 20% cash bonus up to $100 on your first deposit.