The boxing rumor mill is back with a jam-packed edition today. We have a lot of ground to cover, including the fight between Julio Cesar Chavez Jr. and Andy Lee, the new Manny Pacquiao commercial making the rounds, the suspension of Juan Manuel Lopez and more. Take a look at all of the musings, news and rumors right here.
Julio Cesar Chavez Jr. vs. Andy Lee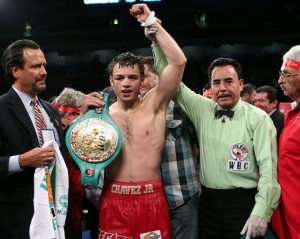 A fight has been set between Julio Cesar Chavez Jr. and Andy Lee. Chavez Jr. vs. Lee will take place on June 16, in El Paso, Texas, and the bout will be televised on HBO. It's an intriguing and pretty worthy match-up in the middleweight division. Right now, they are ranked number 2 and number 6 in the middleweight division rankings here on the site.
There's also work being done to secure a contract for the winner of the fight to face Sergio Martinez in September. That would be an excellent result, and will finally allow the real middleweight champion of the world to either get in there with the guy who has been avoiding him, or get in there with the guy who defeated him.
The fight being held in Texas has to have fans more than little bit weary though after all of the disastrous and controversial events in that state in recent times.
JuanMa Receives 1-Year Suspension
According to a report from the Associated Press, Juan Manuel Lopez has been suspended of his fighting license in Puerto Rico for 1 year. He has also been fined $10,000, and will need to complete 100 hours of community service. He has 20 days to appeal the decision. It's unclear how this will affect his long-term career, and whether or not the suspension will stick, or whether it will even be followed in other locales.
Pacquiao's Hennessy Commercial Getting Airtime
Manny Pacquiao has a new commercial with Hennessy which has been released. I saw the commercial last night on Comedy Central while watching the Daily Show, so it's getting a good amount of exposure. It's a 60-second commercial, and it shows Pacquiao basically rising his way up from the Philippines and ending up in Las Vegas as a big-time boxer, with his home country rooting for him and watching his every move. Of course, now he's a Congressman too, and it's about giving back to them and not just fighting in the ring.
The commercial ends with a quote from Pacquiao – "Fighting the fights that really matter, that's my Wild Rabbit."
You can watch the commercial right here:
Pavlik & Taylor Both Back in the Mix
It's hard to believe that it was about 4 and a half years ago when Kelly Pavlik defeated Jermain Taylor to become the middleweight champion of the world. After his two close wins over Bernard Hopkins, Taylor had been viewed as a huge star in the making, and Pavlik usurped that position from him by surviving an early scare and knocking Taylor out late, then defeating him a second time.
Now, both fighters are in the midst of comebacks and are trying to get back in the mix. Taylor has dropped back down to middleweight and is campaigning there, potentially with hopes of an eventual clash with middleweight kingpin and DiBella stablemate Sergio Martinez. Pavlik is working with trainer Robert Garcia and is fighting at super middleweight, and hopes to win another world title there.
It will be interesting to see where each of these guys ends up in their respective comebacks, and how soon they attempt to fight for world titles once again.
Thanks for checking out this edition of the boxing rumor mill, with Manny Pacquiao's new commercial, an upcoming clash between Julio Cesar Chavez Jr. and Andy Lee, the suspension of JuanMa and more, and keep on coming back right here to ProBoxing-Fans.com for more boxing news updates all day long.