The boxing rumor mill is back and it's an overloaded edition with lots of buzz, hearsay and breaking news stories that have developed over the past few days. Hot topics include what looks like the official end to the Brandon Rios vs. Yuriorkis Gamboa fight, Juan Manuel Lopez being suspended by the WBO after his post-fight comments about the referee in his knockout loss to Orlando Salido, comeback fights for a handful of big stars, and much more. Take a look below.
JuanMa-Lopez II Aftermath: Lopez Suspended by WBO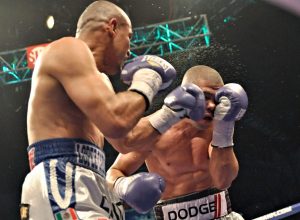 Following his crushing knockout loss to Orlando Salido, Lopez took an interesting turn with his post-fight comments, accusing the referee of having a gambling problem and blaming the loss on him. According to statements from the WBO, JuanMa has been suspended for one year. He'll have five days to convince them otherwise.
Of course, his suspension isn't from a commission, it's from a sanctioning body. So much like Dereck Chisora's ban from the WBC following the fiasco with David Haye, it doesn't really impact his fighting career, he just can't fight for that rating organization's belts, and pay them 3% for the privilege.
Considering his earning potential and Top Rank's pull, it seems unlikely even then that the 1 year "suspension" will stay in place.
Adios to Rios vs. Gamboa?
It's no secret that the Brandon Rios vs. Yuriorkis Gamboa bout looked to be all but dead, following Gamboa's press conference no-shows, and Top Rank's attempt to lure him back in with an $100,000 winner's bonus. It looks like that's moving closer to being made official, now, and Rios will be moving ahead with an April bout against the man he got into a press conference brawl with recently, WBA interim champ Richard Abril.
Abril shocked Miguel Acosta last October, and is now in a position to potentially meet Rios for the full WBA strap. That's the belt which used to belong to Bam Bam until he lost it on the scales, and the same belt which would have been up for grab in the Gamboa vs. Rios fight.
According to some industry chatter, like this tidbit from Steve Kim on Twitter, Rios vs. Abril looks to be locked in, but HBO likely won't televise the fight. Either way, Top Rank is setting their sights on finalizing this fight one way or the other.
Marquez, Taylor & Pavlik Have Bouts Set
Three of the biggest names in the sport have their next bouts officially set.
Juan Manuel Marquez will fight again on April 14th in Mexico City, against a fighter with a lofty 42-0 record. Of course, that record isn't quite so lofty when one peeks and sees that it is 42-0 with 1 win coming by knockout. Seriously. One win. The fighter in question is Cesar Rene Cuenca, and the battle will be for an interim junior welterweight strap.
Former unified middleweight champion Jermain Taylor will also fight in April against an unheralded, undefeated fighter, meeting Caleb Truax on April 20 in a Shobox televised fight. The man who took Taylor's titles, Kelly Pavlik, will be back a few weeks earlier on March 31st, taking on a fighter named Aaron Jaco in a 170 lbs bout.
George Groves Looking to Land Stieglitz Fight?
Mikkel Kessler was forced to withdraw from his fight, once again, against Robert Stieglitz, which was scheduled for April. That leaves an opening for Stieglitz and his WBO 168 lbs belt.
Rumors are circulating that next up will be George Groves. Groves pulled out of his upcoming fight, a rematch against a fighter he's already beaten, citing an injury, but now is conveniently available to face Stieglitz… and it just so happens that he is Stieglitz's mandatory… and it just so happens that a purse bid for the fight already took place.
—-
That's a lot for of boxing news and rumors for you fans to digest, so enjoy all the buzz, chatter and updates right here at ProBoxing-Fans.com and stay tuned for more on the JuanMa-Salido II aftermath, the apparent death of the Gamboa vs. Rios fight, and more.